More Lighting & Video Equipment Added to Rental Inventory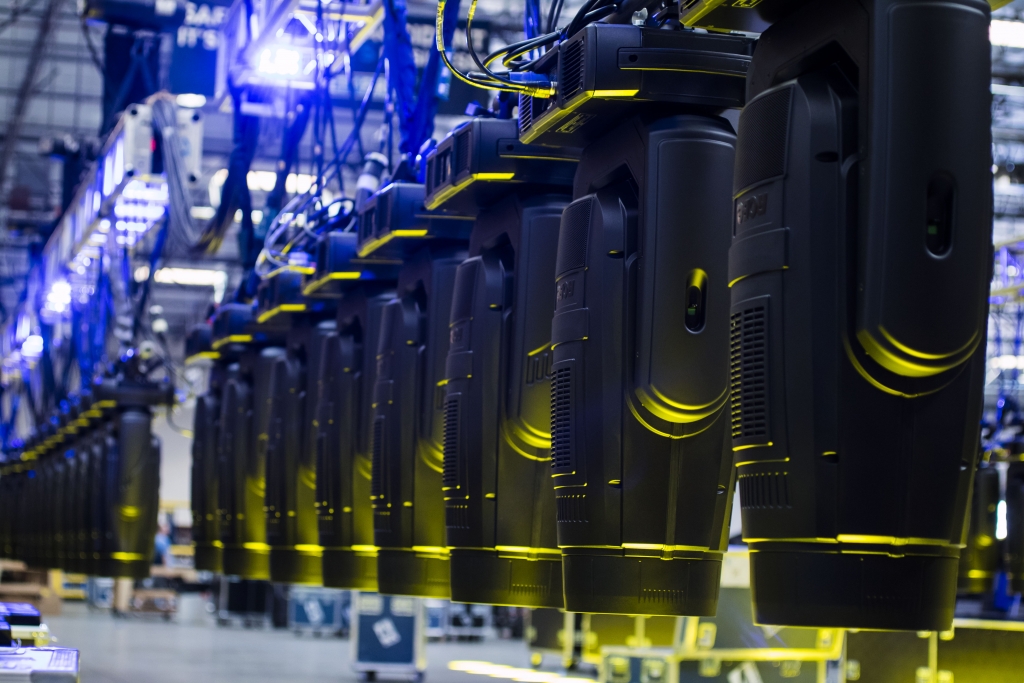 This year our 4Wall locations nationwide made substantial additions to their rental inventories by adding the latest equipment from top stage lighting, rigging, and video manufacturers. With the recent acquisition of Wagner Media, we now possess one of the largest quantities of Barco, Epson, and Eiki projectors and lenses in the nation.
Below are some of the recently acquired moving lights, LEDs, TV/Film fixtures, projectors, consoles, and much more!
Some fixtures may not be available in your area. Contact your local 4Wall representative for availability.
Our moving lights stable consists of over 40 different unique fixtures from the top manufacturers in the lighting industry. We maintain an up-to-date moving lights inventory with the most sought-after fixtures giving lighting designers a wide-variety of fixtures to choose from.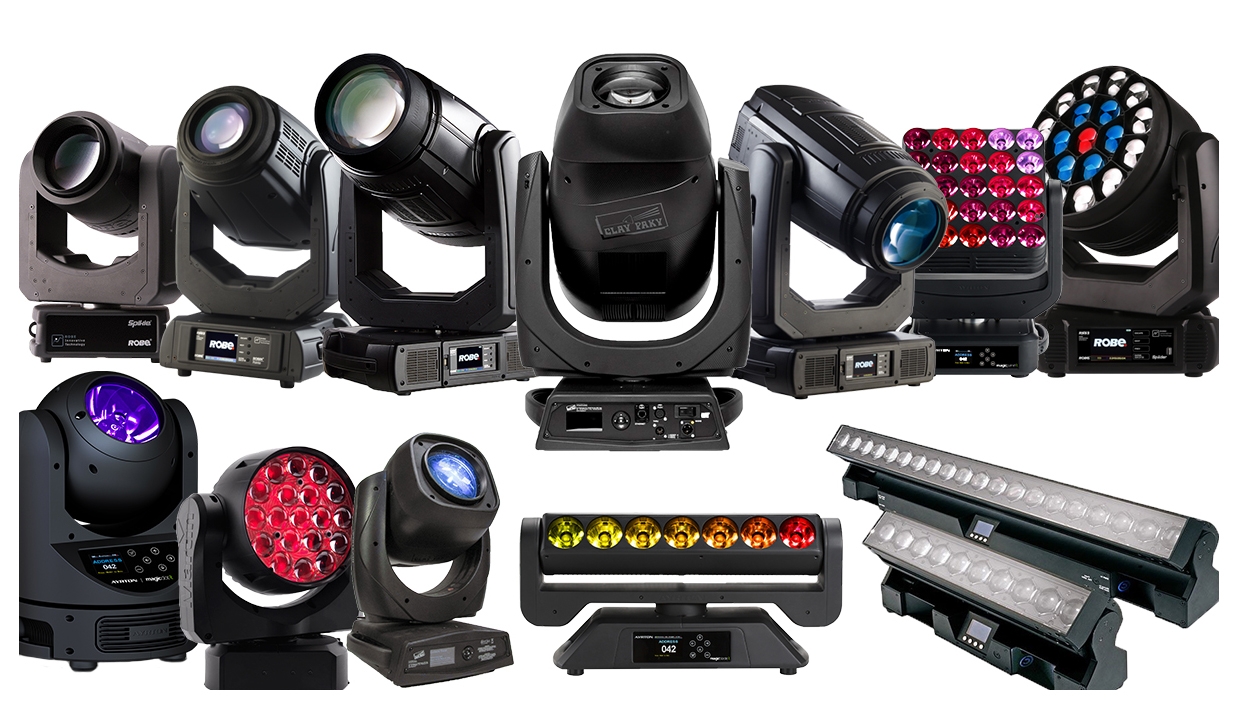 Ayrton MagicBlade-R
MagicBlade-R offers continuous double rotation on Pan/Tilt axes. It's unique feature is the layout of its seven RGBW LED sources in-line, paired with highly intensive angle of the optics, which allow the creation of light curtains with genuine overall consistency. 
Other Ayrton products added: Ayrton MagicDot-R
Scenius Profile is an extraordinary tool for theatrical use, television studios or on the sets of large events where it can fashion uniform light beams without limits and frame scenic elements precisely with fixed or animated light. 
Other Clay Paky products added: Clay Paky Mythos 2
The Impression X4 Bar 10 & 20 are high performance battens that incorporate 15 Watt RGBW LEDs packed tightly to give a full line of light. The X4 Bar also features a motorized tilt, for fast refocusing or to be used to add more dynamics to the output beam.
The Aura XB uses 15W LEDs for a 50% higher output than a standard Aura. It has an extended color mode, a 10 - 60 deg. zoom, and is the same size as an Aura.
The BMFL WashBeam has a rotating gobo wheel with a wide selection of gobos to ensure many combinations of in-air animations, but can also produce nice spot-like projections on surfaces.
Other Robe products added: Robe BMFL Blade, Robe Robin Spikie, Robe Spiider, & Robe Robin Pointe
From battens to pars, our LED inventory is capable of lighting a 950' cyc wall to warming a stick of truss. Along with our knowledgeable staff, the fixtures listed below will enhance any lighting design for your next event.
C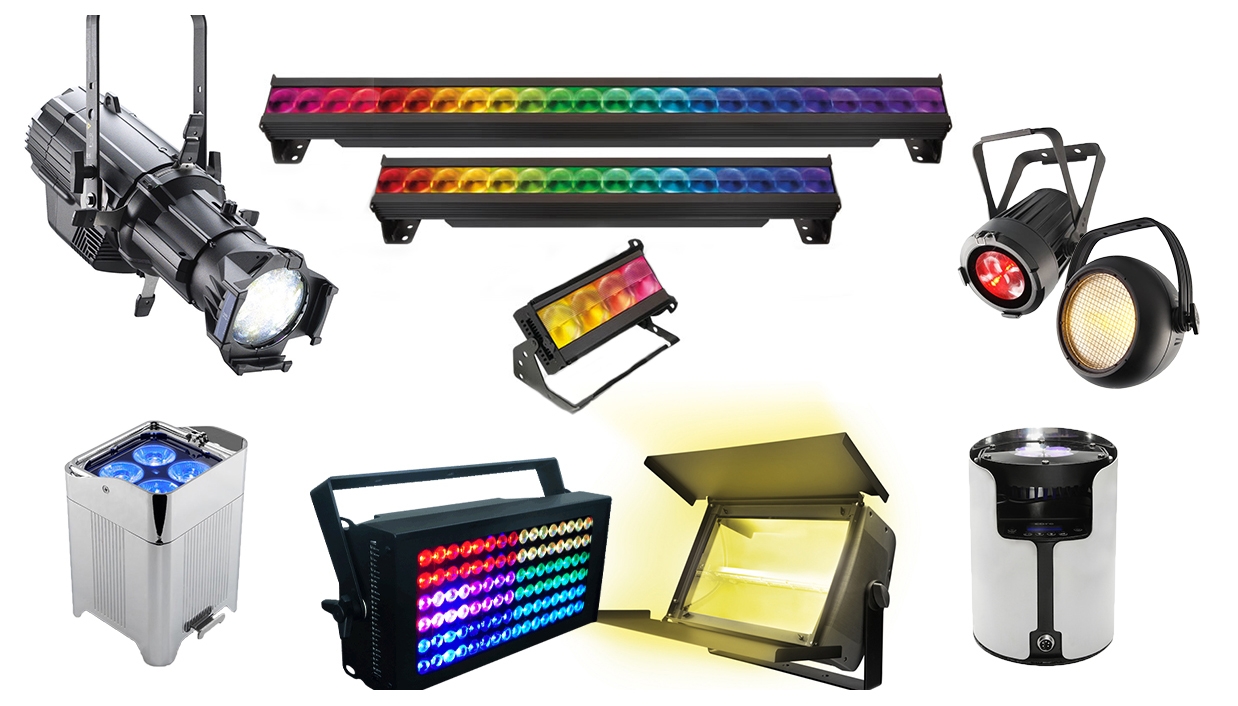 hroma-Q Color Force II (12", 48", 72")
The Color Force II is over 50% brighter than it's predecessor while utilizing a single source of light.  The Color Force II fixtures' output is a single, clean and pure beam of light, delivering a color blend with no unsightly color-mixing shadows.
Chauvet Professional WELL Fit Quad
A discrete, high powered LED up-lighter, this small battery powered wash light comes in a reflective chrome housing designed to blend into any decor.
Other Chauvet Professional products added: Chauvet Colorado 1 Solo & Chauvet Strike 1.
The QolorPoint is an RGBW, battery powered, Wireless LED Uplighter equipped with SHoW DMX radio.
Other City Theatrical products added: City Theatrical QolorStrip

Barco  UDX-4K32
The UDX-4K32 features 4K UHD resolution and 31,000 lumens light output to ensure flawless shows with accurate colors at all times.
The HDX-W20 Flex offers 20,000 lumens of light output with standard light-on-demand.
Also available: HD/4K Cameras & Lenses, Image Processing, Live Recording, Monitors, and Screens.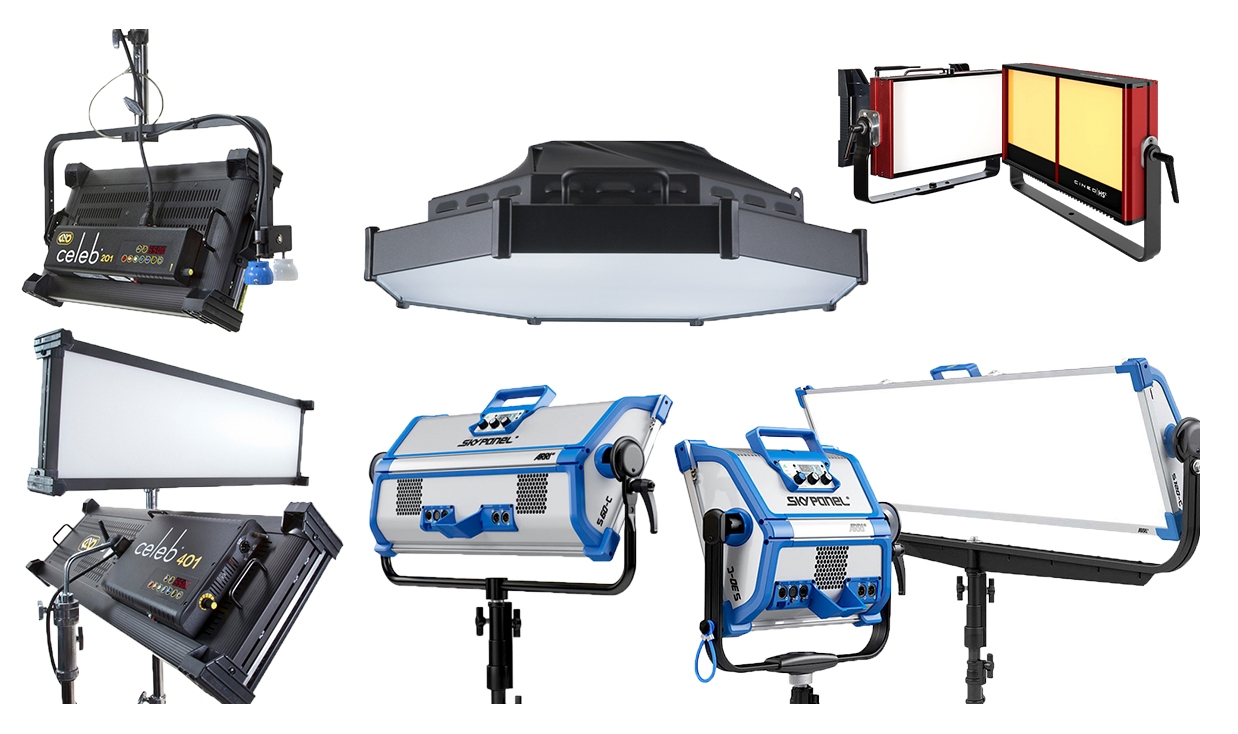 We have an easy lighting solution for your next commercial, music video, independent film, studio or photoshoot.
 The new ARRI SkyPanel is a versatile LED soft light that is compact, fully tunable and delivers powerful and quality light.
Other ARRI products added: ARRI SkyPanel S120-C
The Space Force is a variable white LED Space Light that is a modern replacement for conventional space lights or soft light sources commonly used in film and TV studios around the world.
More TV/Film products: Cineo HS2 & HSX, Kino Flo Celeb 201, Celeb 401, and Celeb 401Q.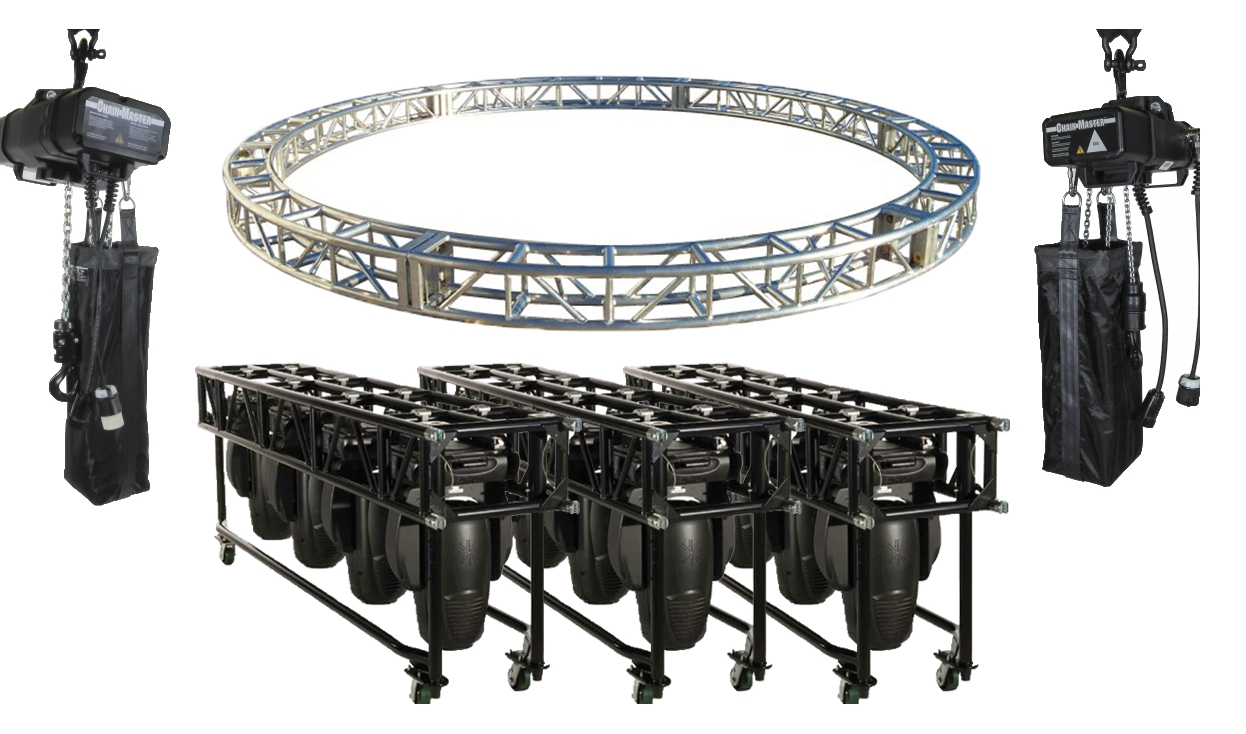 Tyler GT Truss
Tyler GT Truss was designed to save weight, space, setup time and labor.  By loading your lights onto the truss, you are able to leave heavy, bulky cases home.
ChainMaster Hoists (1/4 Ton, 1/2 Ton, 1 Ton)
Increased safety, flexibility and efficient rigging for complex loads are the main features of D8 Plus chain hoists.
More products added: Tomcat Circular Truss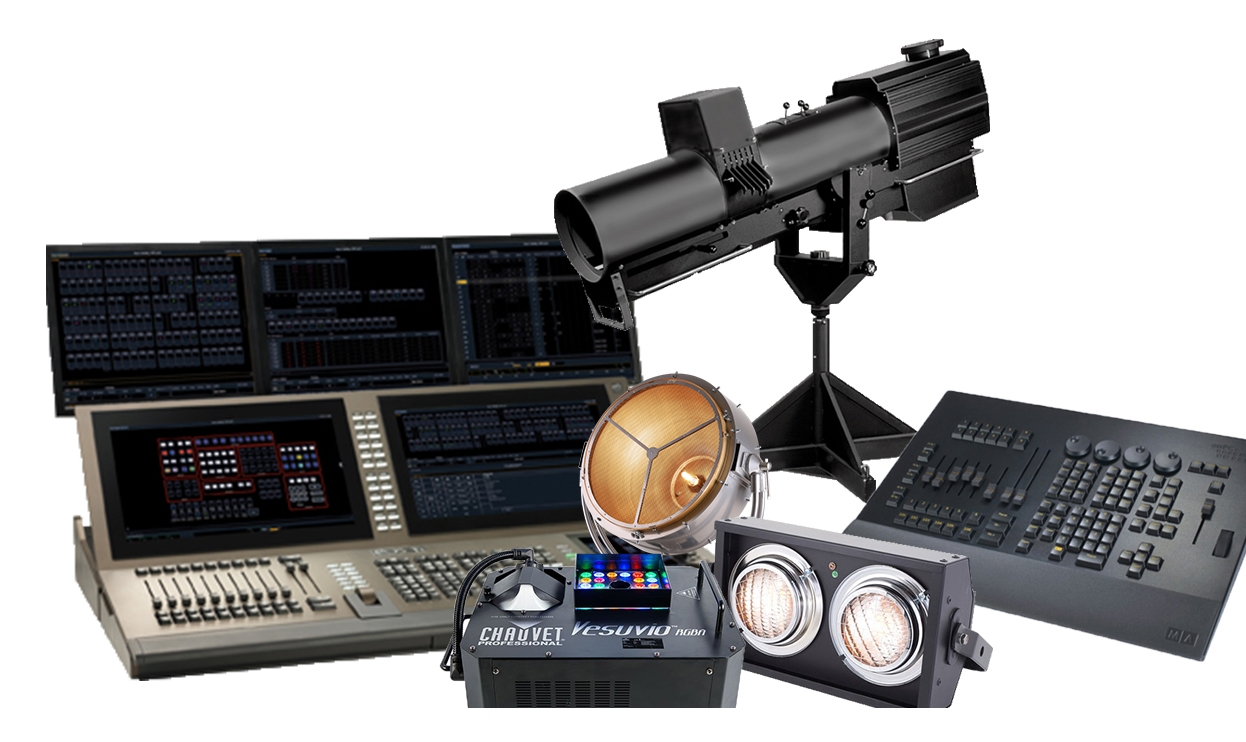 Chauvet Professional Vesuvio Fog Machine
The Vesuvio RGBA brings together high output LED washes to towering fog output with great intensity.
Lycian 1295 Extreme Long Throw Followspot
The Lycian 1295 Extreme Long Throw followspot is an extremely powerful long throw followspot.  It's features include a dichroic reflector, optical grade lenses, gobo slot, nichrome iris, chopping shutter, fader, quick focus knob, and more.
The MA onPC command wing paves the way for mobile use of the grandMA2 control system. In combination with the free of charge grandMA2 onPC software, the MA onPC command wing is a portable 2,048 parameter control solution that can be used in nearly any location.
Robe Patt 2013
Patt 2013 is the first in a series of retro style lighting - designed specifically to further the current trend for tungsten eye-candy on stage and set - for bands, television, film and general prop lighting.
More products added: TMB 2-Lite Blinder & ETC Eos Titanium Console