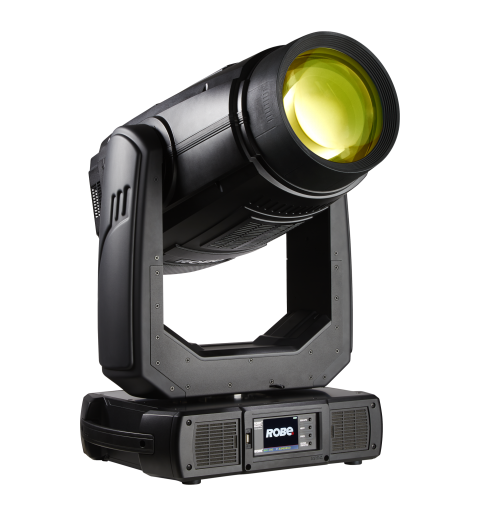 Details
Description
The BMFL WashBeam has a rotating gobo wheel with a wide selection of gobos to ensure many combinations of in-air animations, but can also produce nice spot-like projections on surfaces. Like the BMFL Blade, the BMFL WashBeam has four fast shutter blades that make individually angled positions within a frame possible.
Included with your ROBE BMFL WashBeam Rental:
Safety Cable
Powercon to L6-20 Male 6' Power Cable
Robe Omega Brackets
Mega Claw Clamps
Roadcase
We strive to provide impeccably maintained rental equipment for the entertainment industry that is prepped and ready for your event. Our experienced staff stands ready to help you with your lighting, video, rigging & production needs. Rental inventory availability may vary based on date and 4Wall location. In cases where your preferred item is unavailable, we'll do our best to suggest a suitable replacement.
Video
Downloads
Features
Lamp: Compact short-arc metal halide lamp
Base: PGJ 28 Lok-it!
Approved model: Osram Lok-it! HTI 1700/PS
Lifetime: 750 hours @ 1700 W / 1500 W / Quiet mode
Colour temperature: 6.000 K
CRI: 90
Control: Automatic and remote on/off
Ballast: Electronic
Setting & Addressing: ROBE Navigation System 2 (RNS2)
Protocols: USITT DMX-512, RDM, Art-Net, MA Net, MA Net2, sACN
Optional wireless version: CRMX™ technology from Lumen Radio (on request)
Control channels: 48, 41
Protocol modes: 2 DMX protocol modes
Programs: 3 editable, each up to 100 steps
Stand-alone operation: Yes
Display: QVGA Robe touch screen with battery backup, gravitation sensor for auto screen positioning operation memory service, operation memory service log with RTC
Pan/Tilt resolution: 16 bit
Movement control: Tracking and vector
CMY & CTO: 8 bit
Colour wheel positioning: 8 or 16 bit
Framing shutters system: 8 bit
Rotating gobo wheel positioning: 8 bit
Gobo indexing & rotation: 8 or 16 bit
Animation wheel: 8 bit
Animation wheel rotation: 8 bit
Iris: 8 or 16 bit
Frost: 8 bit
Zoom: 8 or 16 bit
Focus: 8 or 16 bit
Dimmer: 8 or 16 bit
Ethernet port: Art-Net, MA Net, MA Net 2, sACN
Data in/out: Locking 3-pin & 5-pin XLR
Power in: Neutrik PowerCon
Built-in analyser for easy fault finding
Buy it Used

Thinking of purchasing rather than renting? UsedLighting.com is a division of 4Wall Entertainment that provides a safe place for buying, selling, and brokering quality used stage lighting equipment. The site carries technician maintained inventory sold directly from 4Wall rental stock that includes unparalleled warranties and customer service.
Buy it New

Thinking of purchasing rather than renting? NewLighting.com is a division of 4Wall Entertainment that carries brand new, unopened fixtures and accessories from top manufacturers. You can rest assured that purchases from the site include all applicable manufacturer warranties, as well as the full customer service and support of the 4Wall family of companies.