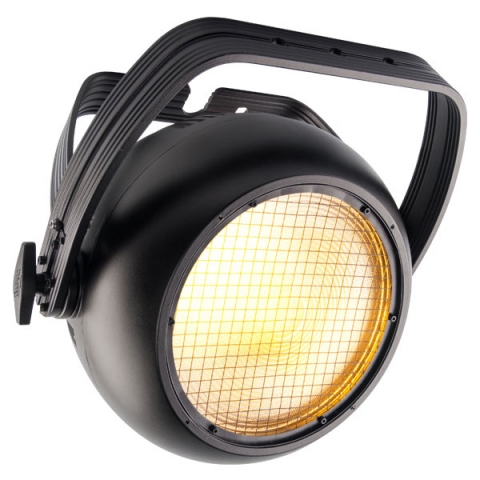 Chauvet Professional Strike 1
Details
Description
Strike1 is an outdoor-ready blinder powered by a 230 W warm white LED source. It is also an awesome strobe and a wide area floodlight. Its IP rated fan keeps it cool enough for use as a wash while IP rated direct power and DMX connections eliminate undesirable whips. An emulated "amber shift" warms the color temperature of the light as it dims to mimic incandescent lights.
Only located at 4Wall Nashville.
4Wall Entertainment Lighting is a rental company with locations nationwide. Since 1999 we've been providing quality stage and theatrical lighting equipment from the industry's top manufacturers. Request a rental quote for this item now and receive a response within one business day!
Video
Features
Intense single pod blinder/strobe rated IP65 for all-weather use
16-bit dimming control for smooth, perfect fades
Strobe functionality for high-impact effects on-the-fly
Beautiful warm glow made possible with emulated "red shift" to mimic incandescent fixtures
Multi-bracket allows you to create multi-fixture banks with ease
Easy to use OLED display
Adjustable Pulse Width Modulation (PWM) control to eliminate flicker on camera
RDM (Remote Device Management) for added flexibility
Light Source: 1 LED (WW) 230 W, (4.1 A), 2688 K, 50,000 hours life expectancyLight Source: 8 LEDs (Amber) 2 W, (0.7 A), 50,000 hours life expectancy
Color Temperature (at full): 2688 K
Color Temperature (at 10%): 1941 K
Buy it New

Thinking of purchasing rather than renting? NewLighting.com is a division of 4Wall Entertainment that carries brand new, unopened fixtures and accessories from top manufacturers. You can rest assured that purchases from the site include all applicable manufacturer warranties, as well as the full customer service and support of the 4Wall family of companies.