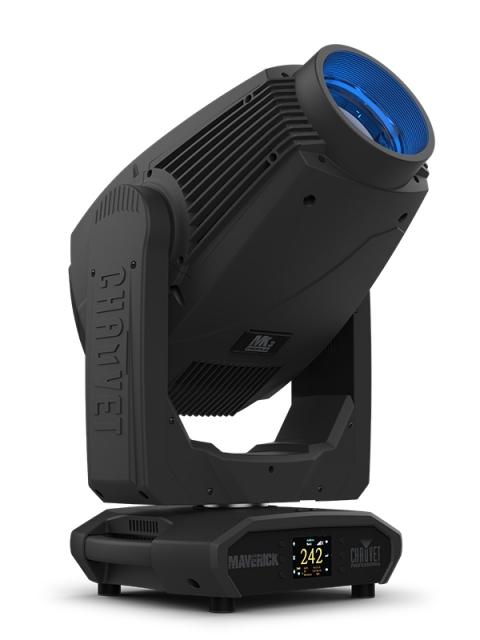 Chauvet Professional Maverick MK3 Profile
Details
Description
Maverick MK3 Profile features a searing output of over 51,000 source lumens and an advanced, 4-blade shutter frame system with the ability to fully blackout and a 120° rotation. Its precision LED optics feature CMY + CTO color mixing and a fast 9:1 zoom ratio that maintains a flat field of focus even when fully wide. It also has an adjustable CRI from 74 to 93 CRI for use as a key light for broadcasted events. Maverick MK3 Profile offers great static, rotating, and animation effects from its 2 gobo wheels (1 rotating, 1 static), animation wheel, 2 independent and overlapping prisms and 2 frost options: superlight and medium. Control as you see fit with DMX, sACN, Art-Net or W-DMX.

Currently only located at 4Wall Las Vegas, New York, and Pennsylvania.
We strive to provide impeccably maintained rental equipment for the entertainment industry that is prepped and ready for your event. Our experienced staff stands ready to help you with your lighting, video, rigging & production needs. Rental inventory availability may vary based on date and 4Wall location. In cases where your preferred item is unavailable, we'll do our best to suggest a suitable replacement.
Downloads
Features
Fully featured 820 W LED yoke profile fixture including CMY+CTO colour mixing, a four blade framing shutter system with rotation, a colour wheel, a CRI filter, animation wheel, a 9:1 zoom, two independently layerable prisms, two frosts, a static and a rotating gobo wheel
16-bit dimming of master dimmer for smooth control of fades
Variable CMY + CTO colour mixing system to create a wide pallet of colours
Independently layerable 5 facet linear and 5 facet round prisms for increased prism options
One rotating and one static gobo wheel for dynamic texture possibilities
Independent light and medium frosts for beam control + or - 60 degree rotation framing shutter system to allow for better framing positioning.
Animation wheel for enhanced visual effects
Iris for total beam control
RDM control over DMX for fixture reporting
5.9 to 64.1 zoom range for variable beam sizes
3 menu presets and preset cross load for decreased shop setup time
True 1 compatible power input
Battery backup display with auto-rotate depending on fixture orientation