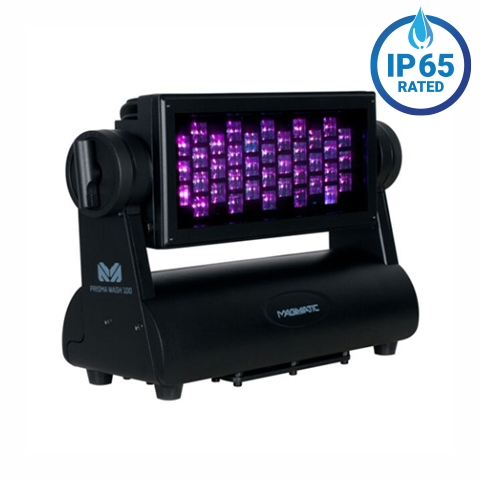 Elation PRISMA Wash 100 - IP65
Details
Description
Elation Prisma Wash 100 is an IP65-rated UV wash Luminaire that produces 365nm peak true UV output with zero visible light. Features include a scoop LED reflector design that creates a 90-degree wide beam angle, manual adjustable tilt positioning and versatile rigging options, a user-friendly digital 2.5-inch LCD touch screen control panel, intuitive DMX-512 and RDM control, and IP-rated power and data in/out.
Currently only located at 4Wall Boston, & 4Wall Nashville
We strive to provide impeccably maintained rental equipment for the entertainment industry that is prepped and ready for your event. Our experienced staff stands ready to help you with your lighting, video, rigging & production needs. Rental inventory availability may vary based on date and 4Wall location. In cases where your preferred item is unavailable, we'll do our best to suggest a suitable replacement.
Video
Downloads
Features
IP65 Rated Exterior High-Power UV Wash Luminaire
Scoop LED Reflector Design
90 Degree Wide Beam Angle
365nm Peak True UV Wavelength
Zero Visible Light Output
Optional Black Glass Diffusion Filter
Multiple DMX Channel Modes
Onboard 4 Button Touch Control Panel
DMX-512 and RDM Protocol Support
90 Degree Wide Beam Angle
365nm True UV Peak Wavelength