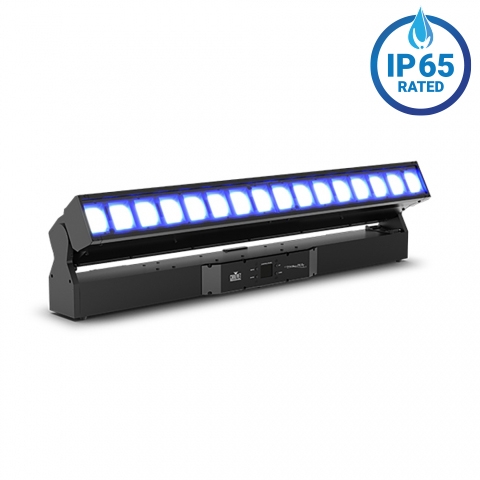 Chauvet Professional COLORado PXL Bar 16 - IP65
Details
Description
The Chauvet Professional COLORado PXL Bar 16 is a motorized, outdoor-ready tilting batten with capabilities to zoom for tight and wide pixel-mappable looks. This moving pixel bar also features seamless edge-to-edge mounting and includes virtual gobo and movement macros with separate foreground and background color control for more design options than ever before.
Currently only located at 4Wall Las Vegas, 4Wall PA, and 4Wall Orlando.
We strive to provide impeccably maintained rental equipment for the entertainment industry that is prepped and ready for your event. Our experienced staff stands ready to help you with your lighting, video, rigging & production needs. Rental inventory availability may vary based on date and 4Wall location. In cases where your preferred item is unavailable, we'll do our best to suggest a suitable replacement.
Video
Downloads
Features
CRI: 61.6
Beam Angle: 5.8° to 30.4°
Beam Angle single cell: 4° to 29.9
Field Angle: 8.9° to 42.2°
Field Angle single cell: 5.4° to 42.3°
Cutoff Angle: 10° to 47.9°
Cutoff Angle single cell: 6.1° to 45.5°
Zoom Range: 5.8° to 47.9°
Zoom Range single cell: 4° to 45.5°
Lumens (43.3°): 8,959
Tilt: 200°
Tilt Ranges: 60°, 180°, 200°
Dimmer: Electronic