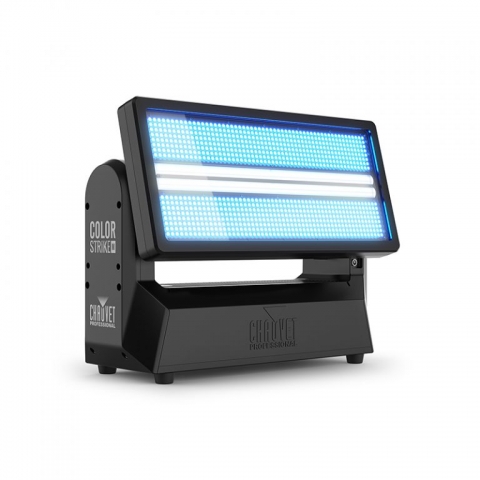 Chauvet
Chauvet Professional Color STRIKE M - IP65 Rated
Details
Description
The Color STRIKE M is an IP65 rated strobe/blinder with two ultra-bright, white light tube elements surrounded by a color-mixing, and pixel-mappable face. This versatile strobe light can double as a wash fixture with 180° tilt range to throw bright saturated color wherever you need. The IP65 casing protects the fixture from any environmental factors or weather.
Currently only available at 4Wall Las Vegas & 4Wall New York.
We strive to provide impeccably maintained rental equipment for the entertainment industry that is prepped and ready for your event. Our experienced staff stands ready to help you with your lighting, video, and rigging needs. You will receive a rental quote back within 1 business day.
Video
Downloads
Features
Light Source: 896 LEDs (tri-color) SMD 5050, 0.784 W, (252 mA), 50,000 hours life expectancy
Light Source: 432 LEDs, (CW) 1.56 W, (696 mA), 5861K, 50,000 hours life expectancy
Color Temperature (at full): 7757 K
CRI: 90.3
Beam Angle (Combine): 98° x 57°
Beam Angle (Plate): 123°
Beam Angle (Beam): 95° x 50°
Field Angle (Combine): 146° x 122°
Field Angle (Plate): 160°
Field Angle (Beam): 138° x 100°
Lumens (Combined): 71,620
Lumens (Plate): 18,600
Lumens (Beam): 54,381