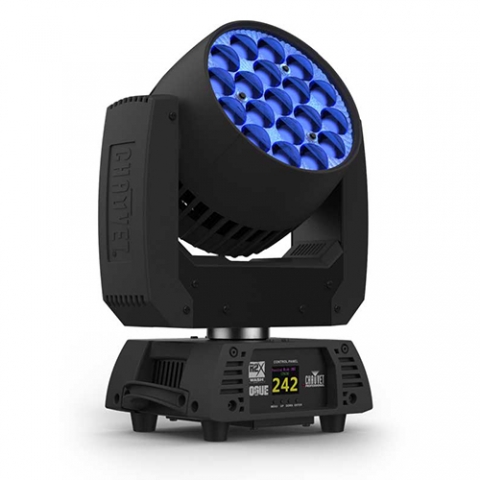 Chauvet
Chauvet Professional Rogue R2X Wash
Details
Description
The Chauvet Rogue R2X Wash produces a bright, powerful light and offers five zones of LED control to pixel map its 19 (25 W) RGBW quad-LEDs. A zoom range of 12° to 49° gives it the spread to cover even the largest areas. Smooth color mixing, simple and complex DMX channel profiles and powerCON in and out are just some of the other features that make this fixture a standout performer in any setting.
Currently only located at 4Wall LA, 4Wall Las Vegas, and 4Wall Orlando.
We strive to provide impeccably maintained equipment that is prepped and ready for your next event. Our experienced staff stands ready to help you create the perfect lighting and video experience. You will receive a rental quote back within 1 business day.
Video
Downloads
Features
Light Source: 19 LEDs (quad-color RGBW) 25 W,
Color Temperature (range): 2800 to 10000 K
Beam Angle: 8° to 30°
Field Angle: 12° to 49°
Zoom Angle: 12° to 49°
Lumens - Output: 7,300
Control Protocol: DMX, RDM
DMX Channels: 15, 17, 22, 33, 54, or 56
Pan and Tilt: 540°/230°
Zoom: Motorized
Strobe Rate: 0 to 20 Hz
Standalone Color Mixing: Yes
Color Temperature Presets: Yes
Dim Curves: 4
Built-in Automated Programs: Yes