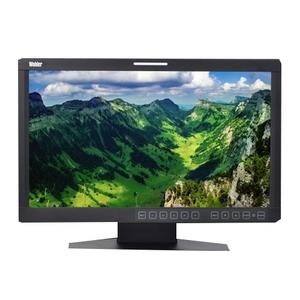 Wohler 17 Inch LCD Video Monitor with Waveform
Details
Description
This Wohler 17" LCD video monitor is designed for a wide range of applications where format flexibility and form factor are key. This monitor is excellent for studio, MCR, Edit suites, ENG & OB production environments. This monitor supports 3G/HD/SD-SDI, HDMI & DVI, composite, Y/C & component video inputs.
These video monitors can be configured as a dual split display, a large screen with one smaller view, or as a single large display screen. They are ideally suited for use in news and transmission control rooms, program production, channel branding and any environment that requires intensive monitoring.
We strive to provide impeccably maintained rental equipment for the entertainment industry that is prepped and ready for your event. Our experienced staff stands ready to help you with your lighting, video, rigging & production needs. Rental inventory availability may vary based on date and 4Wall location. In cases where your preferred item is unavailable, we'll do our best to suggest a suitable replacement.
Downloads
Features
Full-HD resolution 1920 x 1080 display
Multi-format 3G/HD/SD-SDI, HDMI & DVI, composite, Y/C and component video inputs
Waveform and Vectorscope display
Tally and on-screen labeling provide quick signal identification
Classic CRT-style image controls allow video image enhancements
In-picture audio level metering
Safe area and title markers
Gamma color calibration
Headphone and speaker outputs
User-defined function buttons
Intuitive on-screen user menus