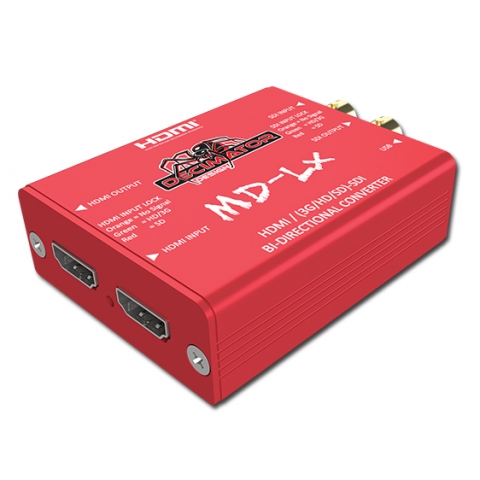 Decimator MD-LX HDMI / SDI Bi-Directional Convertor
Details
Description
The DECIMATOR MD-LX is a pocket-sized bi-directional converter featuring an HDMI input and output on one side and 3G/HD/SD-SDI input and output on the other. It supports up to 1080p60 resolution and offers multiple input/output conversion modes.
Features the following modes:
1. Auto Select (Active input to all outputs or if both
inputs are active SDI to HDMI and HDMI to SDI)
2. HDMI IN to SDI OUT and SDI IN to HDMI OUT
3. SDI IN to HDMI and SDI OUT
4. HDMI IN to HDMI and SDI OUT
4Wall Entertainment Lighting is a rental company with locations nationwide. Since 1999 we've been providing quality stage and theatrical lighting equipment from the industry's top manufacturers. Request a rental quote for this item now and receive a response within one business day!
Specs
Features
Supports 3G level A and B on the input and
output, allowing conversion between 3G level A and B
Low Power enabling operation from the USB
USB provides for power, control and firmware upgrades
This unit also includes a Power Supply and USB Cable