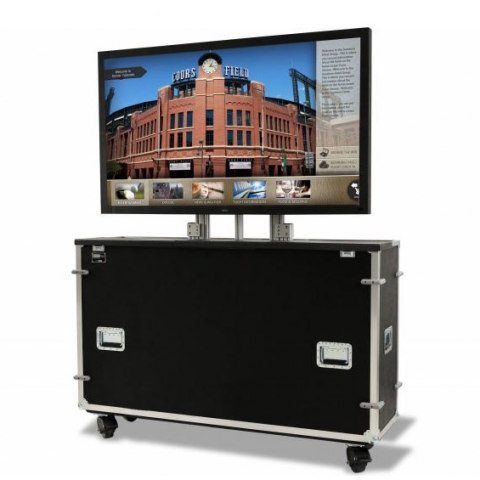 Sharp 90 in. Monitor with JELCO EL-80 EZ-LIFT Case
Details
Description
JELCO EL-80 EZ-LIFT TV Lift Case: JELCO's EZ-LIFT Case allows a flat screen display to be setup by one or two people and ready for use in less than 5 minutes without electric power. Ideal uses include rapid setup in hotels, events, tradeshows, training facilities, sports arenas, military installations, campuses and more. Easily store, transport, and use a 80"-90" flat screen in the EZ-LIFT case.
Sharp PN-LE901 Monitor: Sharp's 90-inch-class (90 1/64" diagonal) PN-LE901 commercial LCD TV combines full-HD image quality and a stylishly thin profile with a built-in digital tuner for the ultimate display experience. The PN-LE901 has cutting-edge picture technology that delivers amazing detail and consistent color. This value priced commercial LCD TV is perfect for sports bars, retail stores and other businesses that need to grab the attention of consumers for a new level of engagement.
Only located at 4Wall Las Vegas.
We strive to provide impeccably maintained rental equipment for the entertainment industry that is prepped and ready for your event. Our experienced staff stands ready to help you with your lighting, video, rigging & production needs. Rental inventory availability may vary based on date and 4Wall location. In cases where your preferred item is unavailable, we'll do our best to suggest a suitable replacement.
Video
Downloads
Features
Easy set-up, clean looking result, no power required to operate lift.
Proprietary universal mounting bracket for flat-screen display
Full range of viewing heights, range varies by display size
Shock-mounted EZ-LIFT mechanism
Integrated cable management system
2 piece clamshell locking lid
Four heavy duty 4" locking casters
Mounted multi-outlet power strip
Plastic cavity covers conceal the inside of the case when in use