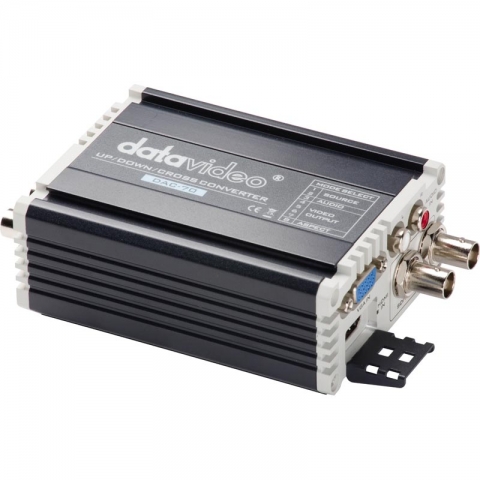 Datavideo DAC-70 Up/Down/Cross Converter
Details
Description
Datavideo DAC-70 up/down/cross converter is designed to convert video signals from VGA, HDMI, SDI with Audio input to 3G/HD/SD SDI ouptuts.

Perfect for connecting a VGA/HDMI output from computer to SDI devices over long distance SDI cable. Solutons like lecture theater, church, auditorium room and conference hall.
We strive to provide impeccably maintained rental equipment for the entertainment industry that is prepped and ready for your event. Our experienced staff stands ready to help you with your lighting, video, rigging & production needs. Rental inventory availability may vary based on date and 4Wall location. In cases where your preferred item is unavailable, we'll do our best to suggest a suitable replacement.
Video
Downloads
Features
3G/HD/SD Up/Down/Cross convert
Audio/HDMI/SDI/VGA input
3G/HD/SD SDI and HDMI output
DC 12V, 3.6 watts
Video Inputs (VGA x 1, HDMI x 1 , HD/SD-SDI x 1): SDI (YUV): 1080p60/59.94/50, 1080p30/29.97/25/24/23.98, 1080psf30/29.97/25/24/23.98, 1080i60/59.94/50, 720p60/59.94/50, 525i, 625i; HDMI (YUV / RGB): 1080p60/59.94/50, 1080p30/29.97/25/24/23.98, 1080psf30/29.97/25/24/23.98, 1080i60/59.94/50, 720p60/59.94/50, 480p, 576p, 480i, 576i, 800x600@60Hz, 1024x768@60Hz, 1280x1024@60Hz, 1366x768@60Hz, 1400x1050@60Hz, 1600x1200@60Hz; VGA (RGB): 800x600@60Hz, 1024x768@60Hz, 1280x1024@60Hz, 1366x768@60Hz, 1400x1050@60Hz, 1600x1200@60Hz, 1280x720@60Hz, 1920x1080@60Hz
Video Outputs (SDI x 2, HDMI x 1, SDI Loop thru BNC (front panel)): SDI / HDMI : 1080p60/59.94/50, 1080p30/29.97/25/24/23.98, 1080i60/59.94/50, 20p60/59.94/50, 525i, 625i
Audio Format (Input): Analog Audio L/R : stereo audio; SDI / HDMI embedded audio up to 8CH, 48KHz, PCM audio; HDMI embedded audio up to 8CH, 44.1/48/96KHz, PCM audio
Audio Format (Output): SDI embedded audio up to 8CH, 48KHz, PCM audio; HDMI embedded audio up to 8CH, 48KHz, PCM audio