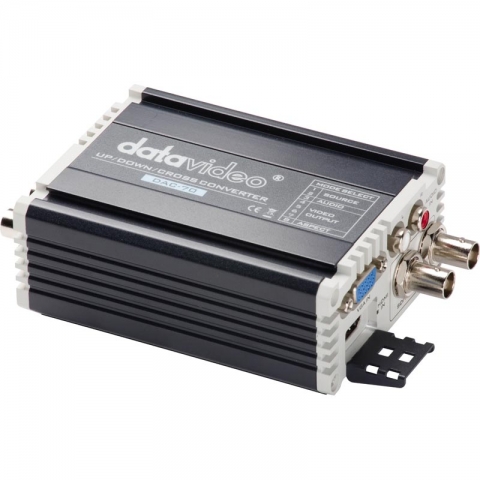 Datavideo DAC-70 Up/Down/Cross Converter
Details
Description
Datavideo DAC-70 up/down/cross converter is designed to convert video signals from VGA, HDMI, SDI with Audio input to 3G/HD/SD SDI ouptuts.

Perfect for connecting a VGA/HDMI output from computer to SDI devices over long distance SDI cable. Solutons like lecture theater, church, auditorium room and conference hall.
4Wall Entertainment Lighting is a rental company with locations nationwide. Since 1999 we've been providing quality stage and theatrical lighting equipment from the industry's top manufacturers. Request a rental quote for this item now and receive a response within one business day!
Video
Specs
Features
3G/HD/SD Up/Down/Cross convert
Audio/HDMI/SDI/VGA input
3G/HD/SD SDI and HDMI output
DC 12V, 3.6 watts
Video Inputs (VGA x 1, HDMI x 1 , HD/SD-SDI x 1): SDI (YUV): 1080p60/59.94/50, 1080p30/29.97/25/24/23.98, 1080psf30/29.97/25/24/23.98, 1080i60/59.94/50, 720p60/59.94/50, 525i, 625i; HDMI (YUV / RGB): 1080p60/59.94/50, 1080p30/29.97/25/24/23.98, 1080psf30/29.97/25/24/23.98, 1080i60/59.94/50, 720p60/59.94/50, 480p, 576p, 480i, 576i, 800x600@60Hz, 1024x768@60Hz, 1280x1024@60Hz, 1366x768@60Hz, 1400x1050@60Hz, 1600x1200@60Hz; VGA (RGB): 800x600@60Hz, 1024x768@60Hz, 1280x1024@60Hz, 1366x768@60Hz, 1400x1050@60Hz, 1600x1200@60Hz, 1280x720@60Hz, 1920x1080@60Hz
Video Outputs (SDI x 2, HDMI x 1, SDI Loop thru BNC (front panel)): SDI / HDMI : 1080p60/59.94/50, 1080p30/29.97/25/24/23.98, 1080i60/59.94/50, 20p60/59.94/50, 525i, 625i
Audio Format (Input): Analog Audio L/R : stereo audio; SDI / HDMI embedded audio up to 8CH, 48KHz, PCM audio; HDMI embedded audio up to 8CH, 44.1/48/96KHz, PCM audio
Audio Format (Output): SDI embedded audio up to 8CH, 48KHz, PCM audio; HDMI embedded audio up to 8CH, 48KHz, PCM audio