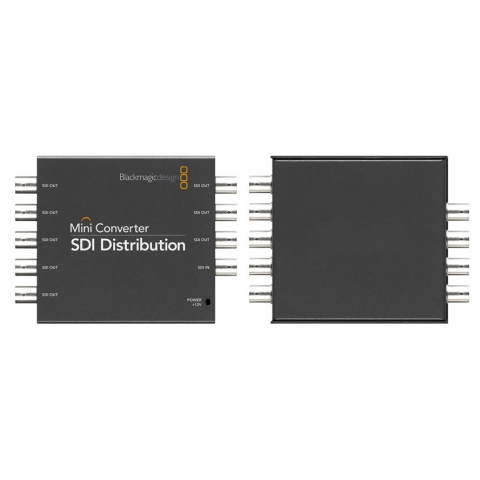 Blackmagic Design 1:8 3G-SDI Mini Converter
Details
Description
The Blackmagic Design Mini Converter SDI Distribution is a 1x8 distribution amplifier for SD-SDI, HD-SDI, and 3G-SDI signals. The Mini Converter auto-detects the input signal type, re-clocks it, and its eight outputs automatically match the SDI video input. 
4Wall Entertainment Lighting is a rental company with locations nationwide. Since 1999 we've been providing quality stage and theatrical lighting equipment from the industry's top manufacturers. Request a rental quote for this item now and receive a response within one business day!
Features
Inputs:1x SDI: Detects & auto-switches between SD-, HD-, and 3G-SDI.
Outputs:8x SDI: Automatically match the SDI video input.
Re-clocking:Yes.
Supported Formats:NTSC, PAL, 720p, 1080i, 1080PsF, 1080p, 2K p, and 2K PsF. SDI Compliance SMPTE 259M, SMPTE 292M, SMPTE 296M, SMPTE 372M, and SMPTE 425M.
Video Sampling:4:2:2 and 4:4:4
Audio Sampling:Television standard sample rate of 48 kHz and 24-bit.
Color Precision:4:2:2 and 4:4:4.
Color Space:YUV and RGB.
ASI Support:Yes.
Power Supply:12V universal power supply included.
Power Consumption:110V: 40mA, 220V: 20mA.
Voltage Range:12-30V.