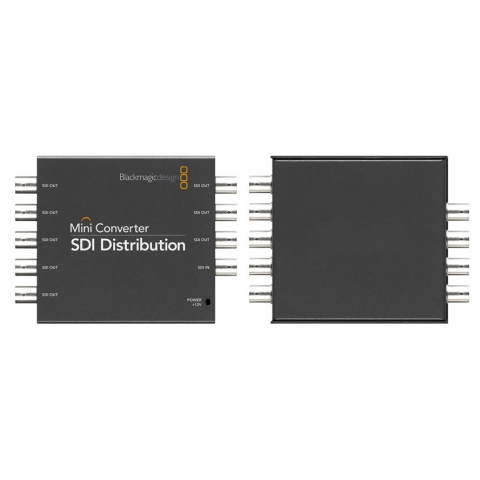 Blackmagic Design 1:8 3G-SDI Mini Converter
Details
Description
The Blackmagic Design Mini Converter SDI Distribution is a 1x8 distribution amplifier for SD-SDI, HD-SDI, and 3G-SDI signals. The Mini Converter auto-detects the input signal type, re-clocks it, and its eight outputs automatically match the SDI video input.
We strive to provide impeccably maintained rental equipment for the entertainment industry that is prepped and ready for your event. Our experienced staff stands ready to help you with your lighting, video, rigging & production needs. Rental inventory availability may vary based on date and 4Wall location. In cases where your preferred item is unavailable, we'll do our best to suggest a suitable replacement.
Features
Inputs:1x SDI: Detects & auto-switches between SD-, HD-, and 3G-SDI.
Outputs:8x SDI: Automatically match the SDI video input.
Re-clocking:Yes.
Supported Formats:NTSC, PAL, 720p, 1080i, 1080PsF, 1080p, 2K p, and 2K PsF. SDI Compliance SMPTE 259M, SMPTE 292M, SMPTE 296M, SMPTE 372M, and SMPTE 425M.
Video Sampling:4:2:2 and 4:4:4
Audio Sampling:Television standard sample rate of 48 kHz and 24-bit.
Color Precision:4:2:2 and 4:4:4.
Color Space:YUV and RGB.
ASI Support:Yes.
Power Supply:12V universal power supply included.
Power Consumption:110V: 40mA, 220V: 20mA.
Voltage Range:12-30V.