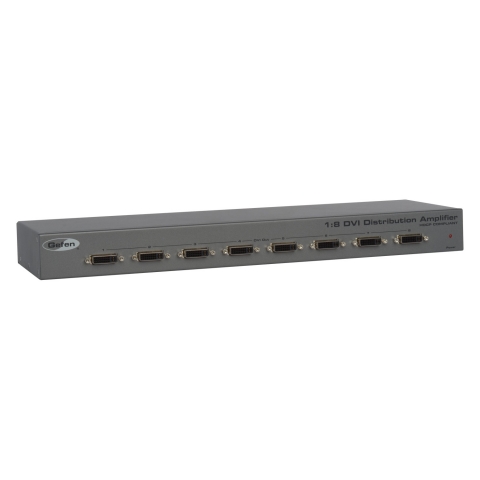 Gefen 1:8 DVI Distribution Amplifier
Details
Description
The 1:8 DVI Distribution Amplifier is the perfect solution for anyone who needs to send one source of digital high definition video to multiple displays at the same time. It supports all DVI equipment, such as computers, HD-DVD players and satellite set top boxes and all DVI displays. DVI (digital visual interface) is a common connector used throughout the industry to connect digital video displays to video sources. In operation, the digital video source is connected to the distribution amplifier on one side. On the other side, eight video outputs are available to be used in part or in full. Once the unit is connected and powered, your video source is routed to up to eight digital displays at the same time.
For home theater applications, the unit is HDCP (high bandwidth digital content protection) compliant, making it effective for use with all HDTV displays.
We strive to provide impeccably maintained rental equipment for the entertainment industry that is prepped and ready for your event. Our experienced staff stands ready to help you with your lighting, video, rigging & production needs. Rental inventory availability may vary based on date and 4Wall location. In cases where your preferred item is unavailable, we'll do our best to suggest a suitable replacement.
Downloads
Features
Splits one Single-Link DVI source to eight Single-Link DVI outputs
Supports video resolutions up to 1920 x 1200
HDCP-compliant
Easy Plug-and-Play installation
Rack-mountable
Supports DDWG standard for DVI monitors