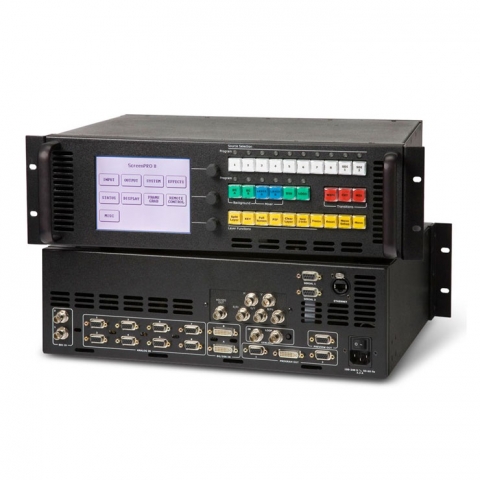 Barco ScreenPRO-II HD/SDI Switcher
Details
Description
ScreenPRO-II uses four image layers (unscaled background, up to two scaled PiPs or keys, and an unscaled downstream key) to produce sophisticated effects, including live transitioning backgrounds, transitioning PiP windows, wipes, dissolves and keys. An internal 8x2 analog video router provides universal analog sources to each scaler schannel. Barco's ScreenPRO-II features a low video processing delay of three input fields maximum. With the EOC, the ScreenPRO-II can use the DVI background channels as inputs to the scaler channels, adds HD-SDI and interlaced output for recording, and can have storage for 100 logo stills.
We strive to provide impeccably maintained rental equipment for the entertainment industry that is prepped and ready for your event. Our experienced staff stands ready to help you with your lighting, video, rigging & production needs. Rental inventory availability may vary based on date and 4Wall location. In cases where your preferred item is unavailable, we'll do our best to suggest a suitable replacement.
Downloads
Features
Transitioning PiP or key on a transitioning background
Native high resolution background channels independent of the PiP/key processing channel
PiP Effects: PiP size from 1/8 to 8X source resolution; Adjustable PiP aspect ratio
PiP borders, including drop shadows and soft edge
Keying: Luminance key; Split key (key alpha and fill); Reverse key (key on background)
Native high resolution downstream key channel independent of PiP/key processing channels
Numerous mix and wipe effects
Video processing: 10-bit processing; 1:1 pixel sampling; Motion adaptive de-interlacing (SD & HD); 3:2 and 2:2 pull down detect; Image cropping; Aspect ratio correction
Low video delay - less than 3 input fields
Programmable matte
Z-order control (priority layers) for overlapping PiPs or keys
Mixer dynamically re-assignable as a mixing (transitioning) PiP or as two individual (split) non-transitioning PiPs or keys
Capture and storage of two LOGO images for use as full-screen image or downstream key source
Look-ahead preview
Output synchronization: free-run or vertically locked to NTSC/PAL blackburst, CSync or HD tri-level sync
Buy it Used

Thinking of purchasing rather than renting? UsedLighting.com is a division of 4Wall Entertainment that provides a safe place for buying, selling, and brokering quality used stage lighting equipment. The site carries technician maintained inventory sold directly from 4Wall rental stock that includes unparalleled warranties and customer service.