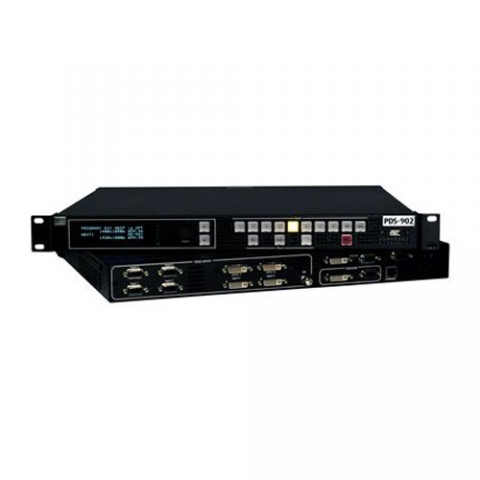 Barco PDS-902 3G Switcher
Details
Description
The PDS series is designed to meet today's requirements for a high-quality, easy-to-use and fast seamless switcher with more digital inputs at an affordable price. Thanks to its straightforward setup and operation the PDS is a perfect fit for live events, boardrooms, hotel ballrooms, houses of worship, education and training facilities and fixed installations.
The PDS-902 3G model features four DVI-I inputs with full HDCP 1.0 support, one 3G/HD/SD SDI and four universal analog inputs. All analog and DVI inputs support the EDID 1.3 specification. Users can capture and store up to three images that can be used as a LOGO source during the presentation.
4Wall Entertainment Lighting is a rental company with locations nationwide. Since 1999 we've been providing quality stage and theatrical lighting equipment from the industry's top manufacturers. Request a rental quote for this item now and receive a response within one business day!
Specs
Features
Video inputs: 9 fixed inputs; 4 x Analog Via HD-15 (VGA connector); 4 x DVI-I input (supports both analog and DVI); 1 x 3G SDI input
Video outputs: 2x DVI (Preview and Program), 2x HD-15 (VGA) (Preview and Program), 1x 3G SDI (Program only)
Program output: 1 Program output via HD-15, DVI or 3G-SDI; 1 Preview/Matrix output
Mixers: 1 mixer or 2 pips
Still stores: 3
Layer effects: Full screen Mixing transitions with preview PIP mode, Matrix output mode
Multiviewer: Single Preview output showing next source. Preview output becomes program output in Matrix mode.
HDCP: HDCP compliant
Control: Ethernet RJ­45, 10/100 Mbps autosense computer, tablet, smartphone via web browser; Control functions include: source input configuration, output format selection, test pattern selection, transition effect selection and control