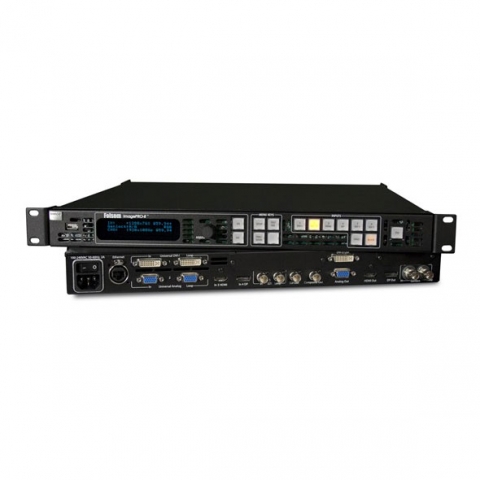 Barco ImagePRO-II Dual Output
Details
Description
ImagePRO-II is an advanced high-performance all-in-one video scaler, scan converter, switcher, and transcoder converting most input signal formats to most output formats. ImagePRO-II supports Analog, dual link DVI, HDMI, DisplayPort and 3G SDI signal formats, including 4K@30p via dual link DVI and DisplayPort. Loop-through outputs are provided for the Analog, DVI and SDI input and gen-lock signals. With features like 4K scaling, HDCP and EDID management, USB back-up and restore, extremely low latency converting modes, still store capture/import/export, ImagePRO-II is the industry-leading 4K scaler, converter, and switcher.
In addition to the standard features, the dual output model can convert independently one input signal to two separate outputs at different resolutions. 
4Wall Entertainment Lighting is a rental company with locations nationwide. Since 1999 we've been providing quality stage and theatrical lighting equipment from the industry's top manufacturers. Request a rental quote for this item now and receive a response within one business day!
Video
Specs