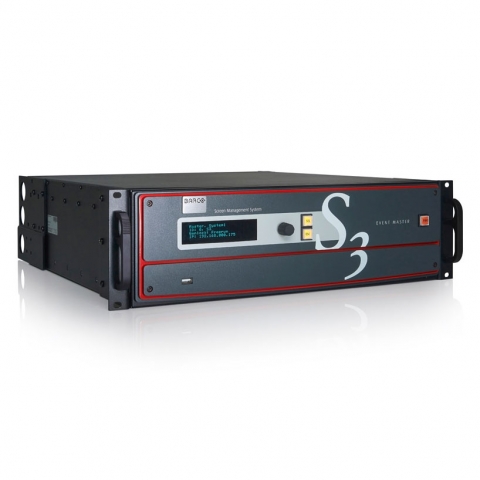 Barco S3-4K Event Switcher
Details
Description
The S3-4K features 12 input channels, 4 Program outputs, 4 AUX outputs and 2 dedicated Multiviewer outputs. It offers unparalleled flexibility, excellent image quality, and rugged durability to create a stunning live experience.
We strive to provide impeccably maintained rental equipment for the entertainment industry that is prepped and ready for your event. Our experienced staff stands ready to help you with your lighting, video, rigging & production needs. Rental inventory availability may vary based on date and 4Wall location. In cases where your preferred item is unavailable, we'll do our best to suggest a suitable replacement.
Downloads
Features
Video inputs: 12 inputs via 3 input cards (Event Master series cards); Up to 3 x 4K inputs - each input card supports up to 4K@60p; 4 x SD/HD/3G SDI (6G ready)
4 x HDMI 1.4a (297 Mpix/sec max); 4 x DisplayPort 1.1 (330 Mpix/sec max)
Video outputs: 10 outputs via 3 output cards (Event Master series cards); Up to 2x 4K outputs - each output card supports up to 4K@60 p; 4 x SD/HD/3G SDI (6G ready); 4x HDMI 1.4a (297 Mpix/sec max); 2 x HDMI 1.4a for Multiviewer (297 Mpix/sec max)
Genlock: Analog reference input/loop on BNC connectors; bi-level and blackburst at SD and tri-level at HD; S3D Sync: 4x input Din connector, 2x output Din connector
Program output: 4 program outputs configurable as single screens or tiled/blended widescreens; Configurable from 4X 2048X1200@60 max to 1 x 4096x2400@60 max; Independent edge blending/feathering control for all four sides
Scaled Aux outputs: User definable from 4 x 2048x1200@60 to 1 x 4K@60; Output color correction
Mixers: Native resolution background mixer per output screen; Independent layer transitions or full Preview/Program transition; Flexible layer allocation - 4 mixable or 8 single scalable PIP/key layers assignable to any Program output screen
Still stores: Up to 100 HD stills available in background, Aux or PIP
Layer effects: Borders (hard, soft, halo) and drop shadows; Color effects; Strobe, H&V flip; Luma key; PIP moves via Keyframes
Multiviewer: Flexible user-definable layouts; Monitor all Inputs and Outputs, including Preview and Aux; Two outputs; Dedicated hardware same as E2 Event Master Processor
HDCP: HDCP compliant
Control: Event Master screen management software for PC or MAC;
Ethernet RJ-45, 1000/100/10 Mbps autosense
Buy it New

Thinking of purchasing rather than renting? NewLighting.com is a division of 4Wall Entertainment that carries brand new, unopened fixtures and accessories from top manufacturers. You can rest assured that purchases from the site include all applicable manufacturer warranties, as well as the full customer service and support of the 4Wall family of companies.