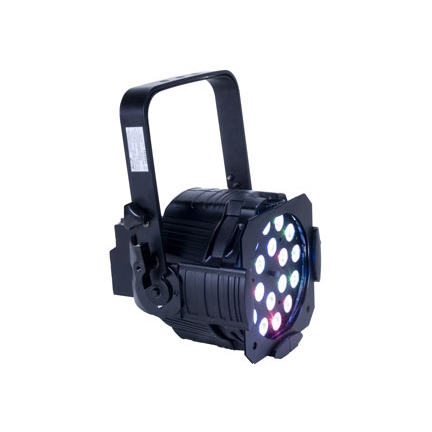 Details
Description
The Opti Tri Par by Elation Professional is a RBG tri color LED par featuring 18 tri RGB running at 3W power each. The design of the fixture is optimized providing up to 50,000 hours estimated LED life, 70W power consumption, fan cooled and flicker free operation. The Opti Tri Par is operable via 6 DMX channel modes: 1, 2, 3, 4, 6, and 7. This unit produces a standard beam angle of 25° and is rated IP 20, ideal for indoor applications. Control data input is via 5 pin DMX data first in and out connections.
Only located at 4Wall Orange County.
4Wall Entertainment Lighting is a rental company with locations nationwide. Since 1999 we've been providing quality stage and theatrical lighting equipment from the industry's top manufacturers. Request a rental quote for this item now and receive a response within one business day!
Video
Specs
Features
Die Cast Aluminum LED Par Can w/ Gel Frame holder
Tri-Color LED Par Can
DMX intelligent 3-in-1 RGB LED wash
18 x 3W LEDs
25º standard beam angle
Rated IP 20
Case Color: Black and White Standard Options
Cooling: Fan Cooled
Electronic power supply
4 Digit LED display
DMX controllable via 6 DMX modes: 1, 2, 3, 4, 6, & 7
Macros: Yes
Gel Frame Included
Master/Slave
On Board Control
Stand Alone
Flicker Free
DMX Channels: 6 DMX modes: 1, 2, 3, 4, 6, & 7
Control: USITT DMX-512, 5 pin XLR data input & output
Dimmer: Master Dimmer (7 ch mode)
Strobe: Strobe effect (1-18 flashes per second)
IP Rating: IP 20
Power Suply: 90 - 240v, 50/60Hz
Power Consumption: 70W
Ballast: Electronic
Cable / Plug Type: Locking IEC PPG 120v Supplied
Approvals: ETL & CE Approved
Lamp: SSC-Tri RGB, 18 x Tri RGB, 18 x 3W LEDs
Lamp Life: 50,000 hrs. life
Lux: 518 Lux @ 3M
Dimensions: 11.5" x 8.5" x 8.5" / 292.1 x 215.9 x 215.9mm
Weight: 11 lbs / 4.9 kg