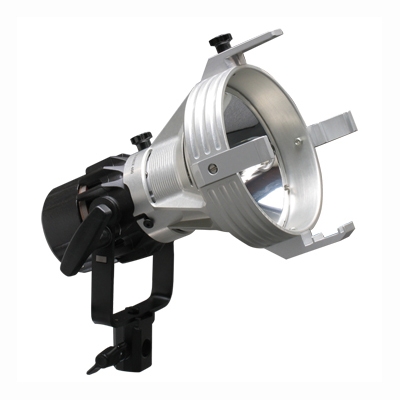 Details
Description
The Joker-Bug 400 combines the characteristics of the Bug-Lite 400, a 400 Watt daylight HMI system without optics, with those of the Joker 400, a PAR 46 fixture using a specular parabolic reflector and a set of 4 lenses. The Joker-Bug 400 is comparable to a 1500/2000Wquartz fixture but with a power draw of only 5.5 Amps.
Included with your K5600 Joker-Bug 400 Rental:
400w Ballast – Joker
25' Head Cable
Fresnel Lens
Medium Lens
Wide Lens
X-Wide Lens
Lens Bag
Barndoor
Clear Beaker
Frosted Beaker
Scrim Set 6 5/8"
Roadcase
We strive to provide impeccably maintained rental equipment for the entertainment industry that is prepped and ready for your event. Our experienced staff stands ready to help you with your lighting, video, rigging & production needs. Rental inventory availability may vary based on date and 4Wall location. In cases where your preferred item is unavailable, we'll do our best to suggest a suitable replacement.
Downloads
Features
Lamp Housing: Aluminum casting, high temperature black. Striker compartment is made of aluminum in light gray finish.
Lamp Socket: GZZ 9.5, highly insulated for hot retsrike.
Safety Glass Beaker: Borosilicate UV filter tempered.
Yoke: Aluminum casting black high temperature finish. Large T-handle and large brake area for use with Lightbanks, SpeedRings, Louvers and Lanterns.
BEAMER Housing: Solid one piece machined aluminum with replaceable ears. Black anodized.
BEAMER Reflector: 5" diameter specular parabolic, aluminum 90% reflectance electrolytically coated.
Accessory Size: 6 5/8"
Mounting/Grip Equipment: All standard 5/8" baby hardware.
Lamp: 400 Watt MSR/SE daylight single ended discharge, 5600 Kelvin, 700 hours maximum life.
Connectors: Veam quarter-turn quick locking.
Extension Cable: 25 foot shielded. Common to 200/400 and 800 (nine feet attached to the head).
Power Supply: Electronic, square wave flicker free. AC input: 90-132 Volt or by sliding selector switch: 180-265V. 50 or 60Hz. Dual function On/Off push button switch. Completely silent (convection cooled).