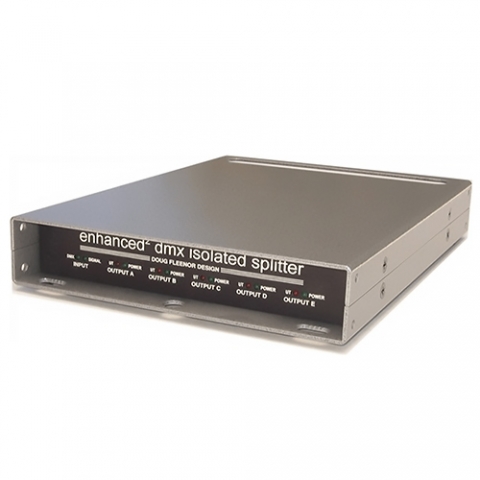 Doug Fleenor
Doug Fleenor Enhanced Isolated Splitter
Details
Description
The Enhanced Isolated Splitter includes all the features of a standard splitter but with added protection to meet the needs of harsh operating conditions. All outputs are isolated from the input and from the other outputs by optical couplers. Every output has its own power supply and line driver. For protection against electrical storms, the Splitter adds four transient absorbers on the input, two on each output, and one on the power line. To protect against miswiring, it has self resetting fuses on the DMX512 input and outputs that protect the splitter against damaging voltages up to 120 volts.
We strive to provide impeccably maintained equipment that is prepped and ready for your next event. Our experienced staff stands ready to help you create the perfect lighting and video experience. You will receive a rental quote back within 1 business day.
Downloads
Features
Baud rate:
0 to 250 Kilobaud
Input circuit:
EIA-485 receiver protected by two self resetting fuses - 120 ohm input terminator protected by a self resetting fuse - Four transorb diodes:
two on +Data, two on -Data
Input signal:
0.5 volts minimum, 12 volts maximum
Input can withstand up to 120 volts without damage, transients up to 5KV
Output circuit:
Slew rate limited EIA-485 driver protected by two self resetting Polyswitch fuses.
One transorb diode on +Data, one on -Data.
Output signal:
EIA-485 driver yields an approximate 3 volt signal into 120 Ohms
Outputs can withstand up to 12 volts without damage, transients up to 5KV.
Isolation:
2500 volt optical coupler, 5000 volt split bobbin transformer
Power input:
90 - 240 volts, 50/60 hertz, 0.1 amp (24 watts)IEC-320 (international) input connector
Buy it Used

Thinking of purchasing rather than renting? UsedLighting.com is a division of 4Wall Entertainment that provides a safe place for buying, selling, and brokering quality used stage lighting equipment. The site carries technician maintained inventory sold directly from 4Wall rental stock that includes unparalleled warranties and customer service.
Buy it New

Thinking of purchasing rather than renting? NewLighting.com is a division of 4Wall Entertainment that carries brand new, unopened fixtures and accessories from top manufacturers. You can rest assured that purchases from the site include all applicable manufacturer warranties, as well as the full customer service and support of the 4Wall family of companies.