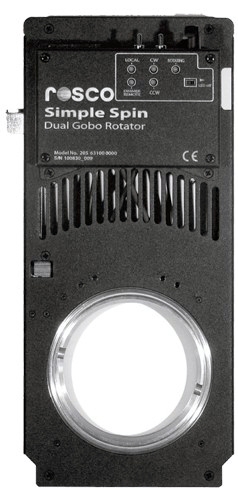 Rosco Simple Spin Dual Gobo Rotator
Details
Description
SimpleSpin uses a single, variable speed motor to rotate two B-size gobos.  Always rotating in opposition, the movement can be as slow as 0.5rpm for building subtle, naturalistic effects.  It's 24rpm maximum speed is perfect for creating a raging inferno or wild kinetic effects.
4Wall Entertainment Lighting is a rental company with locations nationwide. Since 1999 we've been providing quality stage and theatrical lighting equipment from the industry's top manufacturers. Request a rental quote for this item now and receive a response within one business day!
Video
Specs
Features
0.5rpm minimum speed
24rpm maximum speed
Hi temperature silicon belt drive for silent operation
100-240v auto sensing internal power supply for global installation
Precise and reliable stepper motor provides constant torque to prevent stalls even at slow speeds
Advanced electronics allow for a dimmer-remote mode
Gobo installs using a unique threaded collar to prevent slipping with gobos from 0.1 - 3.5mm thick
Innovative "Friction Lock" for secure installation
Convenience controls to reverse direction and black out indicator lights
Buy it New

Thinking of purchasing rather than renting? NewLighting.com is a division of 4Wall Entertainment that carries brand new, unopened fixtures and accessories from top manufacturers. You can rest assured that purchases from the site include all applicable manufacturer warranties, as well as the full customer service and support of the 4Wall family of companies.