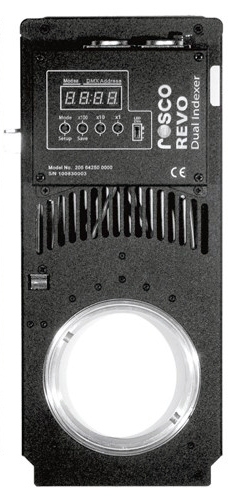 Rosco
Rosco Revo Dual Indexing Rotator
Details
Description
Project reflected water, flickering fire, gentle rain, blowing clouds, swaying trees, rippling waves, shimmering light, exploding fireworks, spiraling tornadoes, twinkling stars, morphing textures, spinning logos,eye-catching signage. This is just part of an endless list if effects that lighting designers can create using the REVO dual indexing rotator and Rosco steel and glass gobos.
We strive to provide impeccably maintained equipment that is prepped and ready for your next event. Our experienced staff stands ready to help you create the perfect lighting and video experience. You will receive a rental quote back within 1 business day.
Downloads
Features
High temperature silicon belt drive for silent operation
Uses 24v industry standard PSU
Dual, independent stepper motors allow for any combination of speed and direction between gobos
Precise and reliable stepper driver provides constant torque to prevent stalls even at slow speeds
8- or 16 bit indexing control on both gobos allows a designer to create effects without limits
7 modes of DMX control for maximum flexibility at the console
Gobo installs using a unique threaded collar to prevent slipping with gobos from 0.1 -3.5mm thick
Innovative "Friction Lock" for secure installation
Buy it Used

Thinking of purchasing rather than renting? UsedLighting.com is a division of 4Wall Entertainment that provides a safe place for buying, selling, and brokering quality used stage lighting equipment. The site carries technician maintained inventory sold directly from 4Wall rental stock that includes unparalleled warranties and customer service.