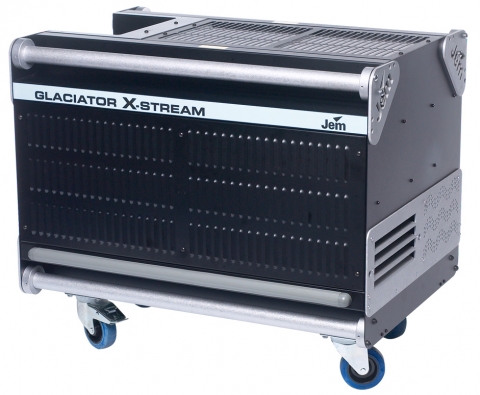 Martin Jem Glaciator X-Stream Fogger
Details
Description
​The Glaciator X-Stream creates a total ground fog effect from a self-contained unit. It utilizes the simple but effective Jem heavy fog fluids and a closed loop refrigeration system for an easy-to-produce heavy fog solution.The Glaciator X-Stream houses a remarkably powerful compressor, allowing colossal fog output levels. And because of its advanced, electronically controlled expansion valve, it has a rapid freeze down time and a fast recovery when fired. This means the Glaciator X-Stream runs continuously, - almost infinitely, with a cool ease.
4Wall Entertainment Lighting is a rental company with locations nationwide. Since 1999 we've been providing quality stage and theatrical lighting equipment from the industry's top manufacturers. Request a rental quote for this item now and receive a response within one business day!
Video
Specs
Features
Density control: low, medium or high
Continuous output
80 m2/min fog output
3500 W heat exchanger
15 min heat-up time
5 liter fluid capacity
Different fluid options for different applications
Internal or external fluid supply
Low fluid sensing
Self contained unit: no C02 or dry ice
Onboard DMX
On-board control panel
Buy it New

Thinking of purchasing rather than renting? NewLighting.com is a division of 4Wall Entertainment that carries brand new, unopened fixtures and accessories from top manufacturers. You can rest assured that purchases from the site include all applicable manufacturer warranties, as well as the full customer service and support of the 4Wall family of companies.