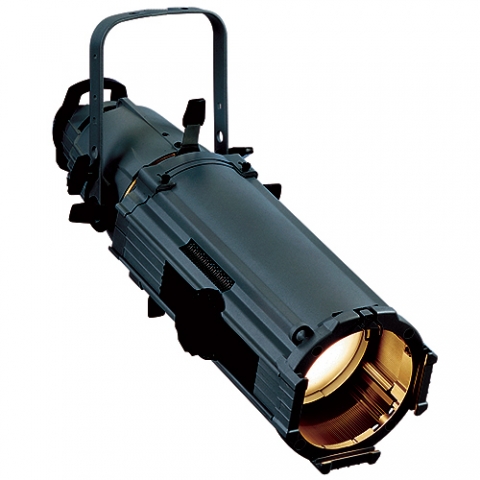 ETC Source Four Zoom 15-30 deg.
Details
Description
The ETC Source Four (Source 4) Zoom features a 15-30 degree zoom range. With Source Four Zoom you only need one fixture for a variety of field angles. ETC's patented one-handed zoom operation makes adjustments quick, simple, and safe. This fixture has a bright, even field and produces a cool beam. The patented dichroic mirror means shutters and accessories stay cool. Drop-in accessories are interchangeable with fixed-focus Source Fours. Technicians can focus with one hand and hold the ladder with the other.
4Wall Entertainment Lighting is a rental company with locations nationwide. Since 1999 we've been providing quality stage and theatrical lighting equipment from the industry's top manufacturers. Request a rental quote for this item now and receive a response within one business day!
Specs
Features
Rated up to 750w
Super-efficient HPL lamp
Facted dichroic reflector removes 90% of IR heat from beam
Positive zoom lock
Field angle and focus scale markings
Rotating Barrel
Three plane stainless-steel shutter assembly
Insulated rear handle
Supports Dimmer Doubling
Buy it Used

Thinking of purchasing rather than renting? UsedLighting.com is a division of 4Wall Entertainment that provides a safe place for buying, selling, and brokering quality used stage lighting equipment. The site carries technician maintained inventory sold directly from 4Wall rental stock that includes unparalleled warranties and customer service.
Buy it New

Thinking of purchasing rather than renting? NewLighting.com is a division of 4Wall Entertainment that carries brand new, unopened fixtures and accessories from top manufacturers. You can rest assured that purchases from the site include all applicable manufacturer warranties, as well as the full customer service and support of the 4Wall family of companies.