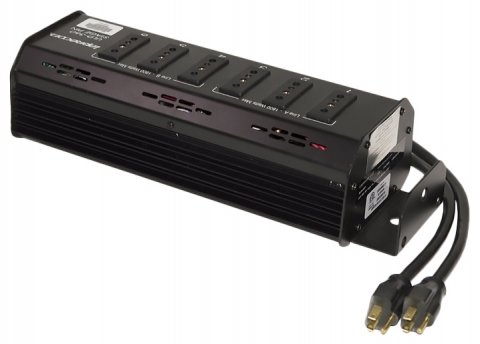 Details
Description
The solid design and construction of Leprecon's ULD 360 Dimmers assure that they will handle the most demanding conditions no matter what the environment. These dimmers feature 6, 600W stage pin dimmers along with 5-pin XLR connectors.
4Wall Entertainment Lighting is a rental company with locations nationwide. Since 1999 we've been providing quality stage and theatrical lighting equipment from the industry's top manufacturers. Request a rental quote for this item now and receive a response within one business day!
Specs
Features
600W per dimmer
6 Channels, 3600W
Illuminated magnetic breakers
Over-temp/over-volt pack protection
4 programmable output settings per channel: linear, non-dim, fluorescent, or fixed intensity
25 Amp SSR per channel
Encapsulated chokes for quiet operation
LED display
DMX-512-5 pin M/F XLR
Built-In Mounting bracket
Rated continuous use duty cycle on all 15A models
Selectable curves
Professional quality noise filtering
Part #: 90-06-0251
Buy it Used

Thinking of purchasing rather than renting? UsedLighting.com is a division of 4Wall Entertainment that provides a safe place for buying, selling, and brokering quality used stage lighting equipment. The site carries technician maintained inventory sold directly from 4Wall rental stock that includes unparalleled warranties and customer service.
Buy it New

Thinking of purchasing rather than renting? NewLighting.com is a division of 4Wall Entertainment that carries brand new, unopened fixtures and accessories from top manufacturers. You can rest assured that purchases from the site include all applicable manufacturer warranties, as well as the full customer service and support of the 4Wall family of companies.