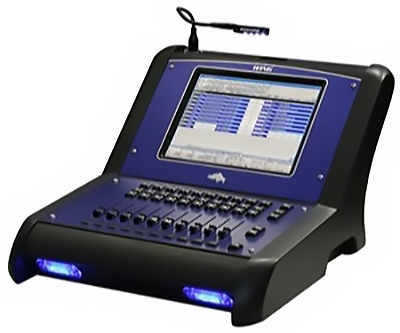 High End Systems Road Hog Playback Wing
Details
Description
The High End Systems Road Hog Playback Wing features an intelligent design, including a 12" touchscreen monitor, high quality playback controls, and DMX output capabilities.  The wing is equally at home next to a Road Hog / Road Hog Full Boar console or as part of a Hog 3PC system.
4Wall Entertainment Lighting is a rental company with locations nationwide. Since 1999 we've been providing quality stage and theatrical lighting equipment from the industry's top manufacturers. Request a rental quote for this item now and receive a response within one business day!
Features
Full Wholehog playback masters, identical to those on the console
10 masters, each with Choose, Go, Halt and Flash buttons and a Penny & Giles fader
Next Page, Assert, Release, Skip Forward, Skip Backward and Pig buttons
Bi-color LEDs and desklight are software-dimmable
Multiple playback wings can be connected to the Wholehog software
USB connection to Hog 3PC computer, Road Hog Full Boar, Hog iPC or Wholehog 3 console
VGA connection for 12" touchscreen
Integrated touchscreen controls
Super Widget Expansion slot provides four DMX outputs from PC based products (when optional Super Widget is installed)
Socket for a Road Hog LED desklight, fully dimmable
LED Desklight and feedback LEDs dimmable
Blue LED side marker lights
Rugged, sleek Road Hog styling
Status LEDs for power, data, and expansion
One type B USB input socket
Auto-ranging mains input (90-250VAC)
Buy it Used

Thinking of purchasing rather than renting? UsedLighting.com is a division of 4Wall Entertainment that provides a safe place for buying, selling, and brokering quality used stage lighting equipment. The site carries technician maintained inventory sold directly from 4Wall rental stock that includes unparalleled warranties and customer service.