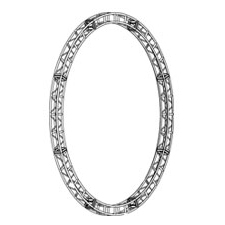 Tomcat
Tomcat Circular Truss (20' OD) 12" x 12"
Details
Description
This Tomcat Circular Truss has a 20' outside diameter, is  12" x 12" and has a 45 degree radius.  The circle comes in 8 pieces that are assembled using supplied truss bolts.

Tomcat is one of the entertainment industry's most respected truss manufacturers, known worldwide for reliability, compatibility, and safety.  All Tomcat truss products feature mill-certified materials created by AWS certified welders, and each fabricated component of the truss has been designed by a professional engineer licensed in the USA.  All Tomcat products are in compliance with ANSI code E1.2-2013. 
We strive to provide impeccably maintained equipment that is prepped and ready for your next event. Our experienced staff stands ready to help you create the perfect lighting and video experience. You will receive a rental quote back within 1 business day.
Features
12" x 12" x 20' (outside diameter)
Fabricated in the United States by AWS certified welders