Faces of 4Wall: Jeff Mateer
By Drew Quinones
Nov 1, 2017, updated Mar 31, 2020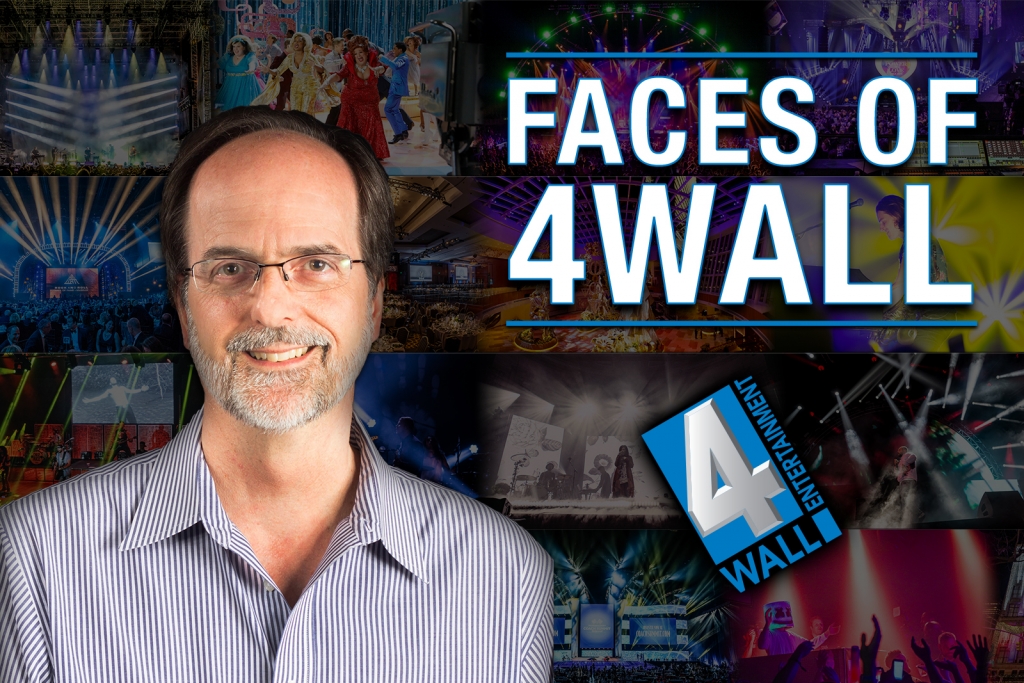 With the recent growth of 4Wall Entertainment, we wanted to shed some light - pun intended - on our experienced and knowledgeable staff that continues to be the driving force behind our "Large Enough to Service, Small Enough to Care" slogan. These words have shaped 4Wall since its inception in 1999, and that's due to the incredible staff that treats every client and piece of gear with care, dedication, quality, and expertise which have become the hallmarks of 4Wall.
Jeff Mateer - VP of Business Development
Some think Al Ridella and I provided the lighting at The Last Supper, but that's not true. I was on another gig and left the job in Al's hands.- Jeff Mateer
Jeff has been involved in the lighting industry for over 40 years. It's safe to say, that Jeff has been there, done that, and then some. From working with Mother Teresa in the late '70s to the Purple Rain tour in the '80s, Jeff's wealth of knowledge and experience is an invaluable asset to 4Wall. His customers all sing the same tune, Jeff leaves no stone unturned when it comes to lighting your event.
His first job happened to be in the audio industry where he designed and mixed audio for an amateur film.

"We all make mistakes and I soon switched to lighting," said Jeff. "My first touring lighting controller was a Luxtrol Dimmer that weighed over 100 pounds and took two people to lift."
In the late 70's, he toured with a group who provided sacred music for Catholic masses. He ended up working in India with Mother Teresa for six months through '79 and '80.
"I'm probably the only 4Wall employee to light a concert in a leper colony," said Jeff.
After graduating from Long Beach State with a degree in Radio/Television/Film, he landed a job at Light and Sound Design. His first tour with the company was 'Purple Rain' and his last tour was 'Spinal Tap.'
"I played the role of a dumb roadie, which did not come naturally," he joked. "The photo of me dressed as a chicken is when I was about to go onstage to start the second half of the show."
In 1986, he met his wife Yvonne while working the Julio Iglesias tour. Yvonne currently works for 4Wall's Systems and Design division.
In 2014, Jeff returned to Los Angeles, after a 10-year stint in the Midwest, and joined the 4Wall team.
His most notable job with 4Wall is working the 'Enchanted Forest of Light' at Descanso Gardens in Los Angeles.
"Chris Medvitz from Lightswitch created an amazing experience that was widely admired by both the public and lighting community," said Jeff. "Estimating cable for a 60-acre job was definitely a challenge."
When asked what he likes best about working for 4Wall, two things came to mind for him - the business model and the people.
"UsedLighting.com sets us apart from other lighting companies," explained Jeff. "The revenue stream adds to our bottom line and allows us to rotate rental assets keeping our equipment new and up to date."
Jeff continued.
"My fellow employees are a wonderful mix of talent, work ethics and humor," he said. "They put up with my road stories and sometimes let me help load trucks and coil cable.  I hope they all realize how much I appreciate and enjoy working with them."
Jeff and Yvonne have also been involved with helping lighting interns from the California Institute of Arts since 1997. Many of the original interns have become prominent managers and designers in our industry.
"At this point in my career it is incredibly rewarding to give back," said Jeff. "Yvonne and I absolutely love the interns 4Wall has had over the last three years and visit the campus for events and performances as often as possible."
Jeff has worked in 49 states, 41 countries, and even worked a show openly sponsored by the drug lord of Cali, Columbia. Yet he still enjoys meeting new customers who submit an online quote through 4Wall.com.
"Some are large jobs, but most are small," said Jeff. "It has been a terrific way to meet many new designers and to hear about their projects and venues."
This is a testament to Jeff's undeniable passion for the industry. 4Wall is truly appreciative to have him be a part of our team.
Jeff can be reached at: jmateer@4wall.com