About Us
Press Center
UsedLighting.com Announces Revamped Site
By on Sep 19, 2014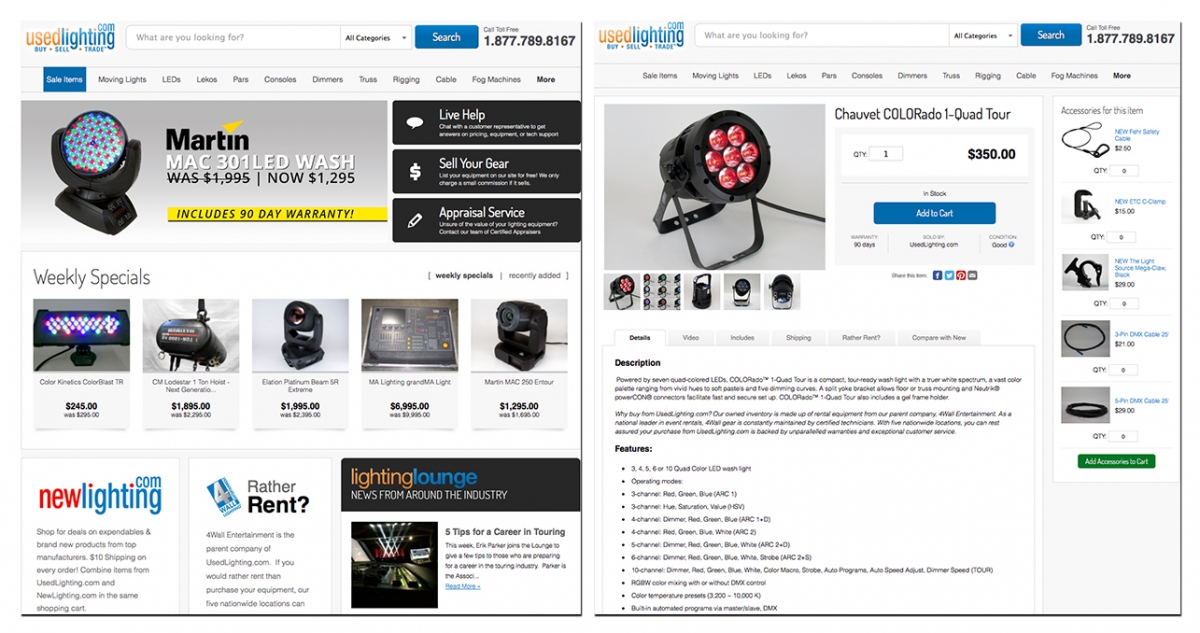 UsedLighting.com, the e-commerce division of 4Wall Entertainment, spent the summer undergoing a complete website renovation. In addition to an updated look and feel, every aspect of the site's customer experience has been evaluated and improved.
Notable changes to the site include:
-A redesigned homepage with a clean look and easier navigation
-Product pages that are now more informative than ever with videos, specs, accessories and more
-A simplified selling process that allows those creating a listing to have their gear submitted to the site in minutes
-The Lighting Lounge, a brand new section of the site focusing on product news and videos from top manufacturers, as well as original articles from lighting designers and other industry pros.
Those familiar with the site will still find easy access to UsedLighting.com's sister site, NewLighting.com, and items from both sites can still be purchased via one easy to use shopping cart. NewLighting.com still includes features such as the easy to use gel and gobo selectors, in addition to $10 shipping on every order.
Mike Mancuso, Director of Used Sales for UsedLighting.com, spoke of the new enhancements.
"Our goal for the new site was to make every part of the buying process- from research to checkout- an enjoyable experience. We feel we've accomplished that and created an intuitive site that will not only be a great place to buy and sell gear, but also a great place to browse and learn about theatrical lighting equipment."
Visit the new site now at www.usedlighting.com, or download the UsedLighting.com app for iPhone, found in the app store.