About Us
4Wall In The News
The Chris Carrino Foundation's FSHD Gala Goes Virtual on 4Wall Entertainment's New Virtual Event Pro Platform
By Drew Quinones
Oct 24, 2020, updated Nov 8, 2022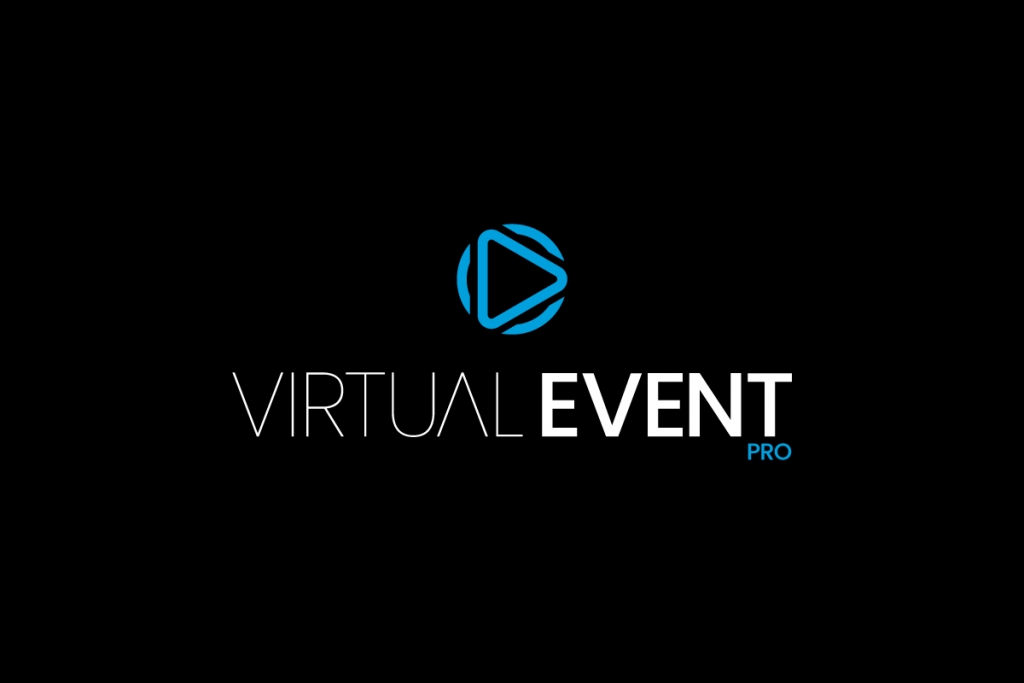 4Wall Entertainment, a global provider of lighting, video & rigging equipment and services, launched its all-new, proprietary one-stop virtual event platform, Virtual Event Pro, earlier this year. Every summer since 2011, the Chris Carrino Foundation's FSHD annual Gala has helped raise over a million dollars for FSHD research. For this year's Gala, 4Wall teamed up with global brand communications agency INVNT, to create an engaging and memorable virtual experience. 
The Virtual Event Pro Platform
 
Virtual Event Pro (VEP) is an interactive web-based platform that can be fully customized to provide the exact functionality an event requires with a seamless user experience. From pre-recorded videos on demand to full scale live virtual production, VEP is versatile for any event and is a standout solution in a booming virtual platform market.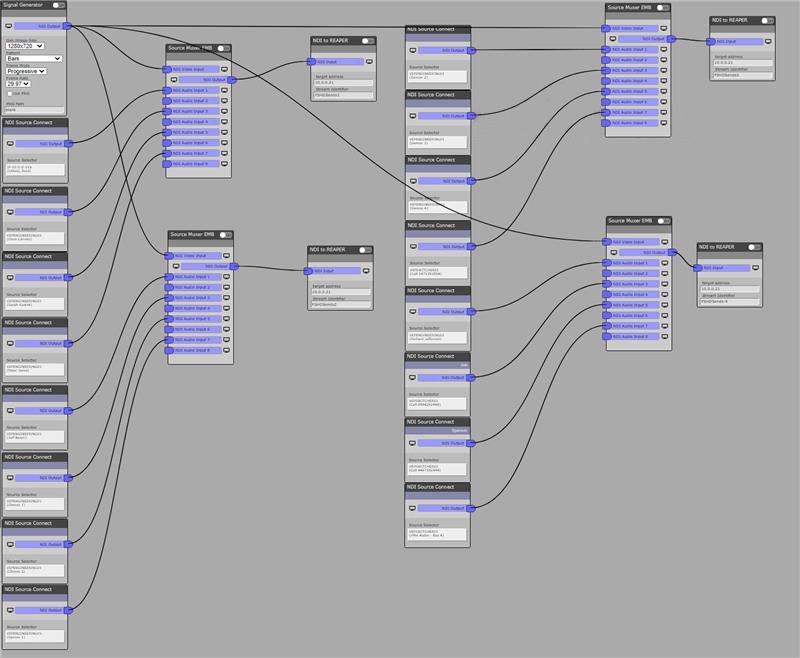 For live events that also require a virtual presence, 4Wall can provide a dedicated, remote technical team from source to screen, including audio and video mixing, lighting control, teleprompter operators, virtual stage managers, and more. 
Audience engagement is made easy with a built-in chat room that allows attendees to have individual or group conversations, create chat groups based on topics, as well as audio and video chats. 
Click here to learn more about Virtual Event Pro.
Chris Carrino Foundation's FSHD Virtual Gala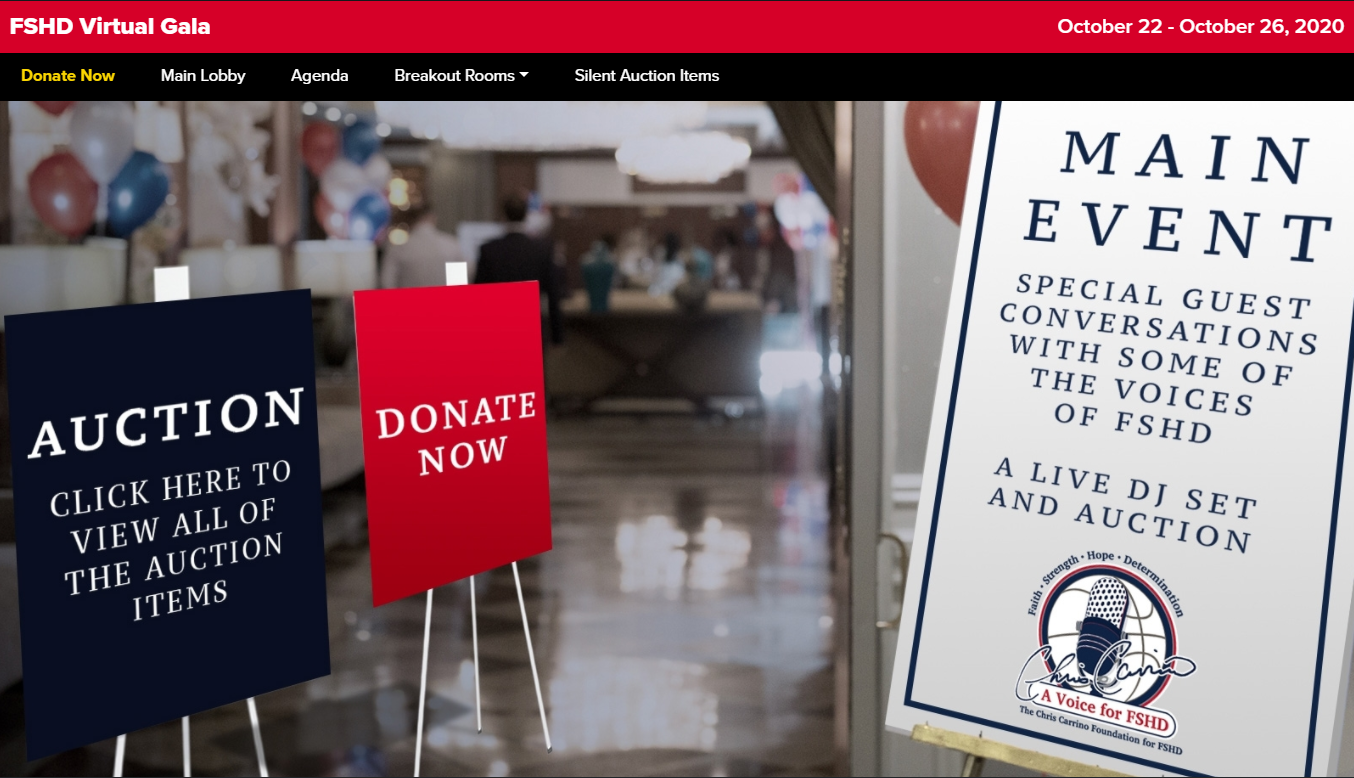 The FSHD Gala has been an in-person event at Russo's on the Bay in New York each summer for many years. INVNT has helped produce the event in previous years, from registration, invites, presentation design, giveaways, and activation buildouts for the raffle prizes that attendees bid on throughout the evening. The event is a fun night of music, pictures, dinner, performances, and speeches.   
When INVNT and Chris realized an in-person event wasn't going to be possible for 2020, they started making plans for hosting the event virtually. 
"It's an event that many people look forward to each year, and INVNT wanted to help bring it to life even if we couldn't all gather in person," said INVNT Production Assistant Shelby McAlpine. "INVNT worked with Chris to identify a new date and determine the best combination of performances, prizes, and guests to give attendees an entertaining evening."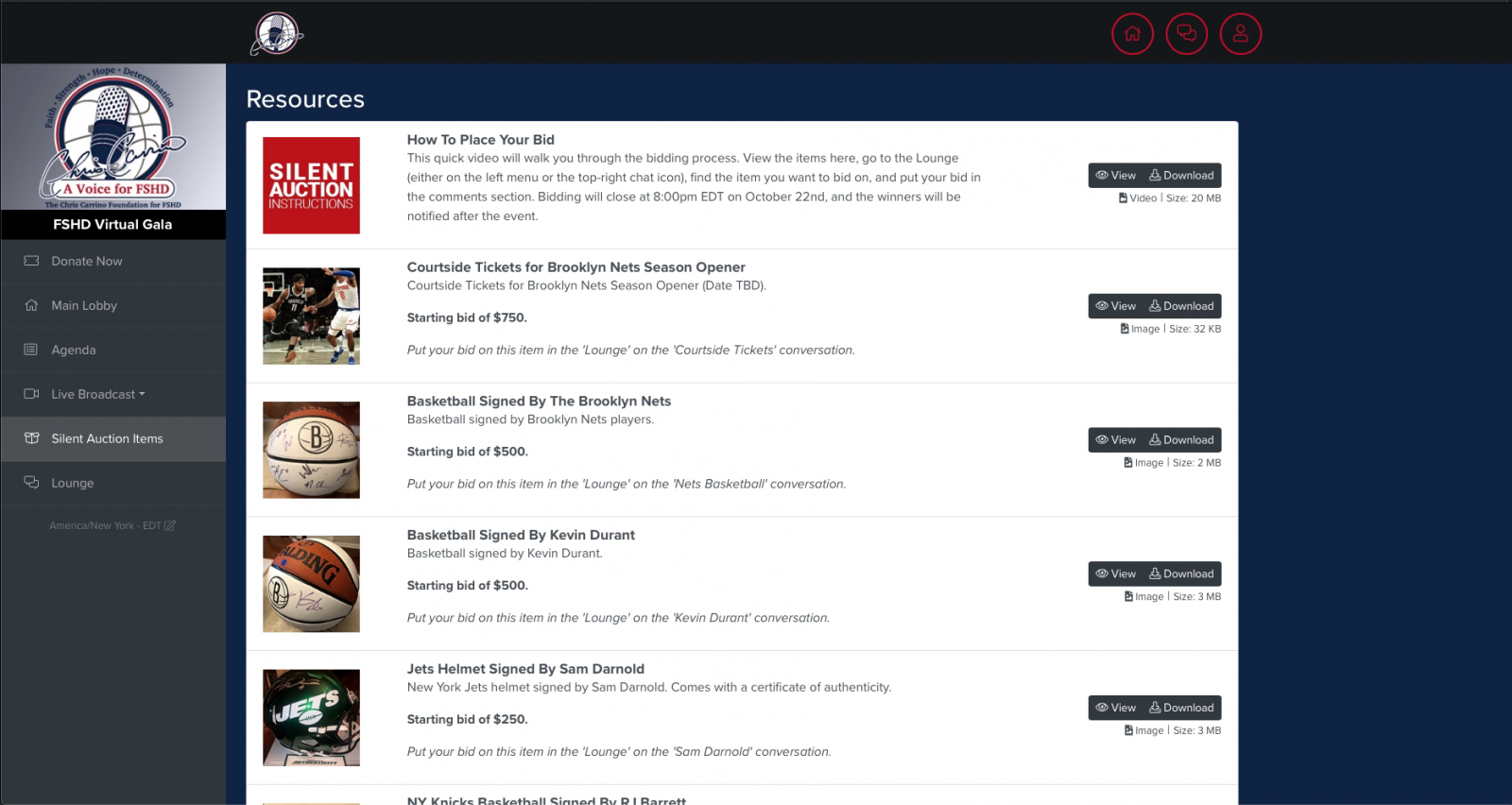 In addition to a broadcast-quality live stream, the Virtual Gala required several fundraising features, including the ability to host a silent auction with bidding, and the ability to make a donation. 4Wall utilized some of Virtual Event Pro's existing features and developed other custom features to fill these requirements. 
"4Wall was amazing at working with us to ensure the features available through Virtual Event Pro met our needs," said McAlpine. 
"It was exciting to take features that were typically used for one thing and find ways to adapt them to what the Virtual Gala needed. For example, turning our built-in ticketing feature into a donation area and utilizing the Lounge for a silent auction," explained 4Wall Director of Marketing Luke Lytle. "Seeing those adapted features in action during the Gala was an enjoyable experience for me."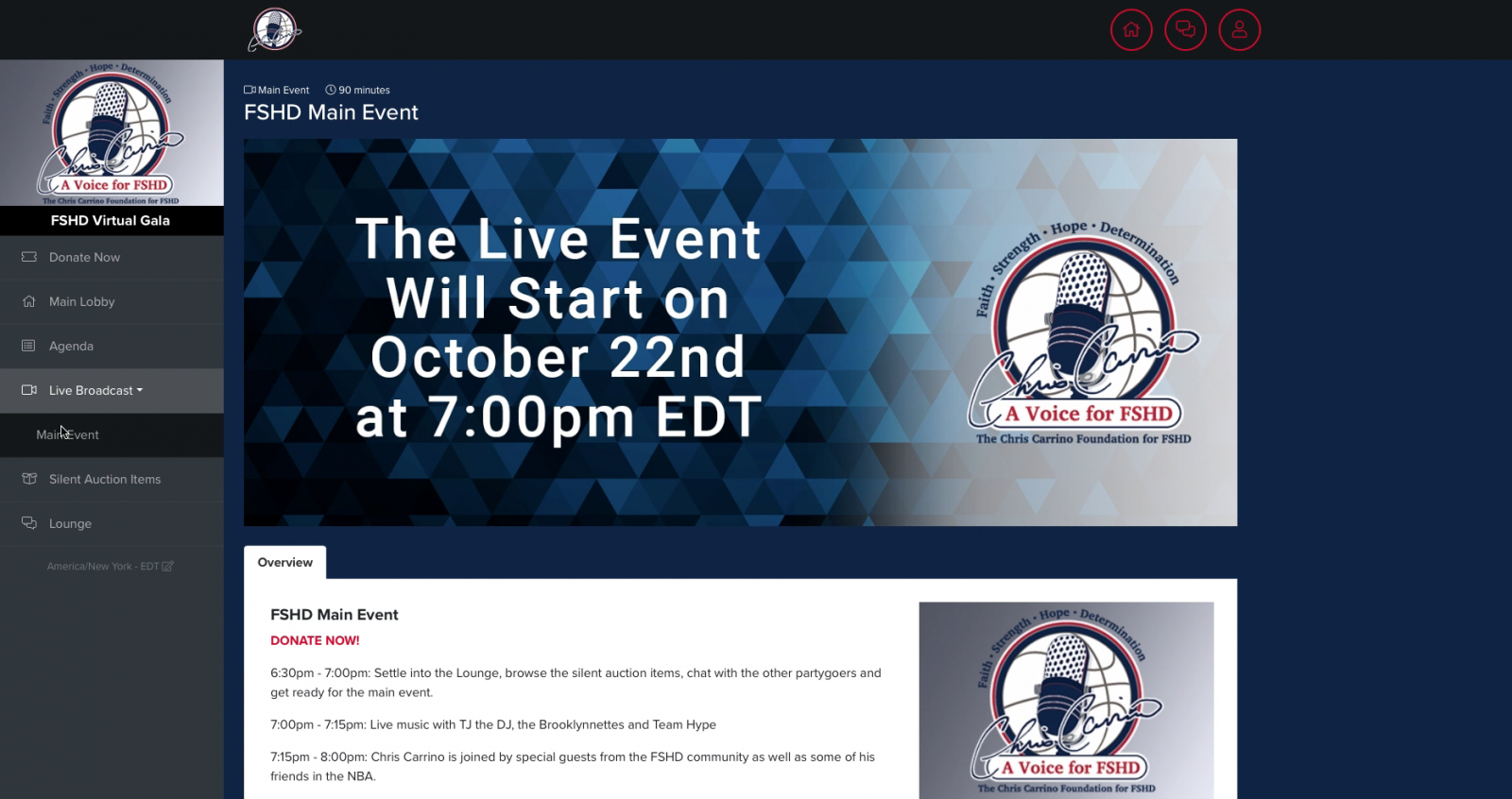 After logging in through the event's custom landing page, attendees were met with a custom lobby. From here, they were able to browse the event's agenda, bid on the auction items, make a donation, or chat with friends.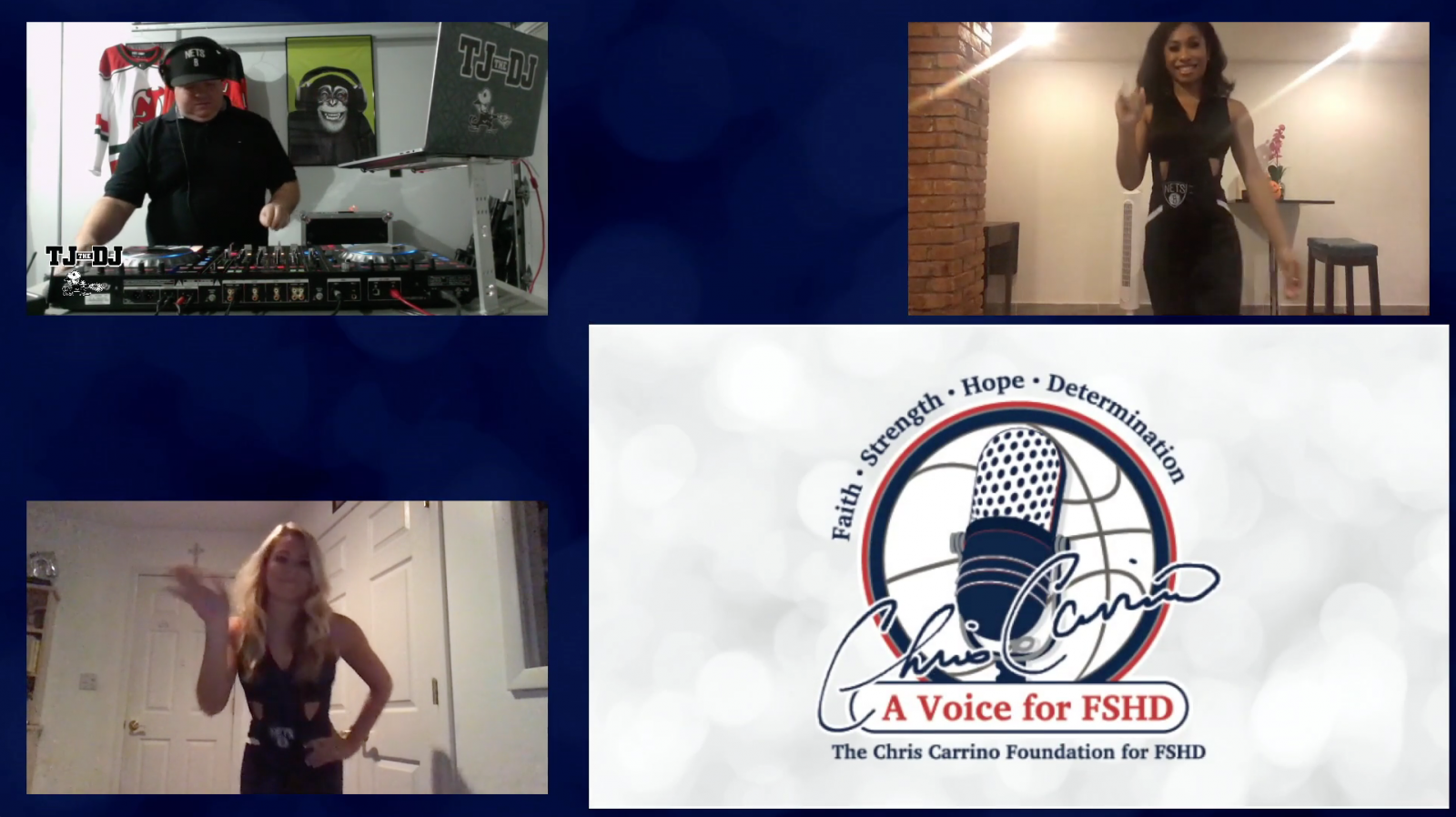 To kick off the live stream portion of the event, Brooklyn Nets' resident DJ 'TJ the DJ' provided live entertainment while guests began placing their bids on the items in the silent auction and chatted with friends. 'TJ the DJ' was then joined by the Brooklynnettes and Team Hype dancers, who were able to dance perfectly in sync to the DJ's music, thanks to the ultra-low-latency, broadcast-quality production tools available through Virtual Event Pro.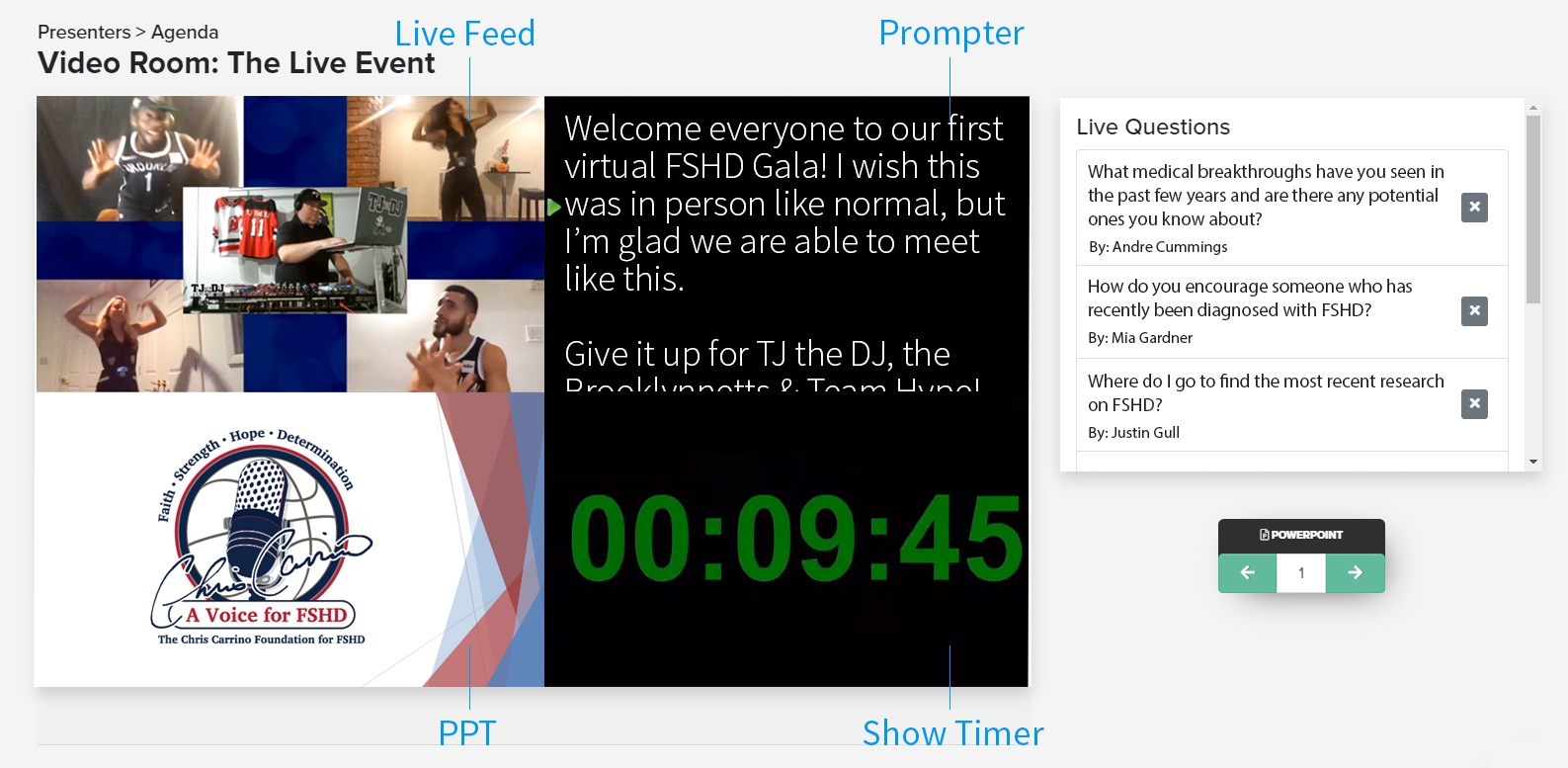 4Wall's completely remote production team, along with the production team from INVNT, managed 16 presenters, all using their own devices, which included NBA players connecting with their phones. Virtual Event Pro's production toolset provided every member of the production team with exactly what they wanted or needed to see at any given moment of the show.
"Because it was a charity event and presenters were volunteering their time, we did not get much rehearsal," explained Carter. "Three presenters were not able to attend any of our connection check or rehearsal slots".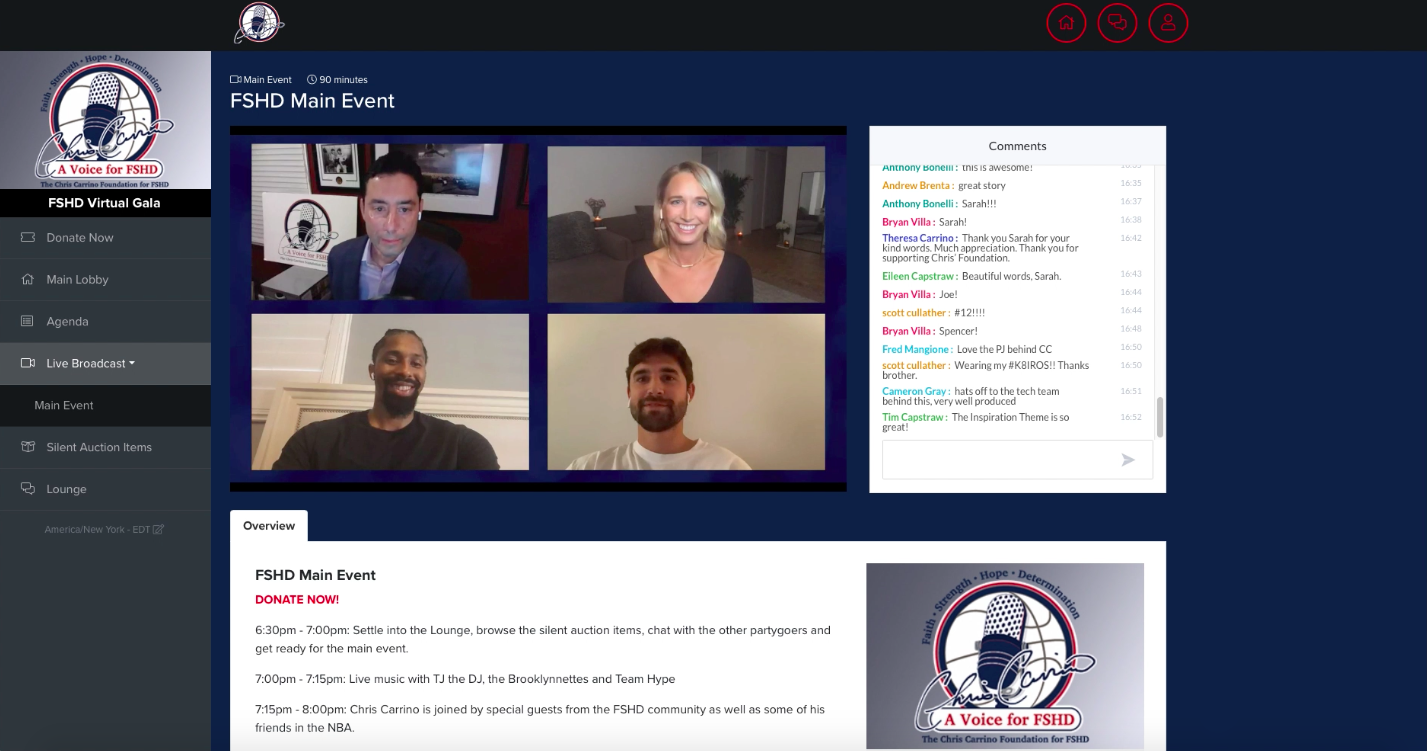 Utilizing Virtual Event Pro's multi-channel intercom system allowed Carter to communicate with the production team just as if he were in a broadcast truck, and the IFB (interruptible foldback) system allowed him to communicate with the presenters before, during, and after their presentations. "It was the closest I've felt to being in a broadcast truck since the shutdown," said Carter. 
"Virtual Event Pro was designed from the ground up to deliver an experience to producers and production personnel that is as close as you can get to being at the in-person events we are all used to. From dedicated, routable confidence monitors for each of the presenters, to ensuring show callers have tools like IFB, router panels, and switcher multiviews at their fingertips", adds 4Wall Director of Video Strategy Cory Froke. "Being able to work in the way that we're all used to with the tools that we're already familiar with using allows everyone to almost entirely forget that they're working remotely. You can focus on those curveballs like talent showing up 5 minutes before they're due to go live, which allows our clients to worry far less about their event 'going virtual'." 
The 90 minute live virtual Gala was a success for both The Chris Carrino Foundation for FSHD and INVNT. The donations and silent auction proceeds raised will be directed to FSHD research that has had a major influence on advancing the search for a treatment and cure for FSHD. 
"The entire experience was seamless," said INVNT Technical Director Mark Jimmyer. "The team's desire to help on this, their eagerness, their willingness to solve unique problems, and their expertise has been the best in the industry."