About Us
4Wall In The News
Light Humor Episode 4: "The Ghostlight" starring James Monroe Iglehart Out Now
By Drew Quinones
Oct 26, 2021, updated Oct 25, 2023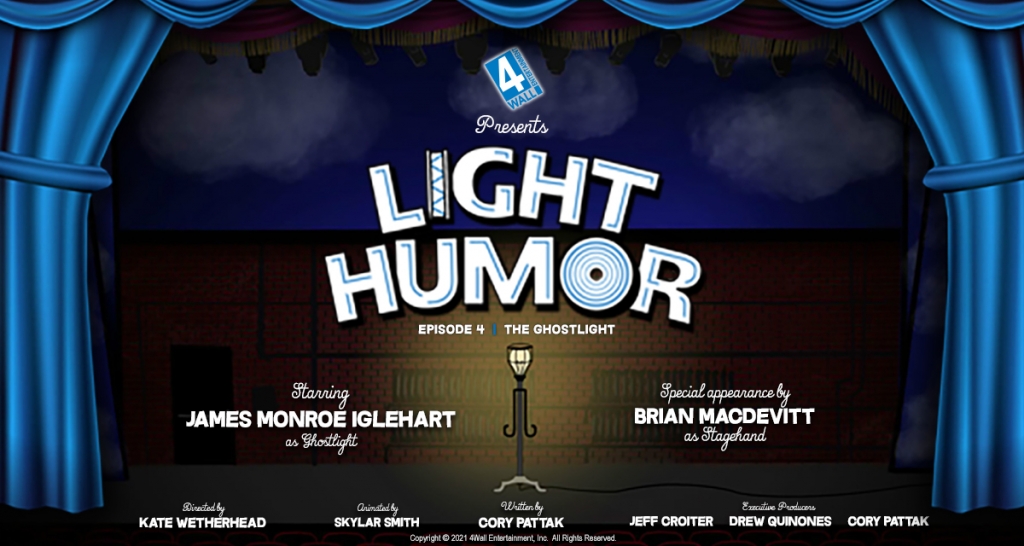 4Wall Entertainment has released episode 4 of the animated series, Light Humor, now available for streaming on their Facebook, YouTube, and Instagram channels.
Episode 4: "The Ghostlight"
"While most people in live entertainment were out of work for 18 months, the theatres weren't completely dark. One member of the lighting team, the ghostlight, never left their posts. In this episode we check in on one particular Ghostlight to see how he passed the time."
Light Humor Episode 4 stars Tony Award-winning actor James Monroe Iglehart as The Ghostlight.
The episode is directed by actress, director, and writer Kate Wetherhead, written by Cory Pattak, animated by Skylar Smith and produced by Jeff Croiter and Drew Quinones.

Written by: Cory Pattak
Directed by: Kate Wetherhead
Animated by: Skylar Smith
Executive Producers: Jeff Croiter, Drew Quinones, & Cory Pattak
Starring: James Monroe Iglehart
Special Appearance by: Brian MacDevitt
Watch on Facebook or YouTube now! (https://bit.ly/Light-Humor-Ep-4-FB or https://bit.ly/Light-Humor-Ep-4-YT)
Lighting Humor is an animated series presented by 4Wall Entertainment that takes a humorous look inside the world of lighting design and aims to bring some brightness into your day.  From an overly-confident talking lighting console to how a theater's Ghost Light has been dealing with the pandemic to the depiction of the often bizarre and chaotic days spent at work.

To catch up on past episodes of Light Humor, click the following link https://bit.ly/Light-Humor-Playlist