About Us
4Wall In The News
In This Moment Concert Tour
By PLSN Magazine
Dec 7, 2021, updated Jan 14, 2022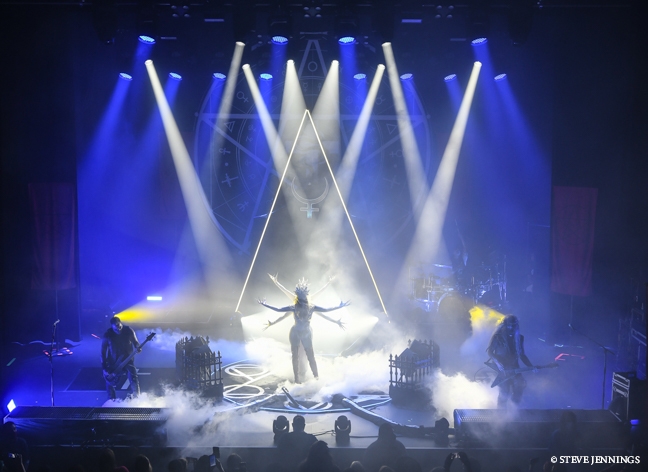 This article was written by Steve Jennings and originally appeared on PLSN.com here. All photos were taken by Steve Jennings. It was great to work with Mike Null and everyone else who worked on this tour! 
---
Designer Insights by Steve Jennings:
PLSN spoke with Mike Null, lighting designer, programmer and director for the 2021 tour with California rock band, In This Moment.
The recent tour's design is the combined creativity of the band's singer Maria Brink, Production Manager/Designer Brian Hardaswick and Null. The design came together after the band's return from Europe in 2019, where the production consisted of simply two low-lying foggers and two silhouette lights for Brink. The prompt was how to do a visually larger scale show than Europe without bringing out a big production like they have in the past, up until the fall 2019 tour.
"Piece by piece, we slowly built up our European design, doubling the amount of lights behind Maria, as well as placing a spot fixture behind each of the guys on stage right and left so the stage can have a giant wash or gobo heavy look behind the band. The fixtures we have always used for this purpose have been Martin Axioms. Not only are they great fixtures but Maria prefers them to other models we've had out on previous tours due to the bright illumination and spot width. The rest fell into place. I needed a small quantity of strobes and foot lights, so getting powerful and versatile fixtures needed to be key.  That's when I picked the Chauvet R1 BeamWash for foot lights and a JDC1 strobe in the upstage and downstage corners of the deck. The big key factor was the triangle on Maria's tent, which I hear came to Hardaswick in a dream in early 2020. The big question / concern was how do we construct this triangle in a timely manner, while creating a larger than life look. The perfect fixture that came to mind to build the triangle was the Martin VDO Sceptron.  So much for making it slightly bigger than our European set at this point."
Null spent two months between narrowing down the design with Hardaswick and Brink and getting a final quote with some additions from Nashville lighting vendor 4Wall. Null started building the rig in Capture in early August, then started changing some fixture placements, based on Brink's direction on how some songs and scenes needed to look.  "Originally, we weren't going to have strobe fixtures, but Maria missed the punch and power of not only the strobe of the fixture but also the plate of the JDC filling in negative space, using them as cyc lights, and the ability to strobe color powerfully. This brings us to about two weeks before the tour started, when Maria called me to go over song by song what she wanted the lights to do, and how the stage should look.  Once I got her notes and direction, programming was straight forward and the band was beyond helpful making sure I had the tracks to program new songs and intros, all with timecode. The show's playback system runs off of Digital Performer with a redundant MacBook / Motu828 system.  Anything is possible with enough coffee."
"4Wall could not have been any closer to being on our team, says Null. Before the pandemic happened, Hardaswick brought Brink's quick-change tent over to the 4Wall prep area where they produced a clamp system used to rig the triangle to the tent. "We as a team had zero leg work to make the light show work with our set. The fixtures hand picked by Maria are the Axioms and JDC1s. We've used Axioms for as long as I've been here since 2017. The JDCs came into play in 2019 and we've used them ever since. We have had other color strobes and normal strobe fixtures, but since Maria noticed the performance of the JDCs, she will not ask for strobes, she asks for JDCs.The capabilities of this fixture is truly impressive between its brightness, the center tube options and fast moving head."
"Moving forward, how to discreetly light the band with a punch was next on my list," he says. "Phillips Harbarger, our 4Wall rep, suggested the R1 BeamWash. I could not have been happier by this suggestion because of how wide the zoom goes on these fixtures to capture the guys whether they are close to their ego riser or eight feet upstage. Lastly, the centerpiece that is the triangle was a no brainer of fixture type to use. When I suggested these to Brian and Maria, I provided videos from other tours I've used them on and product links for the 10-1000 model that we use. Brian and Maria were confident and trusting of my decision and I think it amazed us all on how it looked for the first time in rehearsals and then on the road. This is a show we are all truly proud of and look forward to building it in a city near you."
Crew
Lighting Designers: Maria Brink, Brian Hardaswick, Mike Null
Lighting Director: Mike Null
Lighting Programmers: Mike Null, Maria Brink
Lighting Tech: Jessie Norris
Tour Manager: Katie Van Vrancken
Production Manager: Brian Hardaswick
Special Effects: Atlanta Special FX
Special Effects Tech: Forrest Carufel
Set: Gallagher Staging
Stage Manager: Jessica Hill
Carpenter: Forrest Carufel
Gear
1          MA Lighting grandMA2 light console
6          Martin Axiom Hybrid
7          Chauvet R1 BeamWash
4          GLP JDC-1
10       Martin VDO Sceptron 10
1          TMB FloppyFlex light rope
2          Ultratec Radiance Hazer
4          Chauvet Cloud 9 low lying fogger
4          CO2 Cryo cannon
4          Reel EFX RE 2 fan