About Us
4Wall In The News
CHAUVET Professional And 4Wall Help AVOS Agency Set Stage For Allstar World Championship
By Chauvet Press
Jul 4, 2022, updated Dec 14, 2022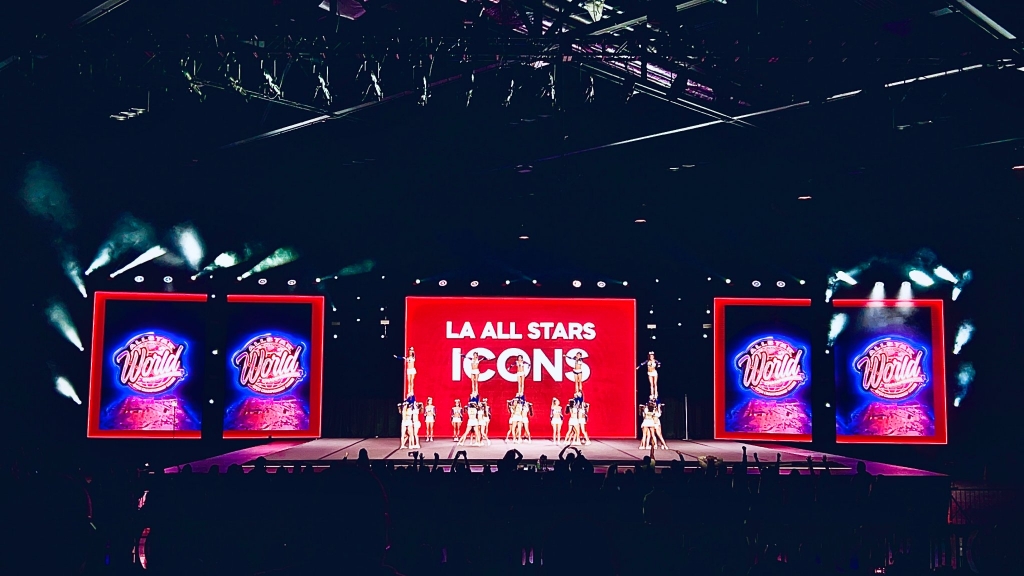 4Wall Nashville provided AVOS' agency with over 300 CHAUVET Professional F5IP LED video panels to create the 2022 Allstar World Championship main arena! We also provided a lighting rental package for numerous stages lit by Lighting Director Taylor Moore.

This press release was originally posted by CHAUVET Professional on Live Design's website here.
ORLANDO, FL - Over 16,000 athletes representing 800 teams from 40 countries participated in the 2022 Allstar World Championship this spring. Regardless of where they finished in the final standings, all of them felt like champions when they entered the competition.
Craig Huddleston, the designer and show director of the event wouldn't have had it any other way. "This is a competition, but it needs to be fun," said Huddleston. "We wanted  to highlight the athletes and make them feel like rockstars when they ran out on stage."
Huddleston and his team at AVOS agency succeeded in doing this in spectacular fashion.  Athletes competing in 50 different division were greeted with a walk-on light and video display reminiscent of a NBA championship game, complete with flurries of strobing and aerial effects, as well as dynamic neon-like video wall patterns heralding their arrival.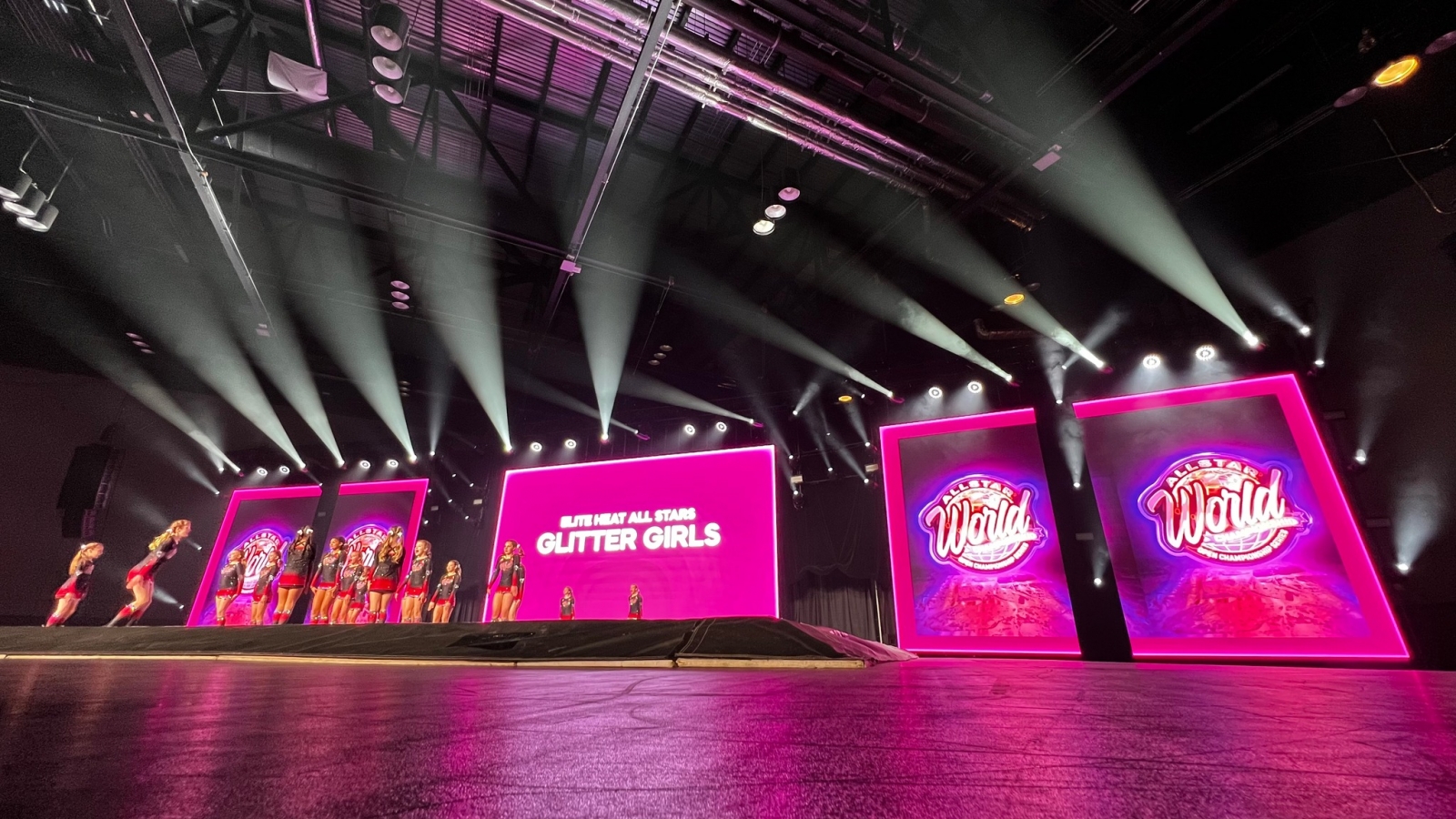 Helping them accomplish this on the event's main stage was a 4Wall Entertainment Nashville supplied rig that featured over 300 CHAUVET Professional F 5IP LED panels. "We couldn't be happier to have Craig and AVOS' Agency be the first to have a go with 4Wall Nashville's new CHAUVET F5IP video tiles," said Account Executive Tyler Bevel. "The F5IP tiles are already proving to be a valuable addition to our rental inventory and a great creative tool for our clients."
The AVOS team arranged the video panels in three distinct walls. This configuration made it easier to create distinct entrance and exit paths for the teams at the beginning of the competition.
"In designing this event, we carefully considered the reveal of the athletes running on stage; and how it looks and makes them feel," said Huddleston. "We typically do a center entrance but decided on an "enter" and "exit" this year since there were so many teams. It allowed teams to exit while another team was being called to the stage.
"There is a very structured sequence to get the athletes on stage," continued Huddleston. "We used multiple cameras that were fed into the wall in different segments. When they are backstage, there is a camera to capture them in their circle. That feed is on the wall, and the crowd goes wild seeing them on deck. Then we'd switch in audience shots so the athletes backstage can see their family and friends right before going on. That gets them ready to perform."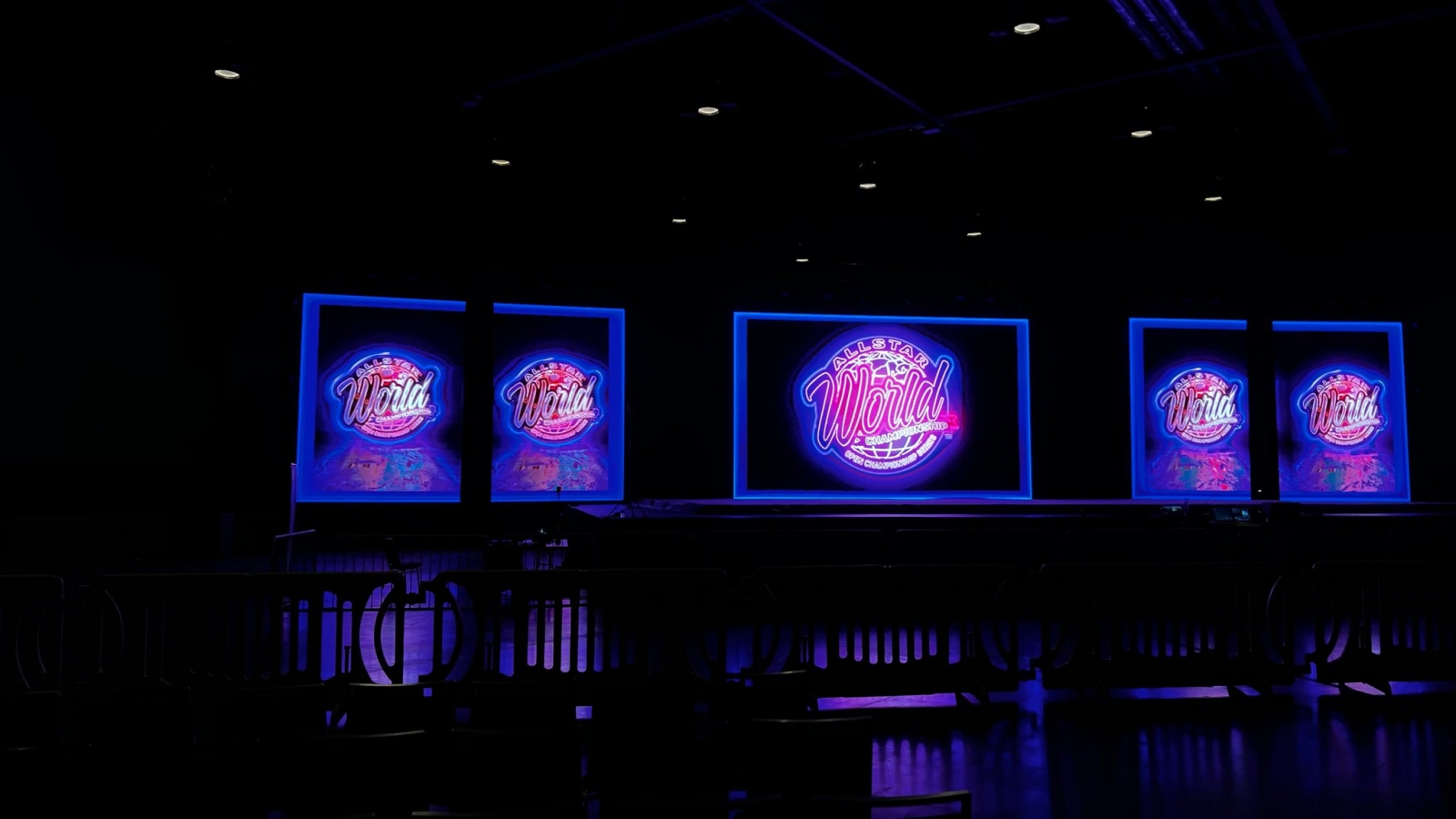 When the athletes are called out, the video wall goes dark temporarily.  Then as they run out they're greeted by what Huddleston calls "a rave-esque" sequence of lights and flashing wall content." This happens along with blended iMAG from a wireless camera following them. As soon as they hit their mark, everything settles, and they start their performance. When their routine is completed,   a milder version of the sequence takes place as they exit the stage.
Reviewing the performance of the F5IP panels Huddleston said:  "Their 6,000 NITS is a plus. Although we don't work with the full brightness indoors, it's there, and we can adjust it to our exact preference. The panels are lightweight yet rugged and feel very solid."
Content was fed to these panels  via Resolume software.  "We have used it with such great success over the years that it's hard to not dream in its realm of what it can do," said Huddleston. "From projection mapping to LED wall content, it's our workhorse partner in live events. We always design content from the blackout look. We are adding elements one at a time to build the overall look until we reach a concluding point.
"For this event, we wanted a neon look that traced the walls. The transitions were all built around this look too. AVOS' agency Senior Content Artist Josh Redbeard did a great job creating this look. He always hits the nail on the head with his content design. One thing we always have to keep in mind is that there are photographers in front of the stage that is capturing this epic moment for these athletes. We don't want to impede this moment for them. My entire crew is inspired by helping craft the kids' memory when running onstage and performing." 
A self-described "video guy first," Huddleston started the design for this event with the LED wall. "l always begin by considering what that footprint will look like, then design around that. AVOS' agency has a great lighting director, Taylor Moore, who provides tweaks required for his programming and final design."
This year implementing the Allstar Championship design was a bit more complicated because there were five other arenas that AVOS was  producing, each with its LED wall and lighting system. "The biggest hurdle on this project was just the sheer amount of work to get the six arenas installed and programmed in our timeframe," said Huddleston. "So that meant having 20 operators on the tech crew, all hitting the correct sequence of looks. We preprogrammed every content computer with an Elgato Streamdeck color-coordinated with buttons in sequential order to help with the in and out sequences. All of them were programmed to Resolume Arena as macro buttons firing multiple pieces of content simultaneously."
Teamwork was essential to making a project of this scope work. In addition to the aforementioned Moore and Redbeard, Huddleston praised the efforts of Kadin Catlin, Patrick Hutchinson, Wyatt Reece, Michael Olivarez, Aaron Gottschalk, and Hayden Urish as well as the 4Wall Nashville and LMG Orlando teams."
Like the teams from the USA and Finland who took home most of the medals at the event, and all the other competitors, the AVOS crew demonstrated that working together results in some amazing feats of coordination, whether they involve cheerleading moves, or the smooth interaction of video and light.