About Us
Press Center
4Wall Nashville Hits the Road with "Jesus Culture One Nights"
By Gustavo Campos on May 12, 2013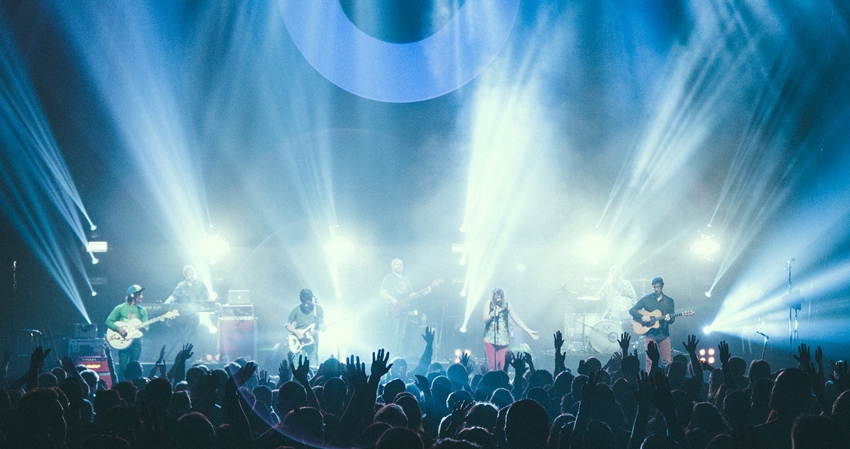 Nashville, TN- The "Jesus Culture One Nights" tour recently took the stage throughout the mid-west utilizing lighting equipment from 4Wall Nashville. "Jesus Culture One Nights" are a combination concert and worship experience featuring not only preaching and ministering but also inspirational music performances from the Jesus Culture Band.
Lighting Designer Robby Kurtz of Sightline Productions, Inc. was tasked with lighting multiple venues on the tour that presented a variety of challenges.
"Our venues included churches, arenas, and theaters. At some points we only had access to a 200 Amp disconnect, in other instances we had a 600 Amp disconnect. Our trim height varied from 22 ft. all the way to 50 ft," Kurtz said.
With these restrictions in mind, Kurtz opted for fixtures with low weight and good power efficiency. He chose Martin MAC Auras and Clay Paky Sharpies as the backbone of his rig. "I knew I could get a nice gobo look from the Sharpies using the prism and get more punch when I used them as a beam. They were the workhorse and the main fixture providing looks on the tour. The Auras acted as my back light for the bands and speakers during the event and provided plenty of punch at whatever trim we were working with."
Kurtz solved more venue issues by utilizing Tyler GT Truss sections, cutting outside trusses from his design when necessary to fit inside a few of the Church stages on the tour.
Vari*Lite VL3500 Spots were utilized for front light as well as specials for the band. The multi-purpose fixture was even used for a wash for stage speakers in venues that lacked spot lights.
Kurtz was pleased with the gear he selected for the show, as well as his provider. He spoke of his experience with 4Wall Nashville:
"My experience with 4Wall for this tour was really great. We spent time in the office to prep the lighting and the team in the shop was extremely helpful. All of the gear was teched and prepped, and everything worked the first time we loaded it up. I was extremely impressed with the condition of the equipment. Everything looked brand new, and I bet some of it was. I plan to use 4Wall again in the future for Jesus Culture and the other events I design."
Photo: Ben Coleman for Jesus Culture