About Us
Press Center
4Wall Los Angeles – 50 Shades Darker Premiere
By Drew Quinones on Feb 28, 2017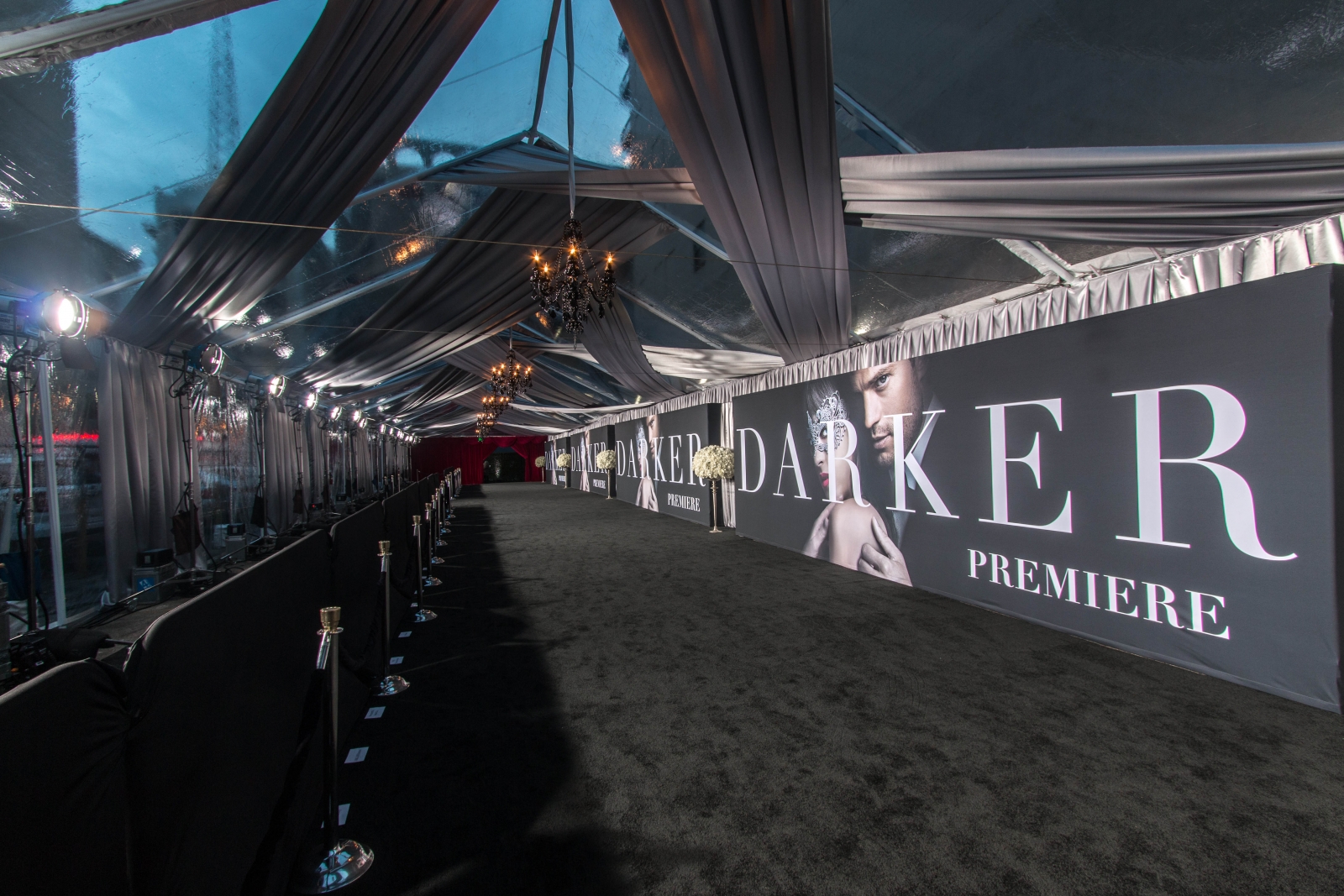 Los Angeles, CA- The premiere for the "Fifty Shades of Grey" sequel "Fifty Shades Darker" was held at The Theatre at Ace Hotel in Downtown Los Angeles. The 4Wall Los Angeles events team converted the hotel's parking lot into an elegant area allocated for the star arrivals. Lead actress and actor Dakota Johnson (Anastasia Steele) and Jamie Dornan (Christian Grey) were two of the many stars who walked the red carpet for the film's opening night.

Universal Pictures turned to 4Wall LA to provide a tasteful look for the arrivals, while incorporating elements of the movie in the overall design. "We screened the film and took notes about what we could use in our design," said 4Wall LA's Senior Account Executive Mary Pat Kasravi.
"For example, the white roses symbolized the white roses that Christian gave to Anastasia and the silver satin symbolized the silver satin dress that Anastasia wore to the charity ball in the film," explained Kasravi.
The planning for the premiere started in December 2016. Joe Giwargis created renderings using 3D Studio Max, Photoshop, and Illustrator.
The groundwork began the day before the premiere. Kasravi and her team had to assess the parking lot's condition before setting up for the event. "We needed to see if the parking was level and how it would affect the artwork," said Kasravi. "The condition of the pavement was also our concern."
Before the tent could be installed, the team had to remove a parking lot sign. Once the tent was setup, the actual placement of the chandeliers was determined on-site.
"While we have a plan in place, once everything is brought in and setup, you realize you have to be flexible and make creative changes throughout," explained Kasravi.
The 4Wall team also had to manage some logistical issues with the premiere being held in a hotel parking lot.
"The theatre is located inside The Ace Hotel so we had to coordinate talent drop off, guest arrivals, talent arrivals and the hotel's valet all within a 75' curb lane in downtown Los Angeles," said Kasravi.
The day of the "50 Shades Darker" premiere, 4Wall installed carpet, lighting, truss for artwork, florals, stanchions, fences, hedgeboxes, and uplighting for the talent drop off.
Kasravi spoke about her favorite aspect of the premiere's design and working with Universal Pictures once again.
"For this event, the entire creative process was my favorite part. We worked with Universal Pictures and integrated our design with their design interests as well," said Kasravi. "We came up with a couple of plans, took pieces from each of the conceptual proposals and ended up creating a design that everyone felt best represented the theme of the premiere."
"50 Shades Darker" is in theatres nationwide.