About Us
4Wall In The News
4Wall Entertainment's Annual Vendor Showcase Is Going Virtual
By Drew Quinones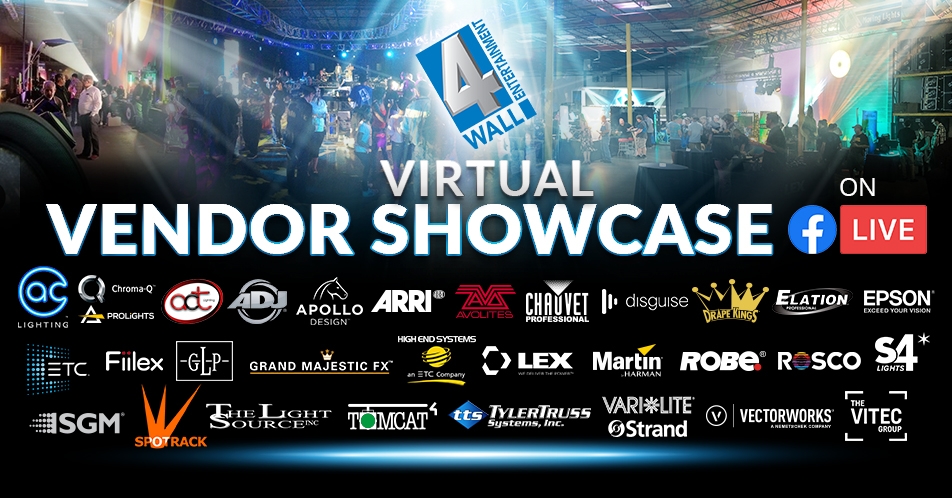 Moonachie, NJ -  4Wall is excited to bring together the industry by producing it's first Virtual Vendor Showcase. 4Wall's annual Vendor Showcases have become a staple in the industry as the go-to place to see new gear, network and celebrate together. 4Wall NY was preparing to celebrate 15 years of hosting its Vendor Showcase, but decided to postpone the event at a date yet to be determined.
As an alternative, the 4Wall Virtual Vendor Showcase was created and currently has a total of 30 manufacturers who are signed on to participate in this first-ever endeavor. 
Starting on Monday, April 20, 2020, at 10 am PST through Friday, April, 24, 4Wall will premiere pre-recorded videos on their Facebook page, live for a little over an hour. The concept and creative direction were left in the hands of each manufacturer, so 4Wall is expecting some fun and entertaining videos.
"Our marketing team pitched this idea to me in February in anticipation of closures," said VP of Marketing and Sales Dan Abdalla. "To see it come together and have so many manufacturers on-board has been terrific."
In addition to the videos, 4Wall and each manufacturer will participate in a "Code Word Challenge." During each of the Virtual Vendor Showcase videos, a "code word" will be incorporated into each presentation. If you collect all the code words, you will be entered to win swag packages from the 20+ manufacturers and 4Wall.
"We look forward to this first-ever Virtual Vendor Showcase next week and can't wait to see the brand-new videos each manufacturer has created. We certainly couldn't have pulled this off without the manufacturers and their willingness to get creative," said Abdalla.
To RSVP for the event and see a complete list of manufacturers, visit 4Wall's events page here:  bit.ly/Virtual-Vendor-Showcase