About Us
Press Center
4Wall DC Teams with SeeKing for Christmas on the Potomac
By on Mar 3, 2016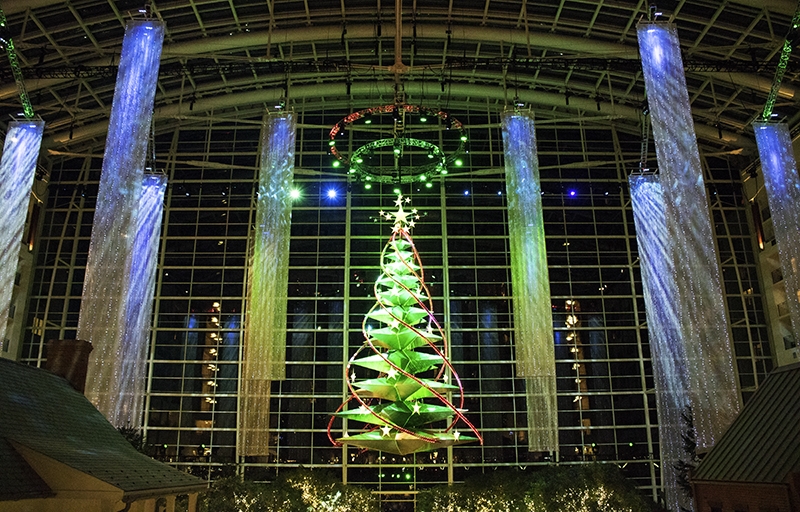 PLSN's Mike Wharton recently covered 'Christmas on the Potomac', an ambitious annual event taking place each year at Gaylor National Harbor Marriott. 4Wall DC played a key role as lighting provider for this year's event. Check out the full story reprinted from PLSN below.
Christmas comes very early each year for LD Tomm Gillies. His design company, SeeKing Productions, has been collaborating with "Christmas on the Potomac" (COTP), featuring ICE! since 2010. The annual event at the Gaylord National Harbor Marriot in Washington DC returned this year.
The overall project contains three sections , a display of ice sculpture in The Cold Tent, a Holiday lighting show with snowfall in the Atrium and a pre- function area for participant's arrival. "We actually start working on concepts around April for the ICE! tent," says Gillies.
Each of these areas requires distinct lighting applications. The tent is an art installation. The Atrium depends upon architectural and theatrical sensibilities, with a touch of rock-n-roll. Skills in retail lighting and corporate theatre inform the pre-function area. grandMA consoles were utilized to run the lighting.
Gillies gives kudos to production manager Ralph Foster and others on the team. "He has a good eye," Gillies says, of Foster. "His working philosophy includes getting the big picture in front of everyone."
"This is a team sport," Foster says. "I like to give and get information from the hotel event manager, vendors, and the rigging team. This way, all the information is in front of all the players."
This working dialogue highlights logistical considerations vital to staging any event, but is particularly critical to convention facilities.
"Space and time for staging, prep, and build in a hotel center as busy as the Gaylord are limited at best," says Foster.
"This is where 4Wall DC became invaluable," Foster continues. "Mark Conners knows how these shows are built. He worked on logistical runs of local trucks to coordinate drop-offs of gear and pickup of empties. If an emergency run popped up, their responsiveness was impressive. If we found ourselves ahead of schedule and asked for gear twenty-four hours earlier than planned, they came through."
Gillies has equally high praise for Conners and 4Wall as being instrumental in facilitating this project. "Although I have won this account several years running, the client still has to put out the event for bid," says Gillies. "Mark hits the number we need to be at. He gets us the gear and they take very good care of their inventory."
Initial load-in begins in September for the cold tent.
The Cold Tent
"As a lighting designer, the cold tent is very interesting," says Gillies. "The 396 conventional fixtures in there are all about making the ice look amazing. Our job is to be invisible."
He tells a story about a visit his wife and her mother made to the tent one year. She made comments about how wonderful the ice sculptures looked. Afterwards, his mother-in-law apologized to his wife for not complimenting Tomm on his lights. His wife then asked her, "So, did you notice the lights, mom?"
"Well no, not actually," her mother replied.
"That's good!" his wife says. "It means Tomm did his job right."
Gillies next speaks about his Master Electrician for the cold tent. "Mike Watters was originally brought in by Ralph to help with some of the load-in, but ended up replacing the original M.E. Mike took ownership of the project immediately and took on the challenge of getting a large rig in under a condensed schedule."
Watters admits there were challenges, compounded by the below-freezing operating temperature. Tents offer up a set of unique challenges by the very nature of their construction. Load restrictions require an imaginative adaptation to hang truss. Some hung from chain hoists, others, dead hung after hoisted into place to stay under weight limits. Still others required a combination of ground support and hoists on either end.
House rigger Chad Houseknecht and his team were "a godsend," Gillies says. Foster also acknowledged the rigging team as key to keeping his personal goal of staying 36 hours ahead of schedule.
Advance preparations helped the production overcome other obstacles. Taking advantage of what might have been dead time while the riggers worked the tent, Watters had his crew build the 23 trusses complete with fixtures and cable outside on road cases. At the appointed time, the crew rolled the truss under their points to fly out.
The Atrium
At the other end of the spectrum of design is the Atrium, "which is totally about the lighting," says Gillies. It is a light show, completely automated and triggered via SMPTE time code. As the sun sets beyond the Potomac, the show inside the Glass Atrium begins - a crossfade of cosmic proportions.
The centerpiece of the show is the new 65-foot Christmas tree, designed in a joint effort by Entertainment Design Company, Hotopp. Chicago Scenic Design and TenFab.
Fabric stretched over an aluminum structure made of eleven five-point stars stack on top of one another. The base unit is 33 feet in diameter, sloping upward to the uppermost portion, which measures two feet in diameter.
To light this "tree," Gillies used 16 Martin MAC Quantum Wash fixtures on top, eight Vari*Lite VL4000 Beam Wash fixtures below, and another 16 VL4000s to cover the sides. Twelve Clay Paky Mythos create a tinsel light breakup. Individually circuited RGBW LED tape placed inside each of the thirty-six fabric stars add extra dimension.
Gillies attributes a large assist achieving his vision in the Atrium to the inspired, hard work of M.E. Cate Cohen and Hippo programmer Ethan Knister, a 4Wall employee.
"Cate did an outstanding job of getting the rig in, up, and running in a short time," notes Gillies." She then continued to chase down issues that cropped up during the programming time, all with a great attitude. This was the first time we had worked together, and she made my job easy." She was able to prep the gear at 4Wall as well.
The rig in the Atrium required a combination of wireless DMX and hard-wired signal flow. Cohen utilized the house patch bay to receive hard-wire signal from the grandMA2 Full.
"The console runs into a house Ethernet port and then goes through a series of managed switches and fiber runs that land in multiple places," says Hippo programmer Ethan Knister. "Two racks of MA2 NPU's on each catwalk dump into a rack of optos and then out to all the trusses. In addition to the NPU's, a handful of ETC Net3 gateways provided for single universes in remote locations. Due to sACN being a multicast protocol, we were able to use it on the same copper line as MA2Net. Some of the Net3 Gateways plugged into the new [City Theatrical] ShoW Baby 6's. Distribution continued through four DMX nodes and ten DMX transceivers to allocate 17 universes to 160 moving lights and 175 LED fixtures.
Fifty LED light curtains hang from the structural support rods that traverse the dome shaped Atrium. The rods, 160 feet from the floor, are accessible from catwalks. House riggers "walk the rods" to access truss. Two Le Maitre Radiance Hazer's and six Show Master T1500 snow machines were also in the network.
Five individual garlands wrapped the tree, swirling from top to bottom. Each garland consisted of two strings of Color Kinetics iColor Flex LMX nodes, totaling 2,100. Color Kinetics Video System Manager mapped the nodes, which took DVI in from the Hippotizer and output Art-Net. Chicago-based RGBLights provided the LED nodes and Hippotizer server.
"I brought Ethan Knister in to program the garland on the tree for me," says Gillies. "He is a young guy and works in 4Wall's Electronics Department. Our original programmer had a last minute conflict that left me in the lurch. Mark came through again by loaning Ethan to us in a pinch. He told him he would be working until dawn that night and could come in a little later the next day, but to head on down there. "
Knister could not quite find what he was looking for in the stock Hippo images. Gillies told him that he could create whatever he needed with Adobe Illustrator. Knister replied that he just needed a single thin line about ten pixels wide.
"I created a white line on a black background and sent Ethan the file. He took that and, with the effects engine on the media server, created just some absolutely stunning stuff on the garland. Stuff that, when you listen to the audience as they watch the show, you get audible 'WOW's!"
"As a writer, as well, I approach lighting design from a story telling aspect," says Gillies. He utilized the Sharpys and VL4000s to do just that. The Christmas medley track playing in the Atrium show is about ten minutes long. Gillies estimates he programmed 750 cues. Some are in a cue stack; others he just plays along like a piano with the instruments, having programmed bump buttons. For the last song, a Trans Siberian Orchestra (TSO) piece that runs approximately three minutes long, there are more than 150 cues. To lay the background for his programming Gillies imagined the story behind the TSO song to be about a boy running around his house to find Santa and his present.
"The audience members may not get the connection, but it helps form layers to the overall picture," he says. The difference between a good film and a great film are its aesthetics. The same holds true with lighting design.
The Pre-Function Area
A well-turned phrase in the entertainment business is "Light the Money." The pre-function area is just that. This is where participants queue up for exhibit tickets and parkas to the ICE! tent. A carousel and gingerbread house for kids and photo- op area for the folks reside here. Gillies' design idea was to use glass gobos that look like ice overlaid in color pools with "lots and lots of snowflakes." A VIP lane using Chroma-Q Color Force LED strip lights chase down the row creating a subliminal carpet of light moving the crowd. "LEDs create a great white to make the items in the Retail Store pop," notes Gillies, regarding his fixture choice in this area.
Jerreme Aldrich and Matt Vossekuil manage this part of the project. They have both worked on COTP in different capacities for years. Aldrich is technical director for the tree install & strike, as well as the lighting director and master electrician in the pre-function area. Vossekuil programs the pre-function space and is key electrician for the tent and pre-function areas. "They handle the job efficiently," says Gillies. "When I came by to check on everything, I had few notes."
Vossekuil referring to the fact he is left- handed, describes himself as Gillies "Left Hand Man." Vossekuil, like Foster uses the analogy of sports for his job role. "I am the "playmaker. I offer up the assist so that Tomm can score the goal."