About Us
4Wall In The News
4Wall Adds Cory Froke as Media Server Lead / Video Engineer
By Drew Quinones
Nov 18, 2019, updated Feb 3, 2020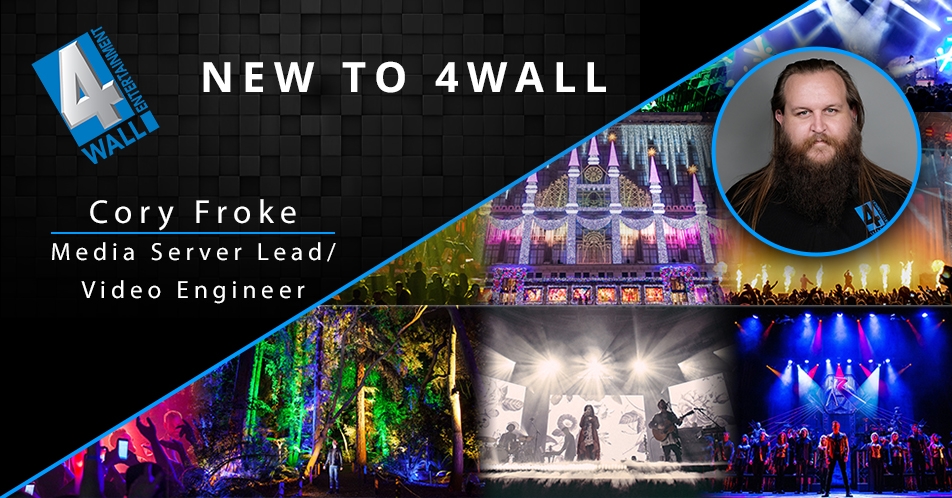 Lititz, PA- 4Wall Entertainment added media server and projection system design expert Cory Froke as the Media Server Lead / Video Engineer who will be working on projects worldwide.
Before joining 4Wall, Froke spent three and a half years establishing Green Hippo Media Technologies's USA office, where he oversaw the US operation of the Special Projects Division. While there, he worked on some of the industry's most complicated video projects, including the Energy City exhibit at the Houston Museum of Natural Science, KAOS Nightclub at The Palms, and more.
Froke's role with 4Wall will include spearheading the development and growth of the media server department to ensure 4Wall's continued standing at the leading edge of technology.
He spoke of joining 4Wall:
"4Wall's expanding product offerings and remarkable growth in the last few years represent their continued commitment to delivering the service and expertise their name has become synonymous with. I have been lucky enough to have worked with 4Wall for many years now, and have witnessed first-hand the quality and professionalism 4Wall clients have come to expect. It is great to now have the opportunity to be a part of the team and help deliver cutting-edge products and services to our clients."
Cory Froke can be reached at cfroke@4Wall.com.