About Us
4Wall In The News
disguise Partners with 4Wall and ZeroSpace to Launch Virtual Production Accelerator in New York City
By Drew Quinones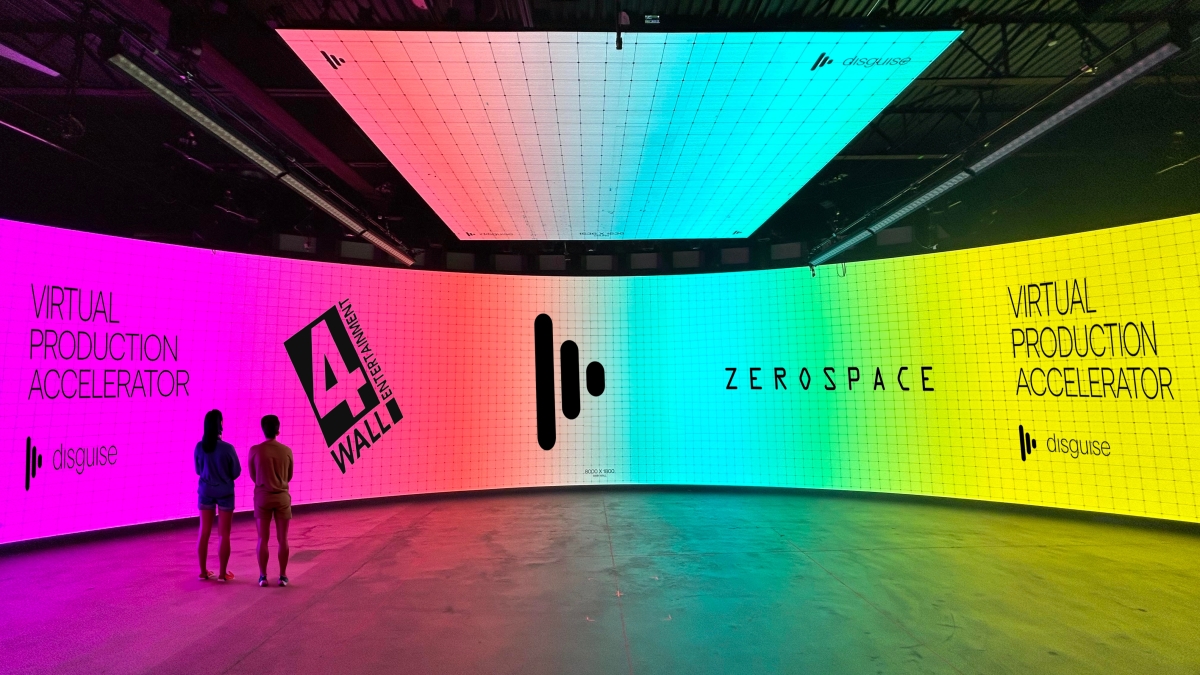 New York, NY - 4Wall Entertainment, a full-service lighting, video and rigging company, and ZeroSpace, a next-gen production and creative studio specializing in the integration of virtual and live content, are partnering with disguise to bring the highly anticipated disguise Virtual Production Accelerator training program to the heart of New York City. This groundbreaking initiative will empower aspiring filmmakers and industry professionals with the skills needed to excel in the rapidly-evolving world of virtual production. 
 
The Virtual Production Accelerator will provide an immersive and comprehensive on-set learning experience for participants of all skill levels. Leveraging the expertise and facilities of 4Wall and ZeroSpace, the program will combine classroom training with practical principal photography, enabling trainees to gain hands-on experience and an accurate simulation of the demands faced on real film sets. 
 
"Our goal is to revolutionize virtual production and equip the next generation of filmmakers with the necessary expertise to harness its full potential," says Addy Ghani, Vice President of Virtual Production at disguise, who spearheads the program. "Currently, finding experienced professionals in this field is a challenge. We are confident that, with our in-depth understanding of the technology and studio workflows, we can empower participants to become proficient in virtual production." 
 
Participants of the Virtual Production Accelerator program will have access to state-of-the-art production facilities at ZeroSpace's headquarters in Brooklyn. Over the course of a week, the program will offer unique learning opportunities that are not readily accessible to most, providing trainees with the tools and knowledge to create cinematic content on a large scale. By the program's conclusion, participants will possess the expertise required to leverage virtual production techniques, granting filmmakers complete creative freedom and control over their projects. 
 
"We are thrilled to collaborate with disguise and ZeroSpace on this pioneering initiative," says VP of Special Projects at 4Wall, Mathew Leland. "By bringing the Virtual Production Accelerator to New York City, we aim to cultivate a thriving community of virtual production professionals, enabling the city's entertainment industry to thrive in this rapidly-evolving landscape." 
 
ZeroSpace CEO Jon Kreutzer says, "disguise is an integral part of the work we do at ZeroSpace, integrating an array of emerging technologies to create groundbreaking workflows. We are honored to be collaborating with our partners at 4Wall and disguise to further our joint initiative to become a hub of knowledge-sharing and education to empower the VP community."
 
With their shared commitment to empowering the next generation of virtual production professionals, 4Wall and ZeroSpace, in partnership with disguise, are poised to revolutionize the way storytelling and filmmaking are approached. The Virtual Production Accelerator will play a vital role in preparing participants to navigate the ever-expanding possibilities of virtual production and shape the future of the entertainment industry. This is the third  deployment of the Virtual Production Accelerator, after disguise launched the program in Los Angeles in November 2022 and the UK in May 2023. For more information about the Virtual Production Accelerator program held in New York City and how to apply, please join the mailing list by clicking the following link: https://web.disguise.one/43BA967

# # #
  
About disguise
disguise has a twenty-year history powering the world's most spectacular visual experiences including live concerts for artists like Beyonce, location-based experiences like Illuminarium, virtual productions for Netflix and Amazon Prime and extended reality stages for companies like Siemens and Verizon and broadcast coverage for ITV and TUDN. disguise is a real-time production platform delivering the next dimension of visual experiences, bridging the physical and the virtual. Its combination of 3D visualization software, cloud solutions, platform, hardware and services provides creatives and technical teams the ability to realize any creative vision - no matter the complexity. Recognized by the Financial Times as a 2022 Tech hero, disguise is also a recipient of the Engineering, Science and Technology Emmy Award and Queen's Award for Enterprise: Innovation.
About 4Wall
Founded in 1999, 4Wall Entertainment is a full-service lighting, video, and rigging company servicing all facets of the entertainment industry - from corporate events and theatre to concert touring and television. Our offerings include rentals and services, new and used sales, and permanent installations. We pride ourselves on providing the feel of a local company with the backing and support of a national entity. Our motto 'Large Enough to Service, Small Enough to Care' speaks to our dedication in providing the utmost quality and service for every order, no matter the size or scope. In addition to fantastic service, we offer the newest equipment in the industry both in our rental inventory and via our e-commerce site, UsedLighting.com. By constantly selling our own technician certified rental gear, we ensure our ability to invest in the latest technology from key manufacturers.

About ZeroSpace 
ZeroSpace is a next-gen production and creative studio, media arts innovation lab & entertainment venue of the future, specializing in the integration of physical, virtual, and live content. What began in 2018 as an award-winning immersive art exhibit has evolved into a 50,000 sq foot studio in Brooklyn featuring a fixed-install LED Virtual Production Stage, a Vicon Motion Capture Stage, Photogrammetry and Volumetric Captures Rigs, Car process & Subway set, VR/AR, immersive projection dome, interactive art & FabLab maker space. The facility also houses rentable stages and & entertainment warehouses for virtual production, film / photo shoots & live event production and most importantly - a world class team of artists, developers, technicians, and innovators (VAD / RAD). Through leading edge R&D, artist residencies & interdisciplinary collaborations with partners like Disguise, 4Wall, Scatter, Epic Games and more ZeroSpace is now a leading xR innovation lab making content, apps & technologies - empowering new forms of creative storytelling that inspire magic & bring the future of content to reality.