About Us
4Wall In The News
Elation Proteus Lights All the Fashion at Versace FW23 Show in Los Angeles
By PLSN Magazine
May 16, 2023, updated Oct 25, 2023
4Wall provided an all-IP65-rated lighting rental package to KCD Worldwide for VERSACE FW23 in Los Angeles last month! The runway show was held 100 feet in the air on top of a fully transformed parking garage at the Pacific Design Center. Technical Director Scott Ciungan spoke with Elation Professional about the show in this in-depth article below that was originally posted on PLSN's website here.
---

A runway filled with fashion, a guest list filled with stars, and a lighting rig filled with Elation Proteus. That was the successful recipe for Italian luxury fashion company Versace at its recent FW23 Fashion Show in Los Angeles. 4Wall Entertainment provided an all IP65 rated lighting package of 85 Proteus Maximus™ and 56 Proteus Rayzor 760™ luminaires to KCD Worldwide for the event.
SCOTT Ciungan, Technical Director at KCD Worldwide, a leading fashion experiences agency that has worked with Versace for a decade, said that the pairing of the brand with the city during Oscars weekend all made sense. "This is a big breakout collection for them and a big moment for the brand. The collection that Donatella put together has roots tied to Hollywood and California, and the set, creative, and location were all tailored around those elements."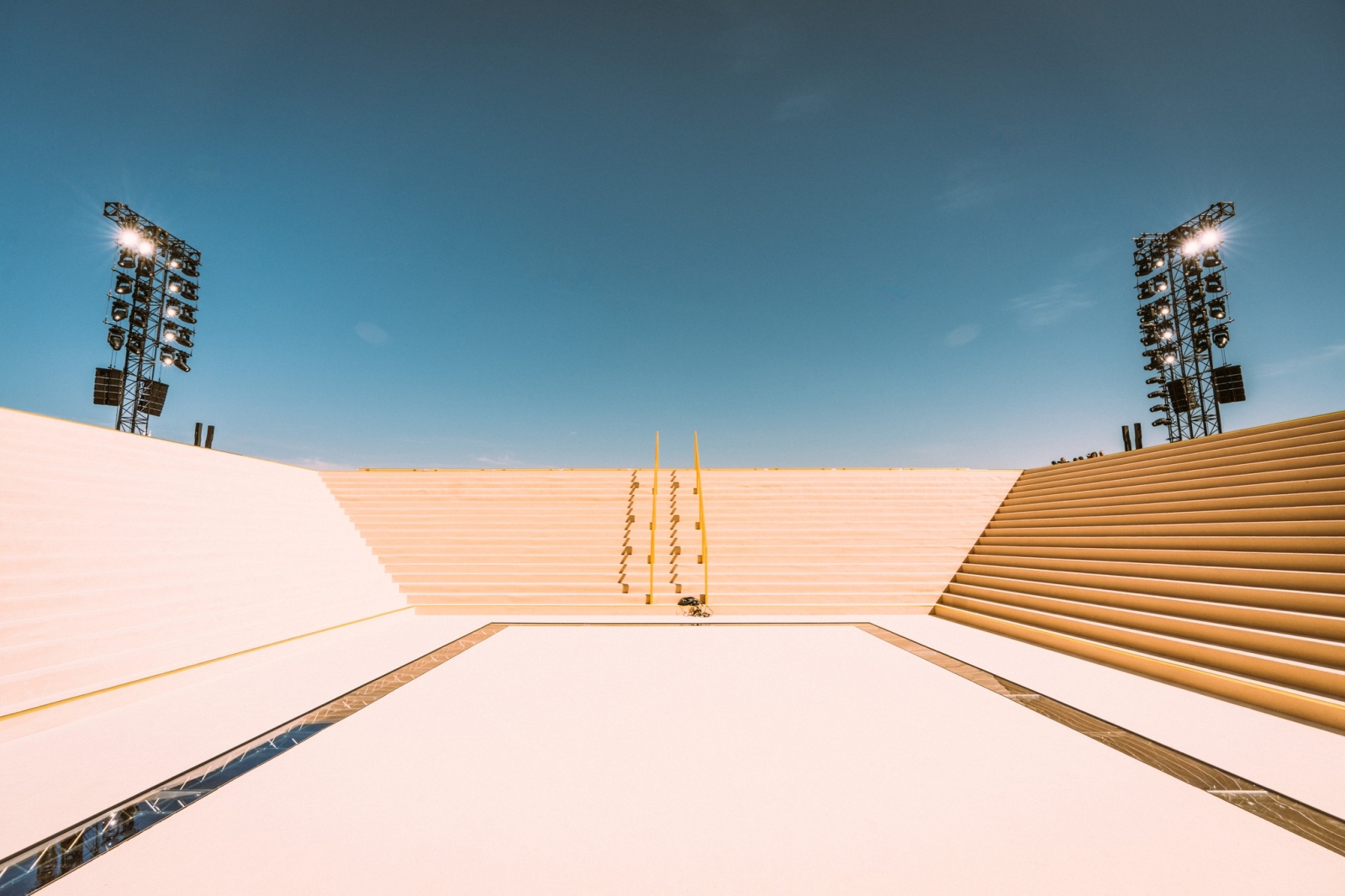 100' in the air
FW23 served as a platform for Versace to show their newest Fall-Winter collections and, along with a show in Milan in September, is one of the brand's most important yearly fashion events. The runway show was held 100' in the air on top of a fully transformed parking structure at the Pacific Design Center in the heart of West Hollywood. A huge scaffolding structure elevated the runway, guest seating, and model ramp another 16' with lighting towers equipped with 50,000-lumen Proteus Maximus another 60' above that in what Ciungan calls an "impactful and imposing design."
The structure's large surface area required uniform coverage of variable white color temperature light. Ciungan explains, "When lighting a runway, you need front and back light to illuminate the entire front of the model and the entire back of the model on every run. The top of the cube had 10 individual runways so the placement of the lighting towers, the fixture counts and the angles that the models were walking down were all very strategic. The aesthetics of the towers were a huge consideration as well. We used a lot of time going back and forth to keep those as minimal and contemporary looking as possible because they were such an integral part of the set design."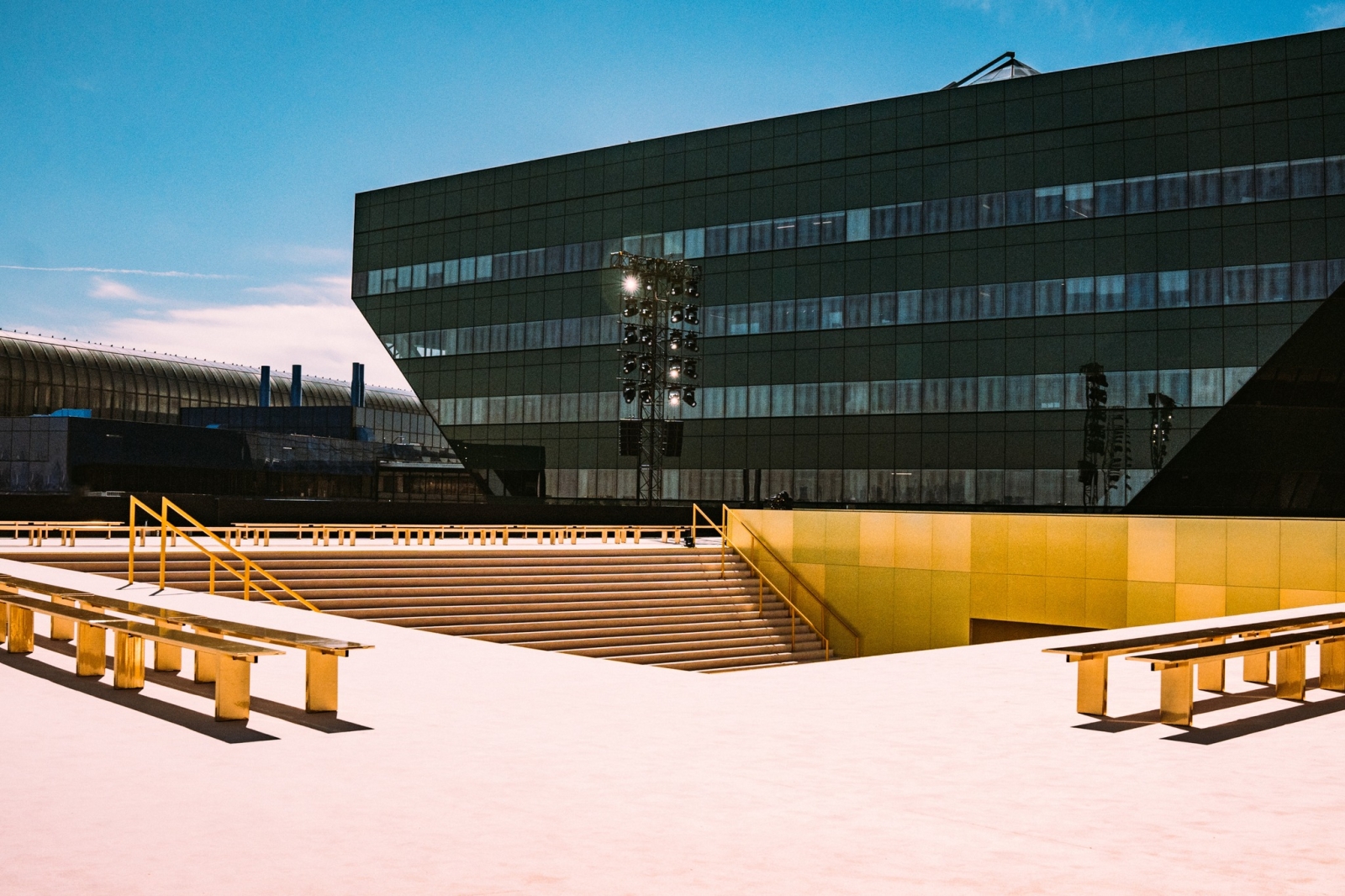 Multiple fixtures in one
For this type of runway show, Ciungan says multiple fixture types are normally required in order to get the necessary look and coverage. "We'd typically have one type of light that illuminates the 'Vogue' shot, which is the front-facing light that illuminates the model as they walk up the long ramp when the all-important first photographs are being taken. Another type of fixture would cover the ancillary runways in a sharp, shuttered projection, and then the backlight at the base of the model ramp would traditionally be another type of fixture. The Proteus Maximus is just so multidisciplinary and there are so many different tool sets in them that we were able to blanket the entire show with one type of fixture. It made it super easy for fixture management on site but most importantly it gave us a more consistent look of the show from start to finish."
Consistency
When doing a fashion show of this caliber, the show is typically seen by a live audience of around 500 with thousands watching on TV or online. The show is then rewatched again and again and images and photos live on for decades, therefore it's imperative that they get the look right. "Color temperature control from the fixture's variable CTO was key in order to maintain that consistency. We have so many fixtures and if the color variations are off, which we see sometimes in older lights when you use them in quantity, it's very noticeable on camera and film. With the Proteus, we didn't have that issue." Ciungan says that a fashion show typically ranges from 3,500K-5,000K, depending on the clothes, cameras and atmosphere, and that the Versace FW23 show was run at about 4,000K. Another important feature, the fixture's four-blade framing system, also helped to keep the look clean throughout. In an example of the versatility of automated lights, at the event's after party Ciungan was able to creatively refocus the lights and illuminate the exterior parts of the show space.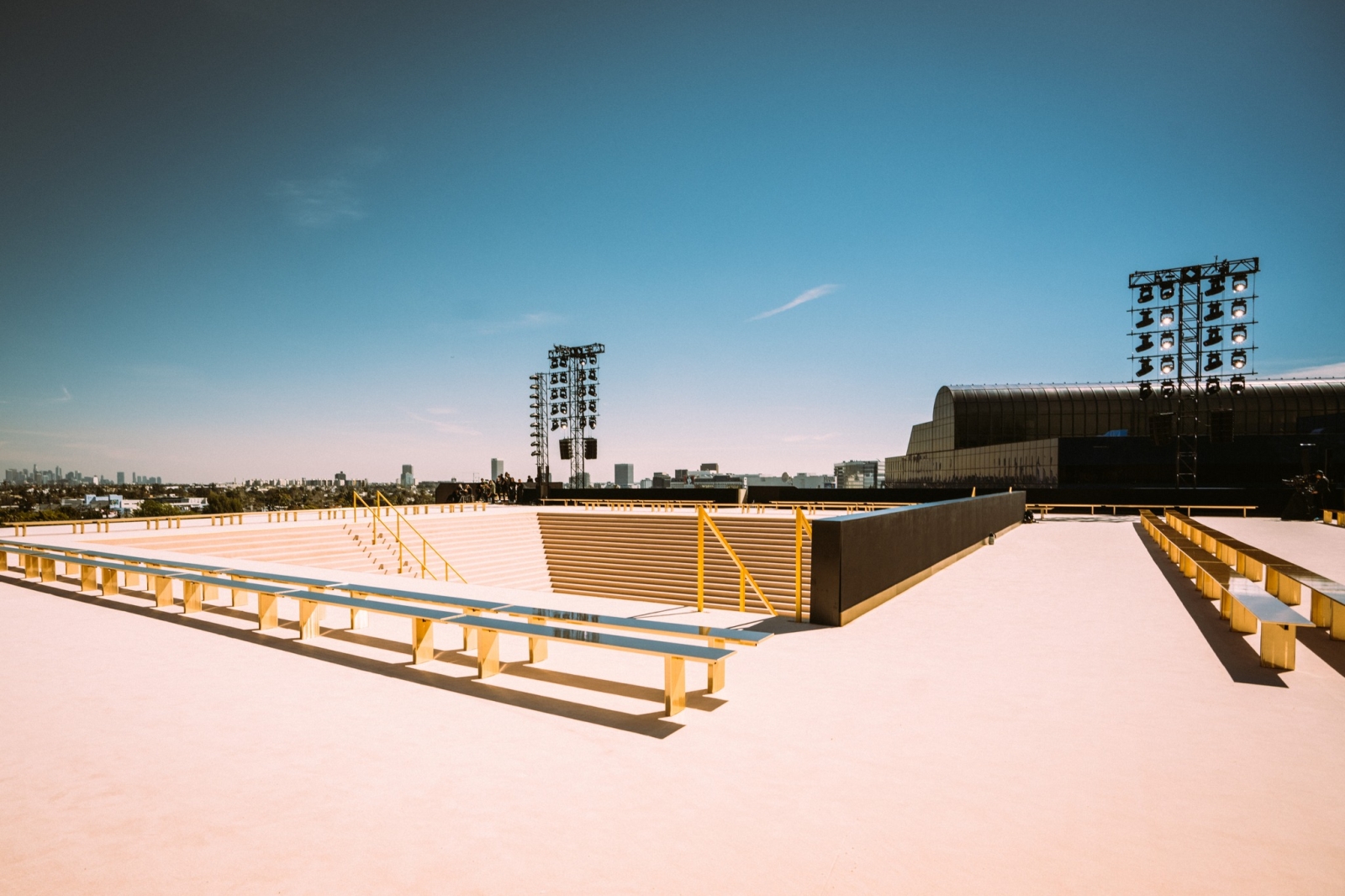 Step & repeat
The Proteus Maximus wasn't the only Elation lighting fixture used on the show. Lining the step & repeat photocall backdrop-a type of red-carpet space that guests walked along before taking their seat-was a line of Proteus Rayzor 760 LED moving heads providing rear light with LED panels illuminating from the front. The area is critical as it provided guests, which included celebrities such as Paris Hilton, Cher, and Elton John, their first experience with the space and was used exclusively for photos and film. Both the Maximus and Rayzor 760 include a variable refresh rate adjustable up to 25,000 Hz for flicker-free operation and trouble-free use with high-speed cameras.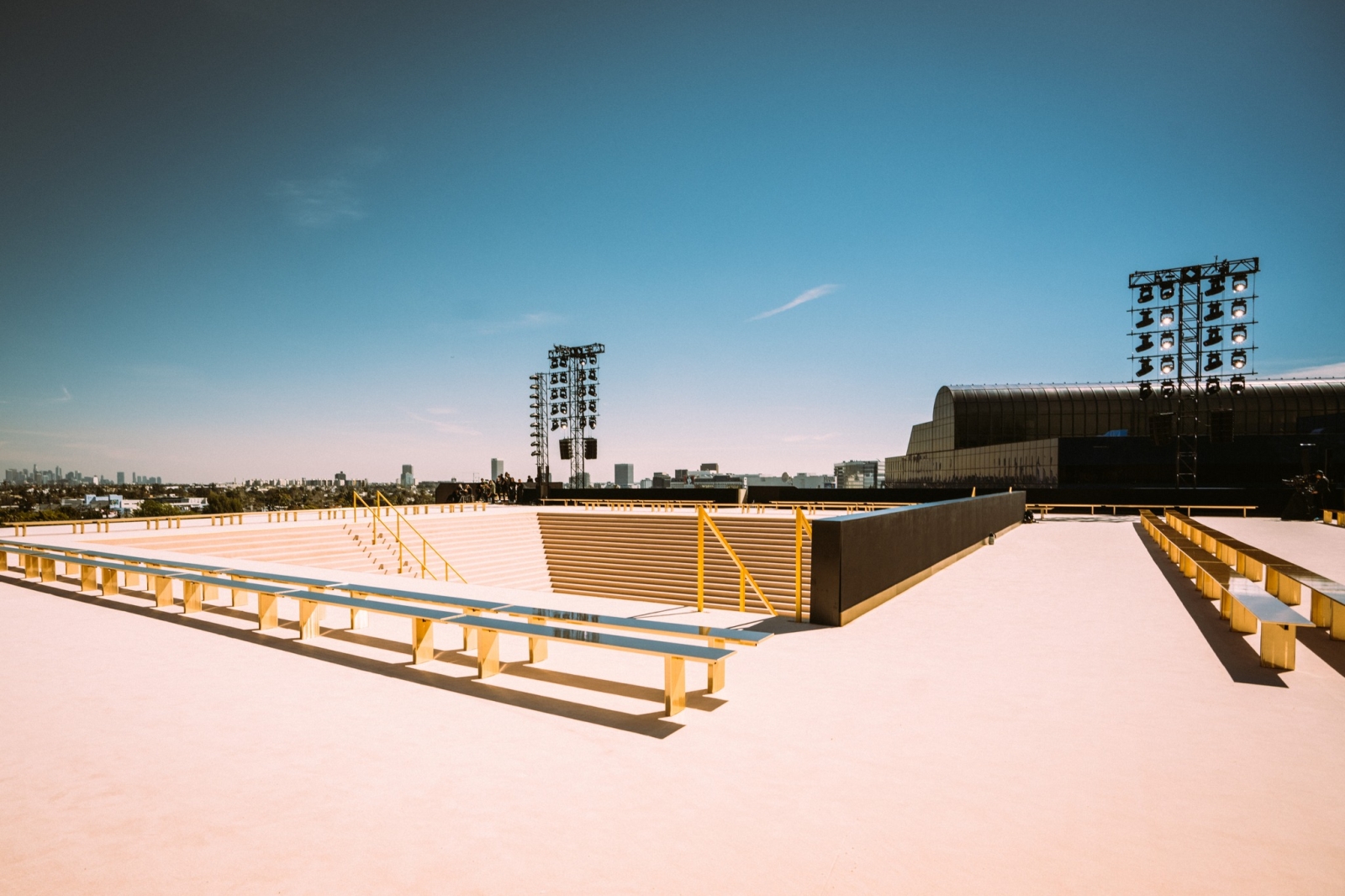 4Wall
Ciungan once utilized Elation almost exclusively for eye candy and effects "but now we also use it in very light critical TV and film settings," he says. "It's been a nice progression." Full-service rental company 4Wall provided the Elation lights for the Versace FW23 event, a company Ciungan has worked with often. "We work almost exclusively with them on all our major fashion shows, and they are a great partner," he commented. "Cassie Krowe is an integral part of their New York office and has a very solid understanding of fashion. It is quite niche in the way it's lit and how fast it moves with changes made up to the last minute at the discretion of the creative director, so it takes a special kind of person and company to adapt quickly and roll with those punches and Cassie and the 4Wall team do a great job."
Krowe, a Senior Account Executive at 4Wall, affirmed the excellent cooperation, stating, "Working with Scott and the KCD team was an absolute delight. Their exceptional professionalism and ability to create truly unique and captivating experiences are remarkable. The Versace FW23 project they executed was stunning and we were thrilled to contribute to the project."