About Us
4Wall In The News
4Wall and CHAUVET Professional Help Art Shine at the iHeartRadio Music Awards
By Chauvet Press
Apr 9, 2023, updated Oct 25, 2023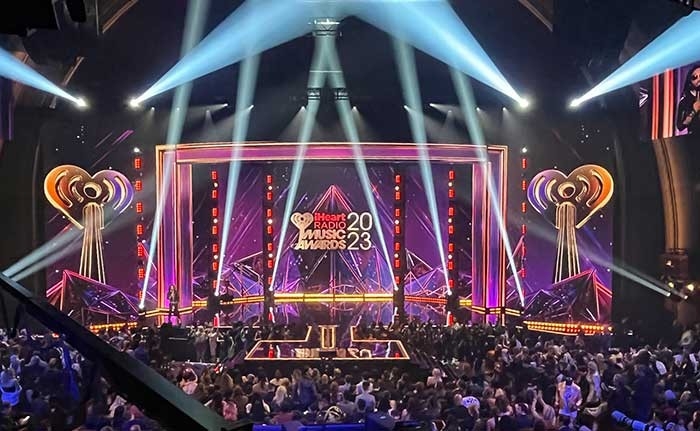 4Wall provided over 260 light fixtures to LD Allen Branton for the 2023 iHeartRadio Music Awards. With an all-star lighting team and an incredible lineup of performers like Pink, Keith Urban, and Kelly Clarkson, the energy was through the roof. 

This article was written by CHAUVET Professional and posted on their website, which you can view here.
---
Speaking about his work as lighting director and programmer for the tenth annual iHeartRadio Music Awards, Felix Peralta observed: "It's all about the art."
Art... that powerful force that "washes away the dust of everyday life," as Pablo Picasso observed was everywhere to be seen at the Dolby Theatre during this star-studded concert-television programme. Its transformative effect wasn't just found in the performances on stage either, it could also be seen in a lighting design that animated the entire room right up to its balcony railings.
Marked by dazzling pixel effects, bold aerials and rich, immersive washes, the programme's lighting pulled millions of television viewers, as well as those in the live audience, into the mood of the music. This magic began with the work of legendary lighting designer Allen Branton, a master at creating rigs that convey a concert vibe on the TV screen.
"Allen is a great designer, editor and collaborator," said Peralta. "Early in the design phase, we had a series of discussions on the philosophical approach we wanted to take with his design. After that, we had regular meetings to go over the plot and confirm that everyone was happy with fixtures placements and such. His vast experience is always priceless throughout the process.
As one of the lighting directors and programmers for the event Peralta and the rest of the lighting team turned Branton's vision into a versatile light show that reflected the styles and personalities of a wide range of artists. The nationally televised and globally streamed programme featured an array of acts, beginning with ICON Award recipient Pink! opening the programme with an acrobatic performance of her hit "Trustfall," followed be Keith Urban's Las Vegas show-inspired appearance, as well as music from a host of superstars including host Lenny Kravitz, Kelly Clarkston, Pat Benatar, Neil Giraldo and Latto.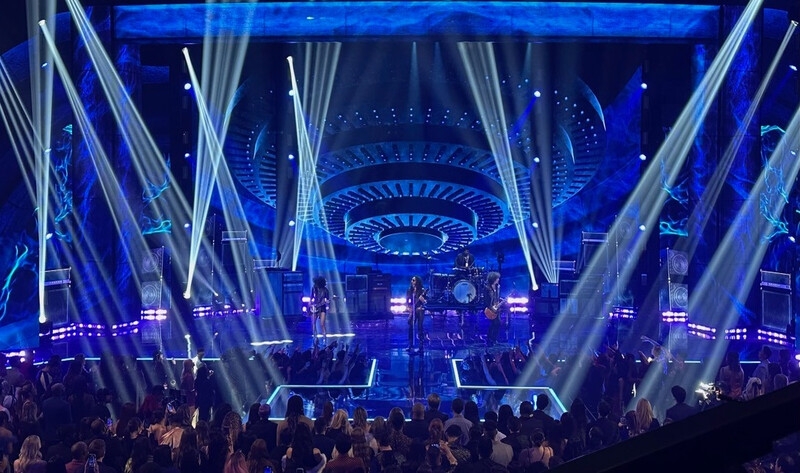 Branton, Peralta and the rest of the design team had to ensure that the lighting translated well onto television, while also keeping things looking good for the large VIP audience. The 42 Chauvet Professional Color Strike M fixtures in the rig, which like the rest of the lighting was supplied and installed by 4Wall Entertainment, played a key role in helping them accomplish this goal.
"In my work, I tend to treat the Color Strike M as three separate fixtures: a full-face strobe, a 14-pixel CMY light and 28-beam pixel light," he said. "We're able to create a lot of looks with these. They provide us with heavy handed looks at times and delicate looks at other times.
"We relied very heavily on the Color Strike Ms to serve as a 'scenic lighting' element," continued Peralta. "They were positioned on six vertical towers that wrapped around the stage. This helped us anchor the production design by giving it a strong shape that photographed very well on camera."
Lighting for the camera was the top priority for the lighting team. "We're lighting the show for multi-cameras and have to ensure that all angles are properly covered," said Peralta. "The main difference in the viewing experience is actually not that apparent to the live and TV audiences. The energy-level of the visuals is similar for both audiences.  At times, it may feel a little B-Flat to the live viewer, because we'll have to apply broader strokes of nuance for the broadcast. The ultimate goal is to achieve a great balance for both experiences."
Contributing to these balanced looks, in addition to the Color Strike M units, were 36 Rogue R1 BeamWashes, which were positioned on the venue's balcony rails and opera boxes, 18 Rogue R2X Washes, arranged on the same vertical towers as the motorised strobes and 36 COLORdash Accent 3 fixtures.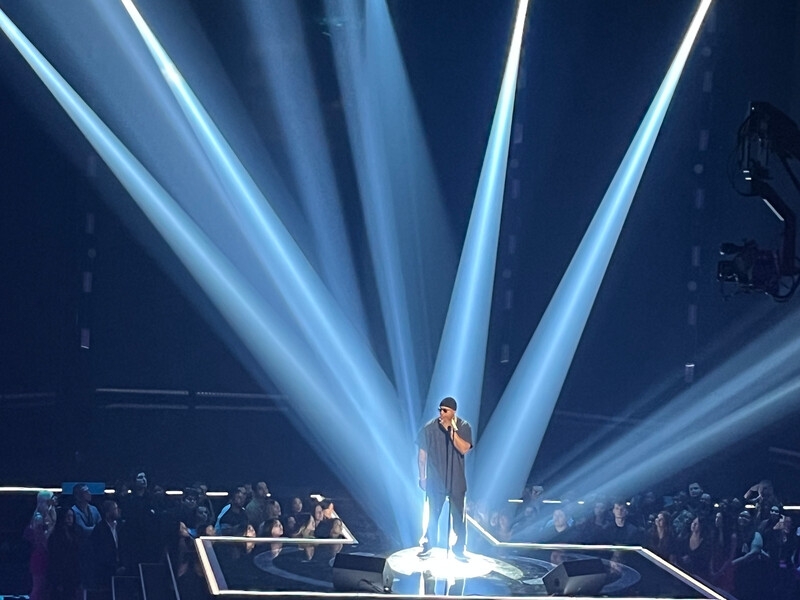 Speaking of the latter, Peralta noted: "The Accent 3s are small fixtures, but they make a big contribution to the design. They helped us define the three layers of balcony rails at the Dolby Theater. They're a great tool to use for defining spaces in broadcast events because of their punch to size ratio, they make it easy to fill an area ang give it life."
Setting up the show for the iHeartRadio Music Awards took over a week, with a day of load- in lost because another event was scheduled for the venue at that time. Peralta credits the production team's ability to pull together as one unit with making it possible to get the venue ready in time for rehearsals.
"We're fortunate that we had such a solid team," he said. "Kevin Lawson, my fellow lighting director and current professor of lighting at the University of Cincinnati, programmed the show with me. We did a couple days of pre-viz over at the 4Wall offices prior to being on site. He did a great job as did Jason Uchita our other lighting director, John Cox our head gaffer, Alen Sisul best boy and Dennis Sisul production electrician. Production design was by John Calkins. Screens visual content was by Darmah. A lot of different things had to come together 'fast and furious' for us."
The process may have been intense, and at times chaotic, when putting together this show (such endeavours often are), but in the end it led to the result that creativity always strives for: the soul-brightening power of art!