About Us
4Wall In The News
4Wall Delivers Lighting & Video Solutions for Saturday Night Live
By Luke Lytle
Mar 20, 2023, updated Oct 25, 2023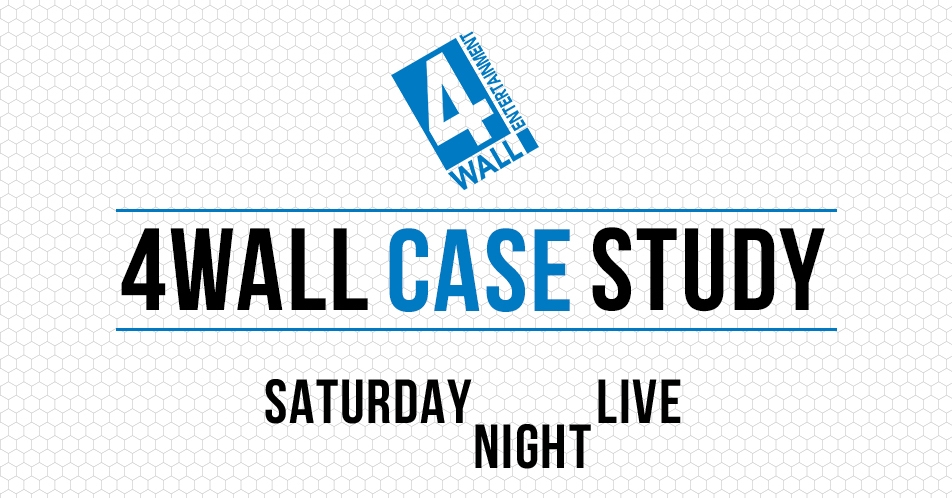 4Wall Entertainment has been a key partner in providing lighting and video gear and services for NBC's iconic Saturday Night Live (SNL) over the past 3 seasons. Each week 4Wall works closely with the crews from SNL and guest artists to meet the tight deadlines and budget constraints that are inherent to SNL's production process. Both teams find creative solutions to ensure smooth, efficient operations week after week.

The company has received high praise from key SNL staff members and guest artists for their gear and services, including the main lighting package for seasons 46, 47, and 48 and supplementary lighting and video tile packages for weekly acts.
Geoffrey Amoral, SNL's Lighting Director, who is crucial in coordinating lighting for music performances, emphasized, "Our guest bands are a challenge, and every week is different. The band's creative teams give us their plans well ahead of time or at the last minute, depending on many different circumstances. The designs are usually a combination of lighting, video, and projection." He added, "4Wall is up to the challenge by providing skilled technicians to install and operate the equipment, along with assistance in the planning for creative ideas. They know our space and offer guidance on what we can and cannot do."

February 4th's episode featured musical guest Coldplay, who performed 'The Astronaut' and 'Human Heart'/'Fix You,' marking their seventh performance on SNL. In addition to utilizing SNL's lighting rig, they requested to have a video wall to bring unique looks to their performance. Joshua Koffman, Screens Producer for Coldplay, turned to 4Wall to help support the performance. 

Koffman stated, "We were booked to perform at SNL on fairly short notice, so choosing a vendor that could support us through the creative process, as well as the actual performance, was key." Koffman continued, "Our design process generally involves iterating on a design until all stakeholders are as happy as possible. For this performance, that meant several rounds of changes and adjustments to what we were planning. Our 4Wall team rolled with every change and adjusted our gear and its configuration to whatever we required."

As with every production, budgets can sometimes be very tight. Keith Devlin, Gaffer and Lighting Designer for SNL's Film Unit (Local 52 Unit), knows that fact very well. Said Devlin, "There is always a give and take in figuring out what we can cut or keep. Our 4Wall reps Drew (DeCorleto) and Tara (France) will have suggestions for more inexpensive options when the budget is tight. They're not just renting gear. They're trying to help with solutions."



In addition to the live bands and skits each week, an episode of SNL contains pre-recorded content, from the title credits to the film pieces. SNL has 3 units that are responsible for that content: Film Unit, Beast Unit, and Ghost Unit. 
Omri Chaimovitz, Lighting Director for SNL's Beast Unit, spoke about some of the challenges he faces to create that pre-recorded content in a very quick turnaround, " SNL is a very last-minute operation. We go from a script at 10 PM on Wednesday night to a full-scale film shoot, often by Friday morning. Designing and technical planning in that time frame is extremely challenging." 

He continued about how 4Wall helps to solve those challenges, "4Wall puts together equipment lists and quotes within a few hours (at most) and sometimes within minutes. They get me details on gear availability or suitable alternatives, sometimes near immediately. 4Wall also will try and find whatever gear I'm asking for, which is super important to me. Technical support or details are only ever a quick phone call away, and it seems that 4Wall can meet nearly any trucking/transport request I have."

Patrick Seeley, Gaffer and Lighting Designer for SNL's Ghost Unit, produces promos and pre-taped content such as commercial parodies and music videos. He spoke about the quality of the gear from 4Wall, "I have always liked 4Wall's gear since my early days as the Production Manager of the Rainbow Room. The gear is always in good shape and well-maintained. Any issues I have with gear have always been solved efficiently and with little production time lost on our part."



"We are honored to be the trusted vendor of SNL and its collaborators, and we are committed to providing exceptional service and equipment for all of their entertainment technology needs," said Drew DeCorleto, VP of Business Development.