About Us
4Wall In The News
4Wall Provides Lighting Gear and Services for the Detroit Lions Introductions & In-Game Lighting for the '22-'23 NFL Season
By Drew Quinones
Jan 25, 2023, updated Feb 16, 2023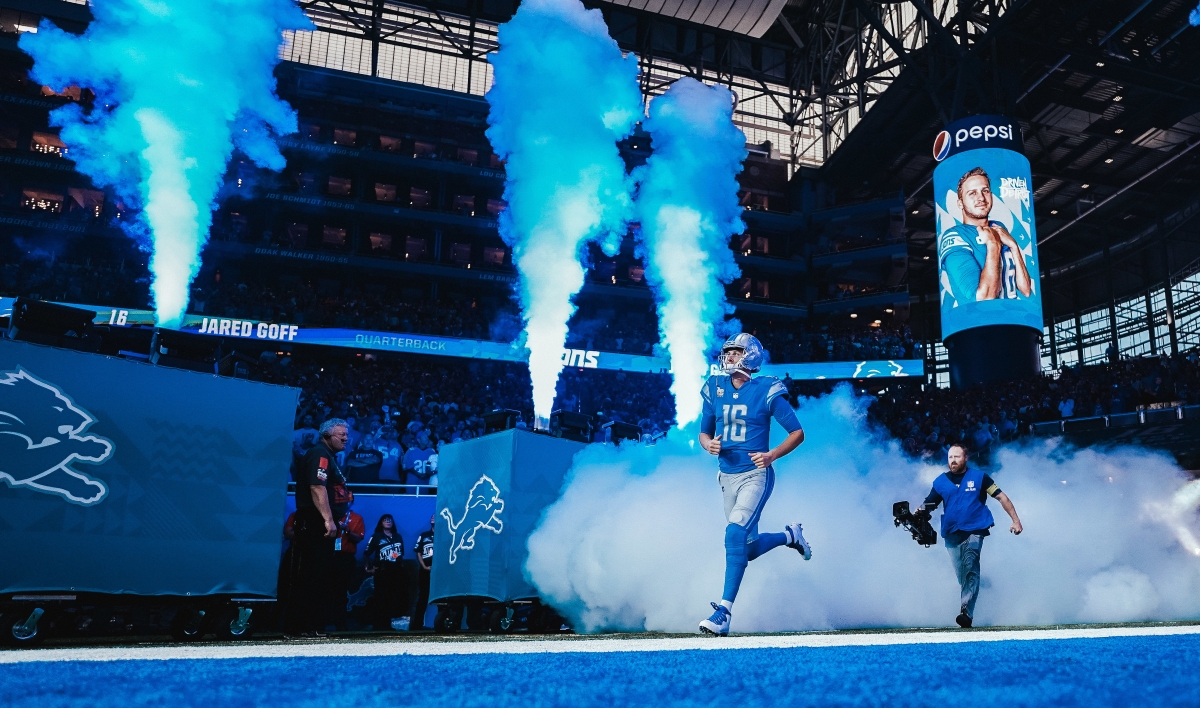 Detroit, MI - 4Wall Entertainment, a national provider of entertainment equipment rentals, sales, and services designed and executed the team & player intros and the in-game lighting for the Detroit Lions 2022-2023 NFL season.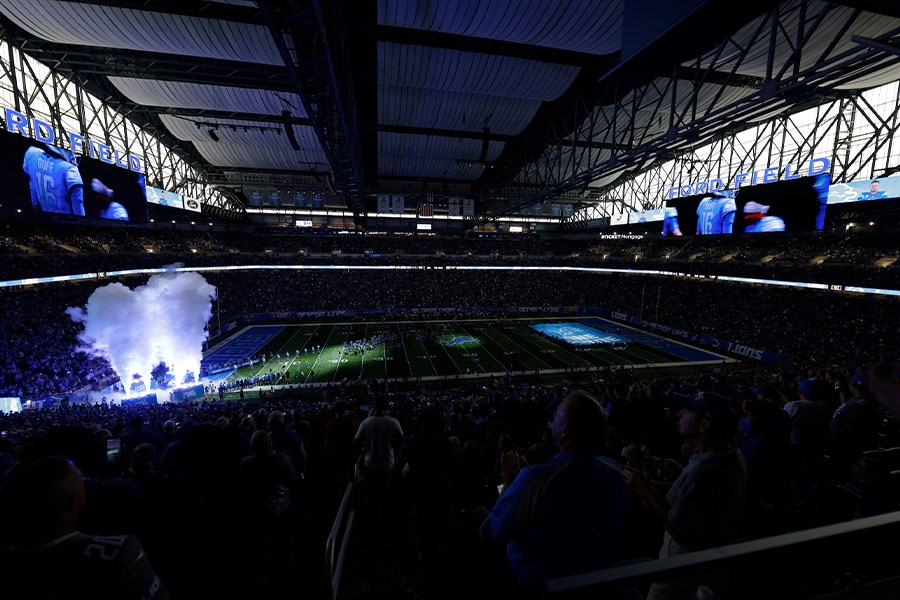 In 4Wall Detroit's first full season with the Lions, the team upgraded their current production from small CO2 Jets (15-20ft Plumes) to the new Club Cannon Quad CO2 jets that have plumes up to 70 feet.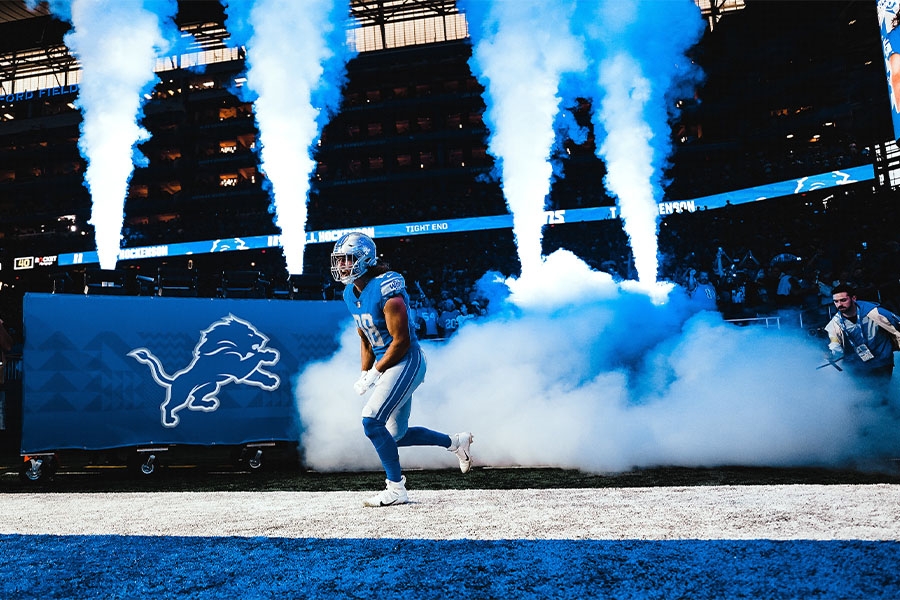 "Every game, we drop over 2,000 lbs. of liquid CO2 in under 60 seconds from roll-on-field truss carts that 4Wall designed and fabricated," said 4Wall Detroit VP of Live Events Joe Leahy. "These carts carry 48 CHAUVET Color Strike M's and 8 CO2 Jets, wrapped in custom graphics and provide a huge impact for both the players and over 65,000 fans per week!"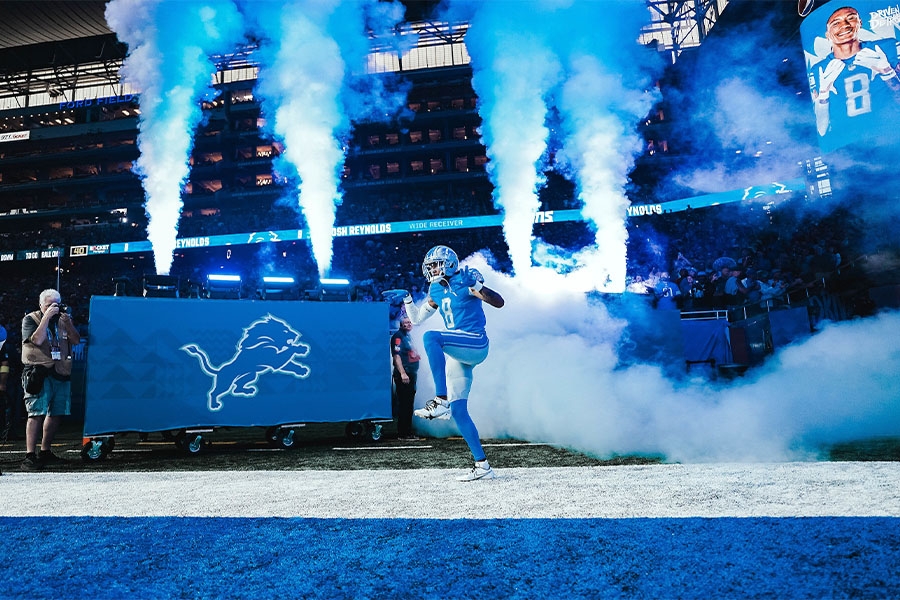 The field entrance tunnel is up-lit with 108' of Chroma-Q Color Force II LED battens and the players are backlit with two Robe BMFL Blades before running through 2 additional CO2 Quad jets and out onto the field.

The flown lighting rig consists of 36 Robe BMFL WashBeams on JTE Galaxy Pre-Rig Truss which make a huge impact on pre, post, and in-game lighting FX.

"We also took control of multiple lighting fixtures and elements throughout the stadium that are integrated into promotional looks and experiences for sponsors of the Detroit Lions," explained Leahy. "It was a pleasure working with an amazing crew and I can't thank them enough for their hard work before, during, and after the season."

|Crew|
AM: Joe Leahy
PM: Michael Gallacher
Lighting and FX Design: Joe Leahy / Michael Gallacher
Programmers/Operators: Gary McGarity, Carrie Heisler
ME: Kade Kriewall
Electricians: Xavier Williamson, Kyle Slaga, Greg Bachinski
On Field Crew Lead: Kareem Harris
On Field Crew: Ciair Eggleston-Welcome, Jake Garrison, KaJuan Harris, Victoria Llorens, Keith Billik, Kyle Slaga, Kyle Gordon, Noah DeLeon, Bryan Stowinsky, Quinn Davis Jr, Gavin Hardeman, Meech Ruiz, James "Bone" Turner III.

|Selected Gear List|
12 - Club Cannon Quad CO2 Jets (70' Plumes)
50 - CHAUVET Professional Color Strike M
38 - Robe BMFL WashBeams
18 - Chroma-Q Color Force II 72"
2 - Chauvet Professional Cloud 9
6 - Custom Roll on Truss Carts
2 - MA Lighting grandMA2 Light Consoles