About Us
4Wall In The News
4Wall Entertainment Promotes Industry Veteran Darren Poultney to Managing Director – EMEA
By Drew Quinones
Jan 13, 2023, updated Oct 25, 2023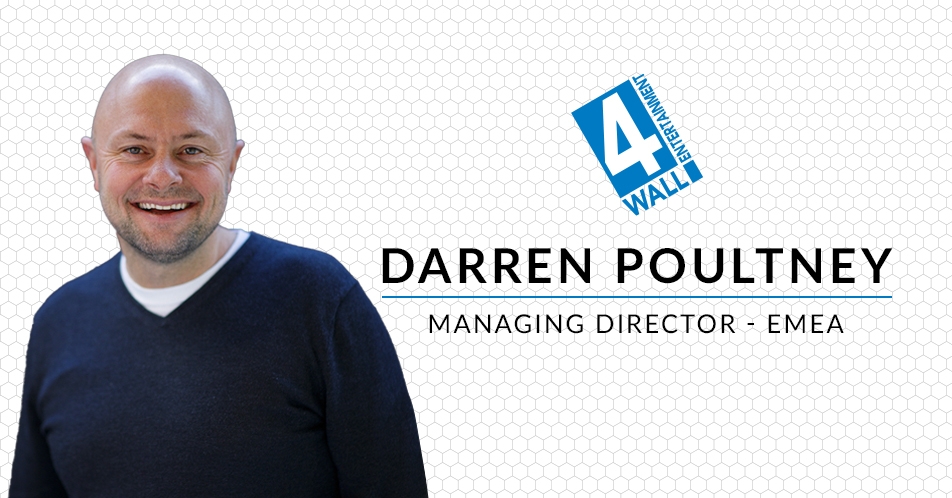 London, UK - 4Wall Entertainment, a national provider of entertainment equipment rentals, sales, and services, is pleased to announce the appointment of Darren Poultney, formerly Director of Global Client Strategy, to Managing Director - EMEA

Poultney has worked as Director of Global Strategy since 4Wall acquired his company Smart AV back in 2020. Poultney has been instrumental in providing strategic direction whilst also bringing together the sales functions of 4Wall's three UK offices and the launch of their new Pre Vis-Demo suite at Production Park in Wakefield.  

Poultney will now have overall responsibility for the UK and 4Wall's growth strategy across Europe and the Middle East.

"I am extremely excited to be back in the capacity of Managing Director heading up the UK and our expansion into other regions. 4Wall is extremely well positioned to offer our clients exceptional service and industry leading equipment from our different offices. I'm looking forward to be working with our fantastic team here and in the US to deliver some outstanding projects for our clients," said Poultney.

Darren is currently based at the 4Wall UK office in Harlow, UK.