About Us
4Wall In The News
4Wall Entertainment Adds Industry Veteran Josh Weisberg as Senior VP of AV Strategy
By Drew Quinones
Mar 17, 2022, updated Apr 26, 2022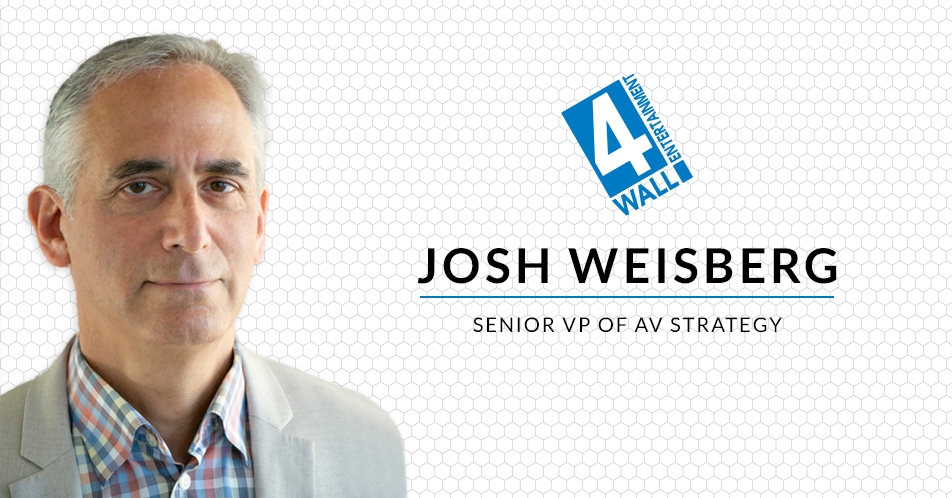 Las Vegas, NV - 4Wall Entertainment, a national provider of entertainment equipment rentals, sales, and services, is pleased to announce the appointment of Josh Weisberg as Senior VP of AV Strategy. Weisberg brings over four decades of industry experience to 4Wall and was the co-founder of WorldStage.
Weisberg most recently served as President and Chief Operating Officer at WorldStage, before stepping down and taking an advisor role in 2017.
"I couldn't be more thrilled to join such an amazing organization with a great leadership team and a lot of familiar faces," said Weisberg. "I feel very fortunate to join at this pivotal stage of the company's evolution and look forward to playing a role in 4Wall's strategy to expand globally, while maintaining that special 4Wall touch that sets the company apart from the others."
The addition of Weisberg instantly accelerates 4Wall's growth into new market verticals that will benefit from his AV knowledge. 
"You rarely get the opportunity to add someone of Josh's caliber to a company," said 4Wall CEO Wes Bailey. "His name is well respected in our industry and his experience is a significant asset. He's been at the forefront of bringing cutting edge technology to events for years, and in addition he's a fantastic human being.  We're excited to have him on board."
The addition of Weisberg builds on the momentum of a positive start to 2022 for the company. 4Wall recently opened two new xR stages and has been a part of numerous large live event productions, corporate meetings, and several Broadway shows in just the first few months of the year.
"I can't wait to get to work with some of the folks who have been with 4Wall for many years and some of the newer faces that joined recently," concluded Weisberg. "The work is never done and 4Wall has the people and potential to make a long-lasting impact on the entire industry. Who wouldn't want to be a part of that?"
Josh Weisberg can be reached at: JWeisberg@4wall.com