About Us
4Wall In The News
4Wall Nashville Goes Hits Deep with Toby Mac
By
Mar 14, 2016, updated Jun 15, 2016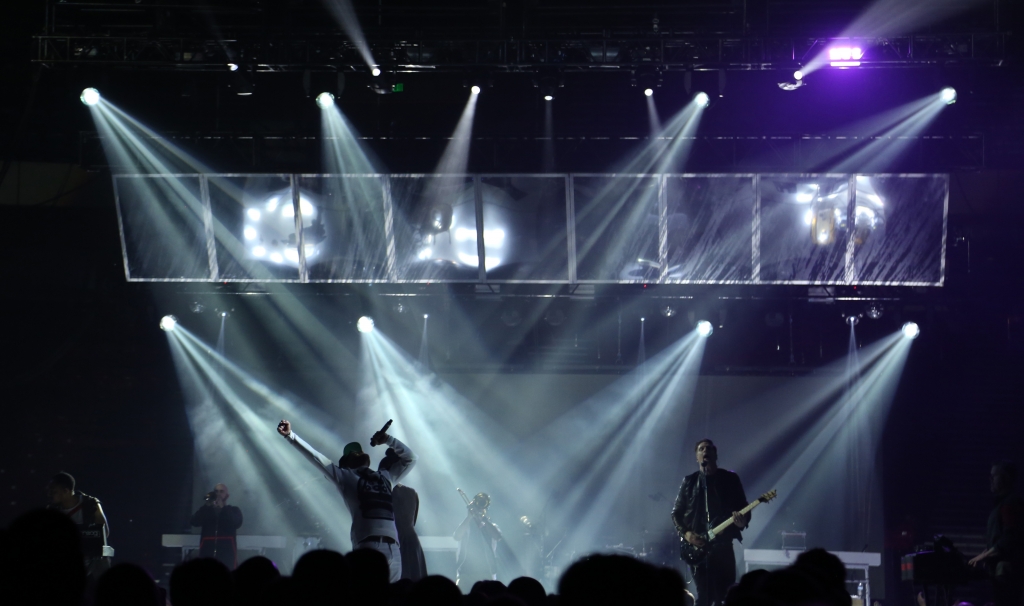 Nashville, TN - Christian recording superstar Toby Mac puts on a show sure to please anyone with a cultured musical pallete.  Bouncing between hip hop, rock, EDM, funk, and back again, the artist likes to refer to his style of music as 'musical gumbo'.  Every tour stop on Toby Mac's current 'Hits Deep' tour is a reflection of that idea.
Lighting Designer Jason Norris is responsible for lighting that gumbo night in and night out on the road, using gear from 4Wall Nashville.  Taking over as LD for the tour two years ago, Norris sought this year to pay homage to previous Toby Mac tour designs, while still putting his own stamp on the look.
"Toby wanted the design to reflect the album artwork from his latest release, 'This Is Not A Test', which is white with a video test pattern on it in a slight glitch, so this seemed like a good time to try some new things," said the LD.
Wanting his performances to be a communal experience for the audience as well as the band, Toby Mac would previously perform stripped down versions of his songs in the middle of the crowd.  The artist himself requested that part of the show be taken a step further by adding a 70 ft. runway down the middle of the crowd ending in a 'B' stage.  Norris also added a long truss that flacked either side of the runway, as well as white flooring and mirrors.  The look and feel of the design is one of transparency and honesty that provides a variety of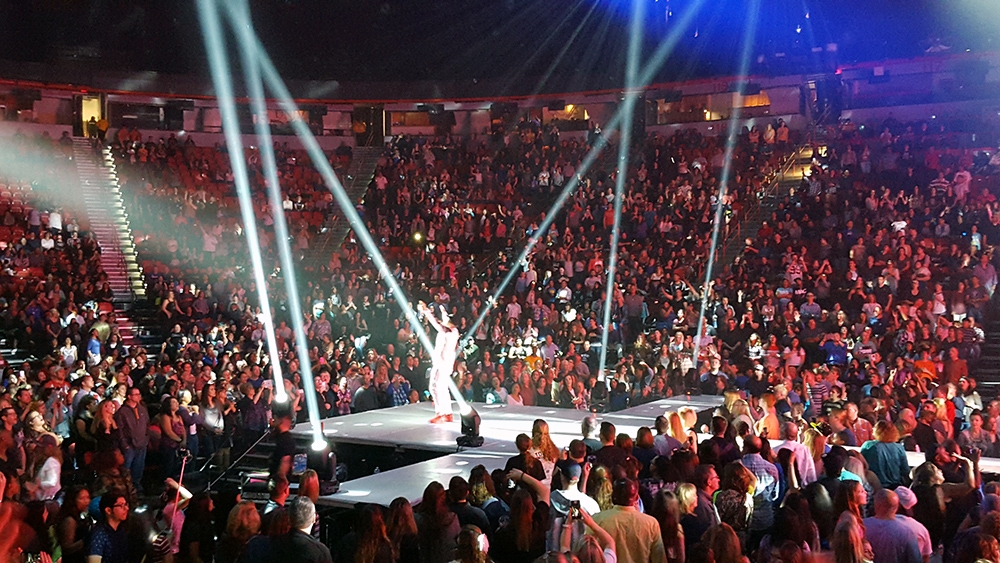 viewing angles for the audience, as well as a white canvas to light.
"With an entirely white set I needed fixtures that could throw 100-plus feet while also giving me saturated colors.  I wanted patterns, color washes, and of course strobes...lots of strobes."
After looking at Norris' design, 4Wall's Cathie Berbena Lloyd suggested the VL4000 BeamWash for the main fixture.
"I was instantly impressed," says Norris.  "Bright, a long throw, and saturated, rich colors are just the beginning.  It is the first hybrid fixture I have used that actually works as both a wash and as a spot fixture.  The optics are super crisp and sharp.  The wash mode has soft edges and blends nicely.  It might be my favorite lighting fixture at the moment."
Norris also added Martin MAC Quantum LED Profiles, Clay Paky Stormy Strobes, Elation Platinum Beam 5R Extremes, and more to the rig which kept versatility and creativity at a high level.
"I needed fixtures that were bright enough to fill NBA arenas, yet not so many of them that I couldn't use most of them in smaller venues.  I have learned throughout the years to be as economical artistically with gear choices, trucks space, and stage space as I feel the show will allow.  This tour has been a great balancing act of price, space, and art," said Norris.
Assisting in that balancing act was 4Wall Nashville, for which Norris had high praise.
"My experience with 4Wall has been top notch.  I have enjoyed working with them since the early 2000s when I lived in New York City.  I was very excited when 4Wall opened a Nashville office.  The quality of equipment and support staff is hard to beat.  I know that I am not the LD for the largest tour that 4Wall supports, but they have always supported me and made me feel that I might as well be."
Follow Jason Norris on Twitter and Instagram @jmlnorris