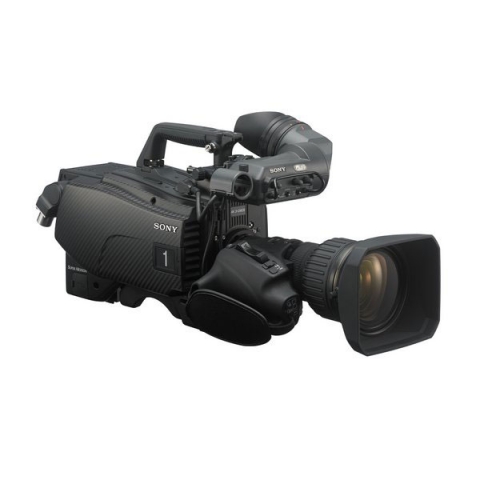 Sony
Sony HDC-4300L 4K Camera Package
Details
Description
The HDC-4300L is the world's first 2/3" CMOS Full 4K Sensor camera. The camera produces breathtaking 4K, HD and HD HFR (High Frame Rate) images (with the appropriate software packages). The Sony built 2/3" full 4K imagers and optical system covers a wide color gamut, supporting ITU-R BT.2020.
Flexible, no-compromise production in 4K and HD The HDC-4300 puts you in total control of your content. For the first time, one camera platform is all you need to handle 4K, HD and super slow motion – helping you generate maximum returns on today's production budgets. Delivering uncompromised image quality, the HDC-4300 integrates seamlessly with HD infrastructures and accessories as well as the world's most advanced 4K live production workflows. 
Included with your Sony HDC-4300L 4K Camera Package Rental:
Sony HDVF-EL75 7.4" OLED Viewfinder
Sony HDVF-EL20 0.7" Full HD Color OLED Eyepiece
Sachtler VIDEO 20 S1 + HD Speed Lock Carbon Fiber Tripod 20S1 100mm (Mid-Level)]
Sony HDCU2500 - Camera Control Unit
Sony BPU4000 - Base Band Processing Unit: 4K/UHD HD Cutout and High Frame Rate Video Outputs and Control
Sony RCP-1500 Camera Remote Control Unit
Sony CNA-1 and 3D Mouse (Space Navigator)
SMPTE Hybrid Fiber - 100m (330ft) Standard
We strive to provide impeccably maintained equipment that is prepped and ready for your next event. Our experienced staff stands ready to help you create the perfect lighting and video experience. You will receive a rental quote back within 1 business day.
Downloads
Features
Superb 4K capability with wide dynamic range and wide color space.
High-frame-rate HD capture for 8x super slow motion.
HD cutout function for clear images.
Smooth and easy migration from HD to 4K.
Seamless integration into Sony HD workflows.
Built-in-Filters: ND: 1: CLEAR, 2: 1/4ND, 3: 1/8ND, 4: 1/16ND, 5: 1/64ND; CC: A: CROSS, B: 3200K, C: 4300K, D: 6300K
Horizontal Resolution: 2000 TV lines (at center) in 4K, 5% or higher modulation
Pickup Device: 3-chip 2/3-inch type CMOS
Sensitivity: F8.0 (2000 lx, 89.9% reflection)
Spectrum System: F1.4 prism