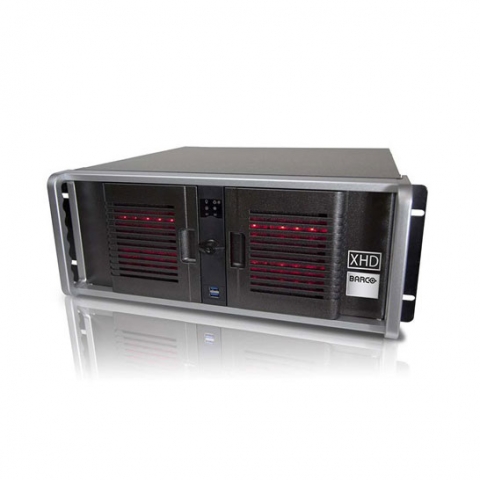 Barco XHD-404 Media Server, Watchout Capable (4in/4out)
Details
Description
Barco Media Servers are fully integrated visual production systems that enable video professionals to easily develop their show from idea to realization. Allowing you to quickly and easily set up, preview and manage your show environment, they form the perfect connection between your creative ideas and the display systems that bring them to life.
Watchout 6 can be added as an option.
We strive to provide impeccably maintained rental equipment for the entertainment industry that is prepped and ready for your event. Our experienced staff stands ready to help you with your lighting, video, rigging & production needs. Rental inventory availability may vary based on date and 4Wall location. In cases where your preferred item is unavailable, we'll do our best to suggest a suitable replacement.
Downloads
Features
Capture Cards: 4x 3GSDI
Genlock: 2x RJ45, 1x BNC
Video projection simulation and virtual projectors
Luminance and pixel density visualization of the projections
Shadow previewing
Measuring tools
External model importation (.FBX, OBJ., DWG. And SVG.)
WYSIWYG interface for presenting the projector setup to a client
Built-in tool for fast projector array creation (wizard)
Multiple 3D views
Generative content; particles and shaders
TUIO/OSC support for interactivity
Timeline transition tools
Non-linear timeline playback with cross timeline "Timecues"
Content previsualization on 3D model
ArtNet output support
2D output for LCD/LED
Low latency live input
Projector calibration based on the real 3D model of the projected surface: reverse mapping technique
Multi-user network system architecture using a virtual/physical target matching method on the surface features
Automatic real-time edge blending computation when using the reverse mapping
Support for multiple UV channels
Support for dynamic mapping with virtual projections
Simple warping tool
4 point keystone calibration
Support for manual linear edge blending
Black and white alpha mask support
ArtNet output
Each layer can be mapped and composited independently
Projective texturing for timeline media - Video: Wide range of video codec supported; Image: PNG with transparency, JPEG, BMP, TIFF.; Audio: Uncompressed WAV, Stereo; SMPTE: SMPTE input for timeline synchronization
Watchout can be added as an option