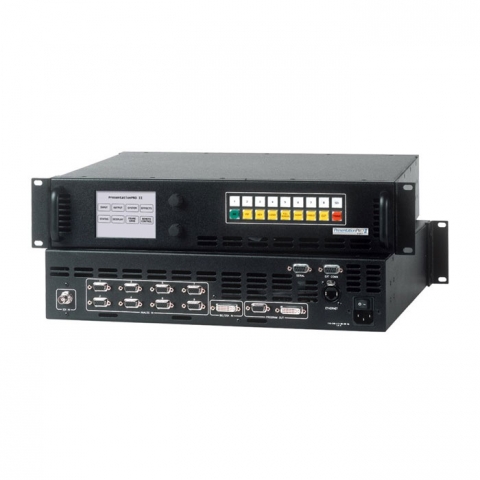 Barco PresentationPRO-II Switcher
Details
Description
PresentationPRO-II is a compact, reliable system that simplifies the task of supporting professional quality visual presentations, live events, corporate boardrooms, and church services.
PresentationPRO-II combines an eight input universal analog video router, Barco's high performance proprietary Athena scaler, and a full-featured control panel in a single integrated package. The eight universal analog inputs accept standard component and composite analog video formats (NTSC, PAL), computer resolutions up to UXGA and analog HD formats including 720p, 1080I, 1080p. The Barco Athena scaler features 1:1 pixel sampling, motion adaptive de-interlacing for both standard and high definition sources, 3:2 and 2:2 pull down detection, low video delay and aspect ratio correction. The operator can also capture and store three images for use as full-screen LOGO image, background or down stream key source.
We strive to provide impeccably maintained rental equipment for the entertainment industry that is prepped and ready for your event. Our experienced staff stands ready to help you with your lighting, video, rigging & production needs. Rental inventory availability may vary based on date and 4Wall location. In cases where your preferred item is unavailable, we'll do our best to suggest a suitable replacement.
Downloads
Features
Scaled Input Types: Analog Inputs (8) - RGBHV/RGBS/RGsB computer video, YPbPr video (SD or HD), S-video, or Composite video on 15-pin HD connector; SDI Input (1) - per SMPTE 259M-C on BNC connector (PresentationPRO-II Digital Only)
Scaled Input resolutions: PAL or NTSC; Computer Resolutions VGA (640 x 480) through UXGA (1600 x 1200); HDTV Resolutions up to 1920 x 1080 (720p, 1080I, 1080p); Plasma Display Resolutions
Output Types: Analog Output - RGBHV/RGBS/RGsB (non-interlaced only) on 15-pin HD connectors; DVI Digital Output - per DDWG 1.0 on DVI-I connector
Output Resolutions: Computer Resolutions VGA (640 x 480) through UXGA (1600 x 1200); HDTV Resolutions, progressive up to 1920 x 1080(1080p); Plasma Display Resolutions
Front Panel Control: LCD TouchScreen Display, Keyboard circuitry, Rotary Encoders and LED lighted push buttons